What are feminized seeds?
Feminized seeds are nothing more than a product of genetic engineering and a beautiful fruit of the scientific advancement of the cannabis industry. While traditionally, seeds grow to become either male or female plants, feminized seeds are genetically manipulated in such a way that results in them growing into female weed plants only.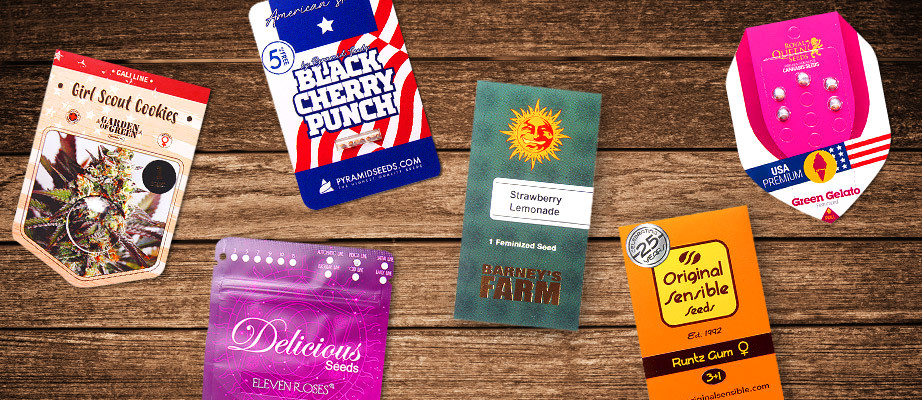 If you don't understand what all the fuss is about when it comes to female cannabis plants and why everybody wants them rather than male cultivars, the answer is simple: only female cannabis strains, when unpollinated, develop so-called sinsemilla, which are the buds people love to smoke and turn into various concentrates and ointments.
Why should you buy feminized cannabis seeds?
While seeds that have been feminized tend to be more expensive than regular marijuana seeds, they're just too convenient not to buy them. First of all, they free the grower from the need to sex cannabis – a process that takes time and plenty of experience to perfect. If you buy feminized seeds, you don't need to worry about pollen-producing plan appearing in your garden and ruining your harvest. You can just sit back and relax!
Despite the difference in price, buying feminized marijuana seeds will actually help you save money. If you choose seeds that are feminized, you won't have to buy ten or fifteen regular ones in the hopes that at least five of them will grow into females. Instead, just get yourself five fem seeds and in return, you'll have five perfect female plants. Simple weed math!
Pros and cons of feminized seeds
Despite providing mostly advantages to growers, feminized cannabis seeds have certain disadvantages as well. Let's take a look at both the pros and cons of growing feminized cannabis seeds.
Pros of feminized seeds:
No need to buy extra seeds, as is the case with regular weed seeds
No need to sex the growing plants, hence feminized cannabis seeds save you time
No risk of accidental pollination of your crop by male cultivars
Feminized cannabis seeds grow into cannabis plants with the highest cannabinoid content
Perfect for beginner growers due to the easier cultivation process
In addition to their high germination rate and low risk of hermaphrodite plants, feminised seeds also tend to produce plants with consistent and predictable characteristics.
Cons of female pot seeds:
Not suitable for people attempting to breed cannabis
Feminized cannabis has limited cloning abilities
If you're a seed collector, there won't be much of a difference between choosing feminized or another seed type. Just like with Indica, Sativa, and Ruderalis seeds looking the same, in this case, it's impossible to say what seed type is in front of you based solely on its appearance.
How to germinate feminized marijuana seeds
Seeds that have been feminized are no different from any other cannabis seeds when it comes to germinating them. Herbies always makes sure to store their cannabis seeds in perfect conditions to ensure a quick and easy germination process. Most cannabis cultivators tend to sprout feminized cannabis seeds using the classic paper towel method, which has been used by generations of cultivators. Here's what you need to do to propagate female marijuana seeds: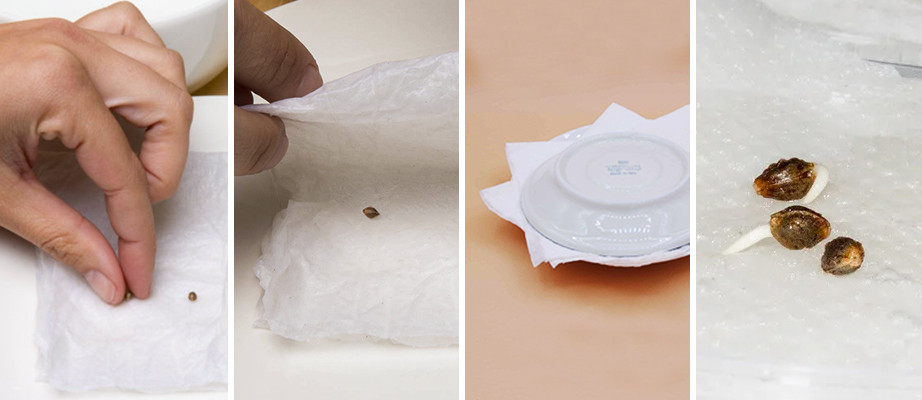 Place your cannabis seed on a clean paper towel
Fold the paper towel in half so that it covers the cannabis seed from the top and bottom
Lightly spray the paper towel with clean water to moisten it
Place the paper towel with the seed on a clean plate, and cover this with another plate to create an airtight, dark, and safe germination space
Wait for 1-2 days until the seed germinates (older seeds can take longer, up to a week or even 10 days, so be patient). Make sure the paper towel remains moist.
Recommended temperature and humidity for growing feminized marijuana
When it comes to comfortable living conditions, people and cannabis are very much alike – both prefer moderate climate conditions. Feminized cannabis thrives best in temperatures ranging between 21-24 C (69-75 F). It's advised to keep plants in this range to avoid cannabis health problems. However, some cannabis strains love to experience "freeze shock" closer to the end of their cycle. Usually, this is done to boost its potency and reveal blue and purple hues. However, before doing so, be sure to read the breeder's recommendations.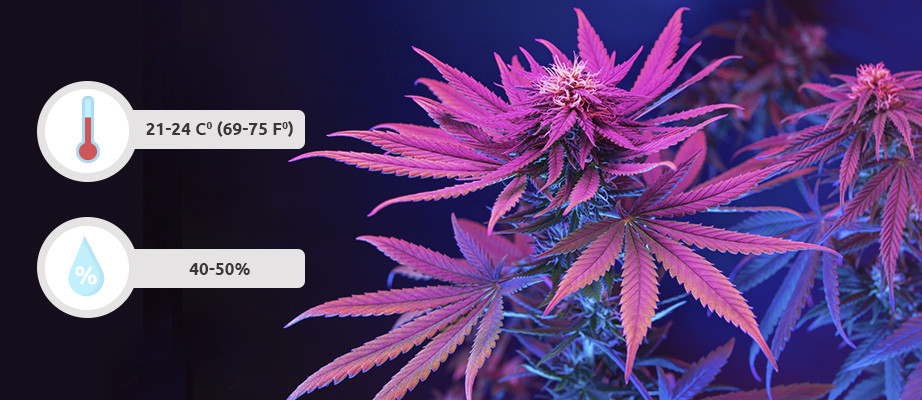 As for humidity, the recommended level for female marijuana will depend on the plant's lifecycle stage. Normally, seedlings and cannabis in veg prefer humidity levels around 60%. On the other hand, the flowering stage usually requires air humidity levels of 40-50% to reduce the risk of mold.
Which soil is best to use for growing feminized seeds?
Feminized cannabis vegetation will feel the best and yield the most in nutrient-rich, light, and well-aerated soil. Store-bought soil mixes are normally well-suited for growing cannabis. However, if you want to give your marijuana plant some special treatment, prepare a home-made mix from the following ingredients:
3 parts organic starter soil
1 part perlite
1 part worm castings
64g (2.2oz or 1/2 cup) greensand
43g (1.5oz or 1/3 cup) guano
64g (2.2oz or 1/2 cup) dolomite lime
Mix everything together and soak it for two days in pure water, keeping the soil mix wet constantly. Make sure your soil is mostly dry before transplanting your plant.
Note: this homemade soil is super nutrient-rich and shouldn't be used for seeds, seedlings, or clones – keep it for mature plants in the vegetative or flowering stage. If you use autoflowering seeds, this mix can be nutrient-sufficient for the whole cycle.
Lifecycle of female seeds
The lifecycle of feminized cannabis consists of six main parts, which are:
Germination. The feminized seed pops and becomes a sprout, which is then planted in the soil.
Seedling. In the soil, the feminized seed becomes a seedling. It will soon shed its husk and grow its first pair of leaves.
The vegetative stage. This is the period of the weed plant's most potency and growth. Week by week, it's going to become bigger and more mature, until it's finally ready to procreate and grow buds.
The flowering stage. During this period, which begins when the plant starts receiving 12 or fewer hours of light per day, the feminized plants will stretch a little more. Thanks to feminization, all of them will be female and will form smokable sinsemilla flowers.
Harvest. When trichomes on the buds turn from milky-white to amber, it's time to harvest your feminized weed! Do it on time to reap the best quality and potency.
Drying and curing. Freshly harvested buds will need some time in a dark, dry area to rest, amplify the flavors, and make the smoke smooth on your throat.
Required amount of light
With some feminized varieties being autoflowering cannabis, most feminised seeds are still photoperiod, meaning they will need 14-20 hours of light during the vegetative stage and 12 during the flowering stage.
While the sun is a perfect resource of light for growing marijuana, indoor cultivation can yield great harvests under artificial light as well. In perfect conditions, each Watt of light energy will bring you 0.5-1g of bud. Use this equation to count the perfect light wattage for your indoor grow op – yield satisfaction guaranteed!
Nutrients for cannabis
N-P-K: these are three very important letters to anyone who wants to grow pot successfully. They stand for nitrogen. phosphorous, and potassium – the three macronutrients essential for pot, the feminized kind included. It's also important to know that during the vegetative stage, weed plants require more nitrogen, while during the flowering stage, they become especially hungry for potassium and phosphorous.
Besides N-P-K, feminized cannabis also requires a list of certain micronutrients such as iron, calcium, copper, magnesium, etc. We recommend using cannabis-specific nutrients. These usually come in different packages for the vegetative and flowering stages, guarantee the best results, and are easy to use.
Feminized seed yields
The yield size of feminized seed strains is in no way inferior to that of regular seeds. Here, everything is going to vary greatly from plant to plant because of several attributing factors, including:
Genetics. For bigger harvests, choose a female weed seed strains that yields more. At Herbies, each feminized marijuana strain comes with a yield estimate.
Light. This variable directly converts to yield size. The more light your weed plant receives, the bigger yields it will bring. In good growing conditions, 1W = 0.5-1g of bud.
Nutrients. In order to grow bigger buds, you need to fertilize the females. Your feminized cannabis plants need to eat well. Make sure to provide all essential nutrients and look out for signs of nutrient deficiencies.
How to choose female cannabis seeds?
Honestly, it's impossible to make a wrong choice of female seeds at Herbies, because they're handpicked from the world's top breeders to be the best. However, considering there are easily hundreds of strains, you might find some guidelines helpful. So, when choosing feminized seeds at Herbies:
Pick Indicas or shorter-sized cannabis strains for growing indoors
Pick large Sativas for growing outdoors and reaping the biggest harvests
Pick quicker hybrids or Indicas if you grow outdoors and live in colder regions
Pick female strains with up to 20% THC if you're an inexperienced toker
Pick CBD feminized seeds if you are looking for a natural and safe way to treat pain, anxiety, and insomnia.
Best feminized cannabis seeds
When it comes to growing marijuana, using the best feminized seeds is of utmost importance. These seeds have been specially designed to produce only female plants, ensuring higher potency and greater yields. Some of the best feminized seeds in the market today are known for their easy grow ability, making them ideal for both seasoned growers and beginners. These seeds thrive well both indoors and outdoors, and can withstand a variety of environments, including hot and humid climates. Apart from being easy to grow, these seeds also have a relatively short flowering time, typically requiring only 8-10 weeks before they can be harvested. This means that gardeners can get multiple harvests in a single year, making them a cost-effective solution for commercial cultivators. Whether you are growing for personal use or commercial purposes, using the best feminized marijuana seeds will undoubtedly enhance the quality and quantity of your yield.
White Widow
White Widow by Dutch Passion is a highly acclaimed strain in the world of cannabis. With numerous Cannabis Cup Awards under its belt, White Widow is a favorite among experienced growers. Dutch Passion, a reputable seed bank, has created a hybrid strain with both indica and sativa characteristics, making it a popular choice for both recreational and medicinal purposes. The yield per plant is quite impressive, making it attractive to growers looking for high yields. White Widow is a strain that delivers in terms of potency and taste. Its effects are well-balanced between cerebral and physical, making it an ideal strain for both daytime and nighttime use. Overall, it is a top-performing strain and definitely worth trying out for any cannabis enthusiast.
Critical Kush
Critical Kush by Barney's Farm is a high-quality feminized marijuana strain that produces impressive female flowers. This strain is perfect for cannabis enthusiast who want to choose the best, as the plants produce consistent and potent results. With a reputation for excellence, Barney's Farm is one of the most reputable online seed banks on the market, ensuring that you get only the best quality seeds. Critical Kush has a high THC content, which makes it ideal for both recreational and medical marijuana users. The strain offers a relaxing and uplifting effect that can help to alleviate stress, anxiety and depression, making it a popular choice among those who are seeking a natural way to treat these issues. The flavor profile of Critical Kush is complex, with notes of pine, earth, and citrus, making it a truly unique and enjoyable strain to try. Overall, if you're searching for a high-quality marijuana strain that offers impressive results and is easy to grow, then Critical Kush by Barney's Farm is definitely worth checking out.
How to buy feminized seeds online
It's never been easier to buy feminized seeds online! In our Feminized Collection, there are hundreds of high-quality feminized strains suited for every growing space, experience, and budget. Filters will make it a matter of seconds to find the cannabis seed that matches any and all of your needs. Our Reviews section is present on every strain's individual page, where you can read about the experiences of fellow growers. Besides this, if you need any assistance in navigating Herbies' website or choosing feminized pot seeds, you can always chat with our Support Team. They'll be more than happy to help you with your order and guide you through the choice of feminised seeds for sale and variety of payment and delivery methods available at Herbies.
Why choose Herbies Seeds?
There are a few key reasons why Herbies is the go-to online store for high-quality cannabis seeds. Firstly, we offer a wide range of high-quality strains that are carefully selected to ensure maximum potency, flavour and growth potential. This means that whether you're a seasoned cannabis cultivator or just starting out, you can find the perfect strain to suit your needs. Secondly, buying cannabis seeds online from Herbies Seeds is incredibly easy and convenient - simply place an order and have it delivered straight to your door. Plus, you can rest assured that all of their products are of the highest quality, so you're getting the best possible value for your money. Depending on the strain you choose, you may even receive free seeds with your order, allowing you to explore new strains and broaden your cannabis horizons. So if you're looking for a reliable source of high-quality seeds, look no further than Herbies.
FAQ
Are feminized seeds worth it?
Simply put, yes. If you're not planning to breed your own hybrids, female seeds are the way to go. They save your time, are perfect for beginners, and translate to way more female plants than regular cannabis seeds.
Can I find cheap feminized seeds for sale at Herbies?
Yes, you can. The choice at Herbies is close to limitless. Even if you're on a budget, it's guaranteed that there will be dozens of top-notch female weed seeds for you to choose from in our catalog.
Can you grow different feminized strains in the same grow room?
Yes, you can. As long as you only use seeds that are feminized, there will be little to no risk of pollination. There's also no problem with growing different strains together. Just make sure to provide each of them with sufficient amount of space, light, and nutrients.
Can I make a mother plant from a feminized strain?
Yes, you can. In fact, many cannabis cultivators use feminized seeds to create mother plants.
What is the difference between auto-flowering seeds and feminized?
Feminized cannabis seeds are bred to produce only female plants, eliminating the possibility of male plants that don't produce buds but pollen. Meanwhile, auto-flower seeds are genetically modified to start flowering on their own based on their internal clocks or age, without the need for a specific light cycle.
In terms of growing, auto-flowering seeds are generally easier to manage and produce faster results, while feminized seeds offer a better guarantee of an all-female crop, which is important for maximizing yield.
How feminized seeds are made?
Essentially, the process involves manipulating a female plant to produce pollen that only contains female chromosomes. Breeders achieve this by triggering a response in the plant that makes it hermaphroditic. This means the plant will develop both male and female reproductive parts, causing it to self-pollinate. The resulting seeds will only contain female chromosomes, as there was no male plant involved in the pollination process. This technique allows growers to produce stable, all-female plants with consistent genetics.
Is there a risk of male plants popping up from fem seeds?
There is always a risk of male plants popping up from feminized seeds, although the risk is relatively low. Feminized seeds are produced by inducing hermaphroditism in a female plant, which leads to the development of female-only seeds. However, there is still a small chance that the genetic makeup of the seeds can produce male plants, especially if the feminization process was not done properly.