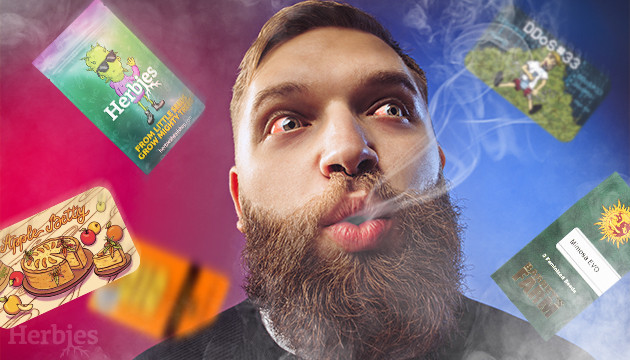 Feeling disappointed because your favorite strain just isn't doing it for you anymore? Or maybe you're just curious about what the absolute strongest weed out there is? Either way, you've come to the right spot. For those who like it heavy, we've selected the top 10 strongest hybrid marijuana strains for a balanced yet super-duper-potent high.
From the body-numbing effects of Apple Betty to the cerebral highs of Gorilla Punch Auto, these hybrids are the real deal. Let's check them out!
Apple Betty (Herbies Seeds)
First up is Apple Betty, the strongest hybrid strain in Herbies Seeds' arsenal. Powered by 28-33% THC, old aunty Apple Betty will knock you down with a wave of heavy-handed euphoria that settles into a deep body relaxation with a slightly psychedelic kick.
These bushy plants with trichome-coated buds yield 600-800 g/m² indoors and up to an incredible 2.600 g/plant outdoors – all in just 55-65 days! Apple Betty's dessert-style terpene profile adds to her potent charm. This weed has the power to thaw even the coldest of hearts with its wood-fired apple pie flavor accompanied by notes of cinnamon and chocolate.
Mimosa EVO (Barney's Farm)
Barney's Farm really decided to take their foot off the brakes when creating Mimosa EVO. This dank strain is a 60/40 blend of Indica and Sativa, packing up to 30% THC for a heavy-hitting high that's both euphoric and energizing and keeps users clear-headed throughout the day.
Indoor growers can expect a bountiful yield of 700 g/m², while outdoor plants can deliver up to 2000 grams each in just 65-70 days of flowering. Another highlight is the tropical and zesty terpene profile, which is the reason for the exotic flavors and aromas with sweet fruit notes emanating from this herb.
Strawberry Gorilla Auto (Fast Buds)
The highest-THC autoflower on our list of top 10 hybrid strains, Strawberry Gorilla Auto will fill your entire mind with pure happiness and lifted bliss thanks to its 27% THC. The high ends with a soothing body buzz that makes users veg out and chill the hell out of the evening.
This beast churns out massive yields for an auto, delivering between 450-600 g/m² indoors and up to 300 g/plant in outdoor gardens. The entire growth cycle takes just 70 days from seed. A unique mix of strawberry aromas and tropical flavors completes the picture, making for a must-try smoking experience.
Bruce Banner #3 (Herbies Seeds)
Explore your superhero side with Bruce Banner #3, a top hybrid strain by Herbies Seeds. As a 60% Sativa, BB #3 offers an intense, euphoric boost of energy followed by a mellow, soothing Indica after-effect. With up to 27% THC, Bruce Banner #3 is nothing to mess with.
Indoor-grown crops yield up to 800 g/m², while outdoor plants each bring a whopping 1200 g in 60-70 days of flowering. Bruce Banner #3 has a savory diesel taste with a sweet, fruity kick that'll have your taste buds begging for more.
Runtz Gum (Original Sensible Seeds)
Runtz Gum is an ultra-potent hybrid that tilts slightly to the Sativa side of the scale. With 28% THC, this Original Sensible Seeds creation has the yin and yang of cannabis just right when it comes to both the effects and the growing. On the onset, it produces limitless euphoria that evolves into blissful relaxation while keeping your mind alert and focused.
Growing this weed is an absolute delight, as it fills the room with a penetrating fragrance of strawberry candy and grapefruit. Runtz Gum takes 70 days to finish flowering, challenging your stash capacity with 700 g/m² of premium bud indoors and upward of 1000 g/plant outdoors.
Gorilla Punch Auto (Fast Buds)
A cross between Purple Punch and Gorilla Glue, Gorilla Punch Auto is the perfect addition to the cohort of the best hybrid weed strains. With 26% THC and balanced effects that are perfect for social events, this weed will boost your energy and mood through the roof, helping you stay positive throughout the day.
After just 56-63 days from seed, Gorilla Punch Auto brings in 550 g/m² in indoor setups and anywhere between 50-150 g per plant outdoors. The terpene-rich buds sport delicious creamy lemon mousse flavors with a hint of cinnamon.
Dos Si Dos 33 (Barney's Farm)
Another gem from the vault of Barney's Farm, Dos Si Dos 33 packs a savage 28% THC along with a combo of Indica and Sativa effects. It won't spare your mind from its burst of happiness and energy, which then gives way to a numbing sensation in all your limbs.
Indoor and outdoor yields are equally generous at 700 g/m² and 2000 g/plant respectively. Even better, you can expect a short flowering time of 60-65 days and an exciting terpene profile that blends flavors of spiced lime and mint with the aromas of sherbet and fresh cookies.
Bruce Banner Auto (Sweet Seeds)
Bruce Banner Auto by Sweet Seeds is a slightly Sativa-leaning hybrid – hence its effects, which provide a welcome break from reality, crushing the floodgates with a wave of imagination and creativity. The THC content goes all the way up to 25%, making it one of the strongest hybrid autoflowering strains on the market.
Bruce Banner Auto is best grown indoors, where it brings 400-500 g/m². Outdoors, this top hybrid strain is less productive, yielding up to 150 grams per plant, but wherever you're growing, it will kick out a bouquet of fruity, floral aromas accompanied by old-school earthy notes.
Girl Scout Cookies (Garden of Green)
Girl Scout Cookies has a legendary genetic lineage that includes OG Kush, Durban Poison, and Cherry Kush. GSC boasts sky-high potency with 28% THC and easily makes it to the list of the best 50/50 hybrid strains. The effects focus on the head, spurring creative ideas and stirring the imagination for whatever project or mischief you're up to.
This strain thrives best indoors, where it produces 450 g/m² of crystal-coated buds in as little as 55 days. Girl Scout Cookies plants come packed with delicious flavors and aromas of wild cherries, blueberries, baked dough, lemon hash, and even mint.
Auto Glueberry O.G. (Dutch Passion)
Last but not least, welcome Dutch Passion's Auto Glueberry O.G. – one of the best 50/50 hybrid strains with THC clocking in at 22-26%. This bittersweet wonder offers an energetic high that lifts the spirits and allows the troubles of the day to simply melt away.
Indoor growers can expect to fill their jars with up to 500 g/m² in 77 days of flowering. The flowers kick out a strong and pungent aroma with a touch of lime and exotic fruits, while the smoke is smooth and earthy on the exhale with hints of sour diesel and blueberry.
The top 10 strongest hybrid weed strains above are just a tiny sample of the absolute dopest stuff we've got in store. If you're looking for even more options, head straight over to our catalog and explore our epic stocks of the highest-quality cannabis seeds. Feminized, autoflowering, fast-flowering – we have it all.
Herbies Head Shop expressly refuses to support the use, production, or supply of illegal substances. For more details read our Legal Disclaimer.