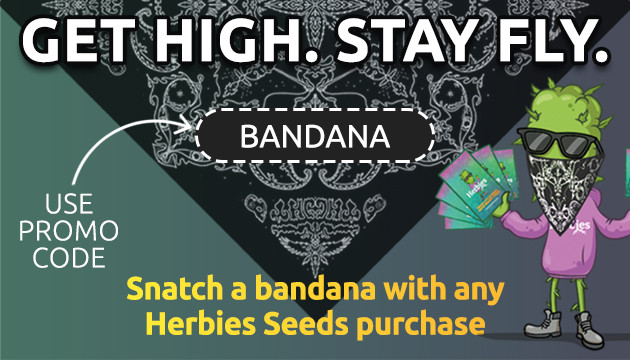 Spring is in the air, and Herbies is gearing up to help you transition in style with a promo you won't want to miss!
From 00:00 March 6th to 00:00 March 13th (PST), use promo code BANDANA whenever you buy any Herbies Seeds strain to score a dope bandana for free. Don't snooze on this one – the number of bandanas is limited and once they're gone, they're gone.
Our 100% cotton bandana with the Herbies logo and paisley print is a generous 55x55 cm – perfect for showing off your love for cannabis, freedom, and Herbies. Whether you're hitting the streets or hanging out with friends, a bandana is just the accessory to complete your look. And let's be real, you can never have too many.
Seeds from Herbies Seeds
VIEW ALL
Your order should include any strain by Herbies Seeds for you to snag this deal. Take a peek at some of the best offers we've got for you:
Heavy Kickers Mix
Heavy Kickers Mix (Herbies Seeds)
Photoperiod

THC knock-out

No official information

29 - 33 %
View strain
If you're aiming for extreme potency, look no further than Herbies' Heavy Kickers Mix. This pack includes butt-whooping strains: Godzilla Glue #4, Mimosa Shot, and Grandmommy Purple. Tons of fun and loads of THC – what else do you need to get all the tension and stress out of your system?
Critical XXL Auto
Critical XXL Auto (Herbies Seeds)
Autoflowering

Laid-Back Vibes

400 - 500 g/m² indoors
800 - 900 g/plant outdoors

17 - 23 %
View strain
One of the most powerful autoflowers on the market, Critical XXL Auto is the ultimate sleeping pill that can also help you stay happy and creative throughout the day if used in moderation. What's more, this herb brings exceptional harvests for an auto – up to 500 g/m² indoors and 900 grams/plant (whaaat?) outdoors.
Grandmommy Purple
Grandmommy Purple (Herbies Seeds)
Photoperiod

An ecstatic must-have

400 - 500 g/m² indoors
450 - 550 g/plant outdoors

30 %
View strain
This berry-flavored gem took the market by storm and turned out to be so popular that it was featured in the High Times Magazine. With 30% THC and euphoric, relaxing effects, Grandmommy Purple will spin you around and knock you out, but will never give you up, let you down, or hurt you.
Sour Diesel Auto
Sour Diesel Auto (Herbies Seeds)
Autoflowering

22 - 25 %

Head Rush for Petrol Heads

300 - 450 g/m² indoors
550 g/plant outdoors
View strain
For those who like it sharp and tangy, Sour Diesel Auto offers a spicy, gassy flavor and a pungent, diesel-like aroma. Powered by up to 25% THC, this weed offers typical Sativa effects – fast-acting, mood-boosting, and energizing.
Grab your cart now, snag these or any other Herbies Seeds strain, and use the promo code to add some style to your spring wardrobe. We can't wait to see you rocking your new bandana!
Herbies Head Shop expressly refuses to support the use, production, or supply of illegal substances. For more details read our Legal Disclaimer.