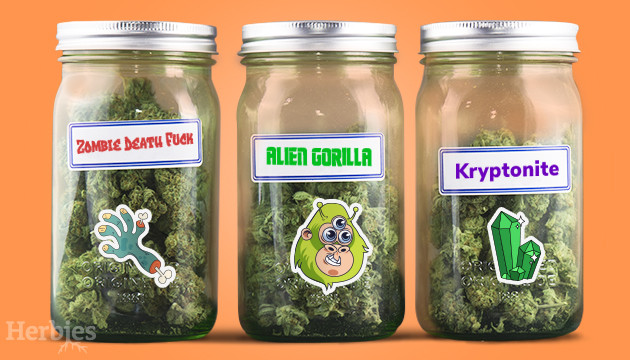 Welcome to the wild and wacky world of cannabis, where creativity knows no bounds! In a realm filled with strains like Zombie Death Fuck and Stinkin' Bishop, you can't help but chuckle at how amusing these names are.
Buckle up and prepare to embark on a journey through some of the truly funny or downright weird strain names in Herbies' catalog. Our list will prove that laughter is the best medicine! So, get ready to roll, and let's explore some of them right here, right now.
Zombie Death Fuck
Number one on our list of funny weed strain names is Zombie Death Fuck. With a name like this, you know you're in for a wild ride. This potent hybrid will have you feeling like the undead, shuffling around in a haze yet still enjoying every moment. A combo of Girl Scout Cookies and OG Kush LA, Zombie Death Fuck will leave you feeling both relaxed and stimulated, making it perfect for the zombie apocalypse.
Skywalker OG Auto
The force is strong with this one! Skywalker OG Auto is a mostly Indica strain that will make you feel like you're floating through the galaxy. An offspring of the Skywalker OG family, this autoflower goes all the way to Mazar, Blueberry, and OG Kush. It's perfect for Jedi masters and Padawans alike who need to unwind after a long day of lightsaber battles.
Alien Gorilla
Although this name doesn't make much sense at first, it all adds up once you think about its genetics. This otherworldly strain is the result of crossing Alien Technology with Gorilla Glue and an Afghani landrace, making for a potent, relaxing high that might just make you feel like you've been abducted by E.T. Alien Gorilla will leave you feeling calm, euphoric, and ready to make contact with the mothership.
Thunder Bloody Mary Auto
It's really hard to decipher this one. Brace yourself for a storm of flavor and potency with Thunder Bloody Mary, a zesty strain that was born from a cross between the famous White Dwarf and the classic Mazar. This herb delivers a spicy and invigorating cerebral high that gives way to potent narcotic effects. Get ready to feel electrified and knocked out!
Cataract Kush
Don't worry – Cataract Kush won't impair your vision. This nearly 100% Indica will actually make you feel like you're floating in a cloud. Some believe it's called this because it grants relief from eye conditions, while others say it's because the effects start in the back of the eyes. Either way, Cataract Kush will blur the lines between reality and euphoria, providing a potent, relaxing experience.
Kosher Cake Auto
This cake will get you baked in no time! Satisfy your cravings for both kosher treats and cannabis with Kosher Cake Auto. A delectable Indica-dominant mix of Wedding Cake and a Ruderalis, this trichrome powerhouse offers a tasty high and a cookie dough flavor. Mazel tov!
Kryptonite
It may not be Superman's weakness, but this particular Kryptonite is a potent strain with 20% THC that can make even the most seasoned user feel weak in the knees. With genetics from Jack Herer and Haze, Kryptonite provides an uplifting and energetic high that's perfect for a day spent saving the world.
Gorilla Glue Auto
One of the funny weed names in our vault is also among the most popular. This sticky-icky is a favorite among users seeking a super-powerful high that borders on couch-lock. An autoflowering version of the (in)famous Gorilla Glue, this one's for those who want a relaxing, euphoric experience without the long wait.
Holy Grail 69
Embark on a quest for the ultimate high with Holy Grail 69. Although this funny weed name combines the uncombinable, its origin is quite straightforward: a blend of Punky Lion (a pure Indica) with a pure Haze. This weed offers an uplifting, energetic high that'll have you feeling like you've discovered the sacred chalice of cannabis. So, gather your knights and prepare for a holy experience!
Crystal Meth Auto
Don't let the name scare you off – Crystal Meth Auto is just a potent autoflower that offers a powerful, uplifting high. This energetic strain is a mix of Early Skunk, Trainwreck, and Mexican and Hawaiian Sativas – perfect for those seeking an intense experience without the illegal substances.
Puff Puff Pass Out
With a name that speaks for itself, this mostly-Indica hybrid is made for those looking to chill out and maybe even catch a few Zs. With its sedative effects, Puff Puff Pass Out is ideal for a lazy evening or winding down after a long day of reading about crazy weed strain names online... just remember to pass before you doze off!
Mexican Airlines
Buckle up and prepare for takeoff with Mexican Airlines, a Sativa-leaning hybrid that'll send you soaring. This spicy herb is a mix of the best Mexican and Colombian autoflowers, offering an uplifting and creative high that's perfect for frequent flyers looking to escape the mundane and expand their horizons.
Purple Urkle
This name probably won't make much sense unless you're a fan of the hit '90s sitcom Family Matters. Purple Urkle was named after Steve Urkel, the show's most popular character. By the way, actor Jaleel White, who played the character, has approved of the name and even launched a cannabis line called Purple Urkle. This Indica-dominant strain is known for its sleep-inducing, pain-relieving, and relaxing effects, making it incredibly popular among medical patients.
Morpheus CBD
Slip into a dreamy state with Morpheus CBD, a high-CBD strain perfect for relaxation and stress relief. With genetics from Blue Dream and Harlequin, this soothing weed delivers a balanced high powered by 10% THC and 10% CBD. As a result, you'll take advantage of its therapeutic benefits without the intense psychoactive effects.
Stinkin' Bishop
Embrace the funky side of cannabis with Stinkin' Bishop, a pungent strain that's sure to turn heads. This aromatic strain is a mix of Cheese and Skunk, offering a unique flavor profile and a relaxing, body-centric high for you to kick back with and enjoy the smell of success.
Bonus entry: Cat Piss
Seriously, why would anyone name a strain like that…
Final Thoughts
Breeders whip up these weird and funny weed names to grab attention and make their strains stand out. They draw inspiration from a strain's genetics, effects, appearance, or even pop culture references. While these names can spark interest, they might not always give a clear picture of the strain's effects, which can be a minor downside. So, enjoy the funny weed names, but remember to look into the strain's specifics before diving in. Happy toking!
Herbies Head Shop expressly refuses to support the use, production, or supply of illegal substances. For more details read our Legal Disclaimer.