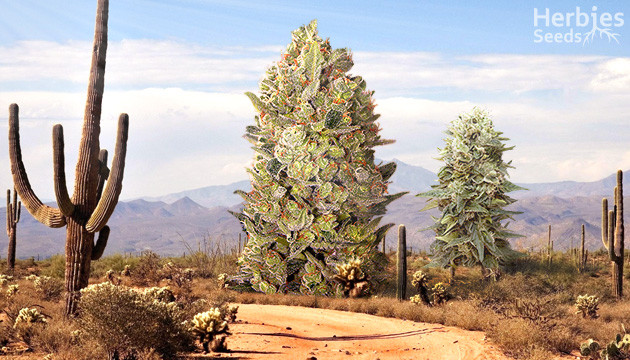 All over the globe, marijuana lovers are growing their own plants come rain or shine, so what's stopping you? Whether the scorching hot sun outside is blazing for 15 hours+ a day or the harsh dry air and lack of rain has your soil feeling sandy, keep your chin up! Marijuana is nicknamed weed for a reason – it can survive practically anywhere.
We can't always help what climate we live in, so when it comes to successfully growing some dank weed, just make sure you choose a strain with the genetics to thrive in your local climate. To help you along, we've put together this list of the ten best strains for a hot, dry climate, as well as some useful info to help you understand how to grow cannabis in a desert-like environment.
How Does a Hot Climate With Low Humidity Affect Cannabis?
To start out, cannabis loves sunshine. The problems start when the temperatures rise and the air lacks sufficient humidity. Without enough rain and the heat beating down, your soil dries out and plants begin to wilt. However, the problem can't always be solved by simply watering more, so what exactly is happening to your cannabis plant in these arid weather conditions?
Imagine a plant in the scorching hot summer sun of Australia. Temperatures reach heights of up to almost 100°F (37°C) in some areas, with annual rainfall here at only 250mm (10 inches) per year.
Most marijuana plants begin to form problems when kept at over 85°F (30°C) for too long. A plant in these conditions may begin to grow slower due to a lack of water and nutrient uptake. Once the soil has dried out enough, the nutrients you may have added to the soil can even cause nutrient burn and further damage your plant. Leaves will turn yellow and start to fall off, and you may not get a very satisfying yield.
However, don't lose hope! With the right care and knowledge to grow in dry climates, you can grow healthy, thriving plants and achieve the yield of your dreams.
Quick Tips to Grow in Dry Climates
If you've decided to grow in a dry climate, there are a couple of easy but useful tips to help keep your plants healthy and hydrated throughout even the hottest days. Here are a few things that you could try:
Choose the right strain: Choosing the best strains for a hot, dry climate will give your strain the upper hand in handling the arid environment.
A simple shade net: These will cover your plants from the harshest sun rays while still allowing enough through to nourish them.
Use water-absorbing polymers: Mixing the right amount of water-absorbing polymers into your soil will give your plant a reservoir for when the drought conditions become too harsh.
Manually move plants: If your plants are potted, manually move them out of direct sunlight during the hottest hours of the day to avoid heat damage.
Overall, the most important step to take is choosing the best strains for a desert climate to get the most productive plants possible.
10 Best Cannabis Strains for a Hot, Dry Climate
Instead of leaving you in the desert dust, we've put together this list of the best strains for a hot, dry climate to give you a head start. These strains are all capable of surviving in hot weather thanks to their genetics and origins. You can't go wrong here, so take a look!
California Orange (Dutch Passion)
Nothing beats the heat like a freshly squeezed glass of orange juice, and California Orange is the cannabis equivalent. Her 50:50 Indica/Sativa genetics equip her with the hardiness needed to thrive outdoors and in greenhouses, giving you a refreshing harvest of delicious citrus-scented bud with ease.
From the moment the buds form, enjoy a zesty citrus pungency reminiscent of grated orange peel on a hot summer's day. With up to 26% THC content, her effects are just as sweet, encouraging good social engagement and an uplifting energy burst for a wonderful daytime smoke.
Tutankhamon (Pyramid Seeds)
Standing tall and strong in the desert heat, Tutankhamon is the Pharoah of strains to grow in dry climates. A well-balanced Sativa-dominant hybrid, this plant tackles the heat like a breeze and shoots up tall in under 60 days, producing the most potent, fluffy desert gems you could wish for.
Reaching pyramid-sized potency of up to 30% THC, Tutankhamon carries the ancient wisdom of multiple medicinal benefits. It works well for mood disorders, depression, and pain relief with its powerful yet relaxingly happy cerebral high. Each puff delivers a morish lemonade flavor with a potent skunky scent and earthy undertones to keep you coming back time and time again.
Colombian Gold (World of Seeds)
Coming in hot as one of the best strains for a hot dry climate is the 100% Sativa strain Columbian Gold. As you can imagine, this pure-bred plant grows tall, with plenty of branches to grow enough bud to stock the medicine cabinet. Hardy and simple to grow, this powerful medicinal strain features high irrigation tolerance for those peak heat days and only requires some minor effort to manage pests.
Although her THC content is moderate at 18%, her effects are purely cerebral and psychedelic, making her a heavy hitter for recreational use. Above all, like a sweet fruity-flavored medicine, Columbian Gold is bred for medicinal use.
Tangerine Dream (Barney's Farm)
Another fantastic well-balanced hybrid that's perfect to grow in dry climates is the beloved Tangerine Dream. With a Haze variant and Afghan in its family tree, this strain is built specifically to survive in desolate, arid environments.
With up to 23% THC and 1.8% CBD, paired with her hybrid status, her effects start off with a rush of euphoria to lift the mood and then ease into a tension-melting relaxation ideal for those dealing with stress or depression. And just when you thought she couldn't get any better, her juicy flavor comes in to spark a citrus and berry delight in your mouth.
Lemon AK Auto (FastBuds)
Sprouting up and growing like a true weed, Lemon AK Auto has the genetics to thrive in hot weather, producing XL yields with ease. With her 75% Sativa dominance and Ruderalis parent strain, she comes out guns blazing in just 63-70 days featuring the most exquisite lemon pungency. This makes her by far one of the best strains for desert climates!
Her effects are exciting and refreshing, offering a classic Sativa-like experience of uplifting, cerebral confidence that will leave you feeling focused and creative. With up to 24% THC, this strain is ideal for treating glaucoma, nausea, asthma, and stress.
Golden Tiger (Ace Seeds)
As fierce as a wild cat, Golden Tiger grips you in its claws and takes you on a psychedelic trip with up to 28% THC content and 100% Sativa genetics. This is one of the best strains for hot, dry climates, but is best left to the professionals, as these strong effects can pounce you to the floor in just one puff.
With a complex Thailand and Malaysia heritage, Golden Tiger forms thick, resinous buds with a unique floral scent and hints of spice and lemon to pull it all together. She's a high-yielding Sativa that's ready to harvest by October outdoors, even when grown in hot weather conditions.
Godzilla Original Glue GG#4 (Herbies Seeds)
One of the very best strains for hot, dry climates is the sticky, resin-abundant Godzilla Original Glue GG#4 with its incredible potency of up to 29% THC and effortless beginner-friendly yields. With the breeding to handle hot weather, this mighty strain is a perfect 50/50 hybrid.
What makes this monster stand out even more is her mouth-watering terpene profile and mind-blowing effects. Godzilla Original Glue GG#4's sedating yet euphoric medicinal high works wonders for sleep disorders, chronic tension, and severe anxiety. Her flavors enhance these comforting effects with a deliciously soothing chocolate palate, excited by hints of pine and lemon to round things off.
Amnesia Haze (Royal Queen Seeds)
If you're looking for a classic Sativa to rock your world but live in an extra-dry area with super-hot weather, Amnesia Haze is your gal! She's a 70% Sativa lady with just enough Indica to carry her through a dry spell. Offering a generous harvest of sparkling bud, she pleases both growers and smokers alike.
Reaching a hazy height of up to 24% THC and CBD at about 1%, her strong cerebral high is uplifting, euphoric, and relaxing. Enjoy a soft citrus indulgence with earthy undertones and a sweet, spicy flavor to round off your experience nicely on the tongue.
Critical Super Silver Haze (Delicious Seeds)
Get ready to time travel back to the '90s with Critical Super Silver Haze. This is a strain to grow in dry climates, with its 70% Sativa dominance and Indica hybrid genes adding that extra resilience and water retention. Growing super-heavy yields in no time, this cool kid on the block is one of the best strains for desert climates to date and always seems to deliver!
Her Sativa dominance and 21% THC content give her a glorious old-school cerebral feel, hitting you with a happy, energizing high for a great daytime toke. If that wasn't enough nostalgia to keep you occupied, this strain features the classic haze flavors with a warm, woody element on the palate.
Tropicanna Banana (Barney's Farm)
Last but absolutely not least on this list of the best strains for hot, dry climates is the one and only Tropicanna Banana. A legend in her own right, this tropical fruity hybrid is constantly praised for her unbelievable outdoor yields reaching up to 2000g/plant (70oz/plant)!
Along with her legendary genetics including the likes of GSC, Tangie, and Banana Kush, this impressive strain showcases a 25% THC content with a bubbly high that can put a smile on anyone's face. Just one banana-rich puff of creamy smoke and you're there!
Final Thoughts on Strains for Desert Climates
As you can see by our list of the best strains for hot, dry climates, your choices when growing delicious cannabis in hot weather conditions are far from limited. Each strain is resilient and high-yielding to ensure a satisfying end result. However, if you experience extreme weather on some days, be sure to show your plants the utmost care and check them for damage on a regular basis. No plant is 100% foolproof, but these strains are a great place to start.
Herbies Head Shop expressly refuses to support the use, production, or supply of illegal substances. For more details read our Legal Disclaimer.