As an important aspect of your life, it's only natural to want to express your love of cannabis through fashion. From simple plant-based weed clothing brands to fun statement pieces that never fail to turn heads, the world of weed apparel stretches far and wide to meet your unique style preferences.
Instead of scrolling the web for hours or wearing down your sneakers trekking from store to store, we decided to bring you the very best designs from some of the top weed apparel brands around the globe, all in one place. So, without further ado, light your jay and take a look!
Zumiez
The first of the marijuana clothing brands we love and know you will too is Zumiez, a brand specializing in street fashion and skate gear. This awesome, innovative store offers some of the dopest designs with some sneaky cannabis references here and there.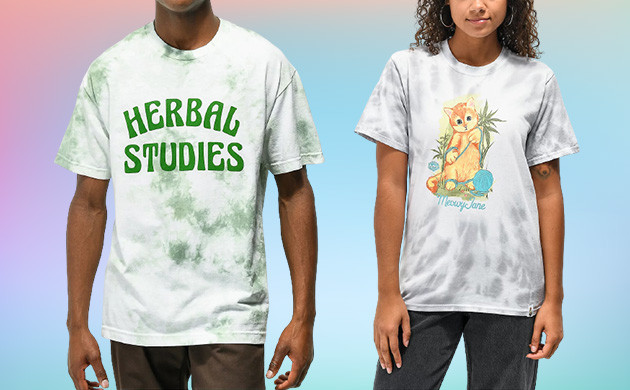 Pot Meets Pop Herbal Studies Green Tie Dye T-Shirt
One of our favorite cannabis clothing designs from Zumiez is this hazy green tie-dye t-shirt with an Herbal Studies text design on the front in a classic green font. Made by Pot Meets Pop, this 100% cotton shirt is sure to display your "field of study" to anyone who sees you in it.
Your Highness Meowy Jane Grey Tie Dye T-Shirt
If you're up for a fun play on words, this Meowy Jane soft gray tie dye t-shirt is as cute as a kitten and can display your love of cannabis in a subtle way only other weed lovers will understand. Made by Your Highness, enjoy a comfy crew neck fit and 100% cotton weave to keep it natural and soft.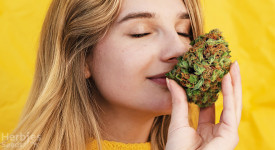 Top 5 Cannabis Strains With The Best Aroma
READ NOW
Mister Green
Next on our list of the best weed apparel brands is Mister Green, the progressive lifestyle brand based in LA that provides the public not only with some simple eclectic clothing designs, but also with cool cannabis-niche-specific home goods and accessories. This is a friendly store made for the high-minded people of the world.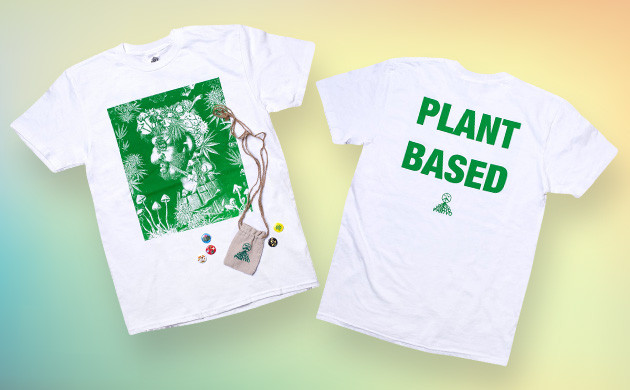 PRMTVO White Plant-Based T-Shirt
One for the nature lovers out there, this PRMTVO white heavyweight cotton t-shirt features a large green psychedelic forest man on the front, followed by green statement text reading "Plant Based" on the back – you know the plant in question, right? To make this marijuana apparel even better, each shirt comes with a printed burlap pouch to carry your stash in, plus a couple of hand-stamped psychedelic buttons to decorate it with. Pretty neat!
Sugarhigh Lovestoned
As sweet as sugar, Sugarhigh Lovestoned is a go-getter lifestyle brand based in Maui, Hawaii with a strong attitude for making change in the legalization of weed and support for women's rights. Their supply chain is eco-conscious, producing only small batches at a time, and all their prints are non-toxic water-based inks. We love their initiative and their fun-loving women's weed apparel.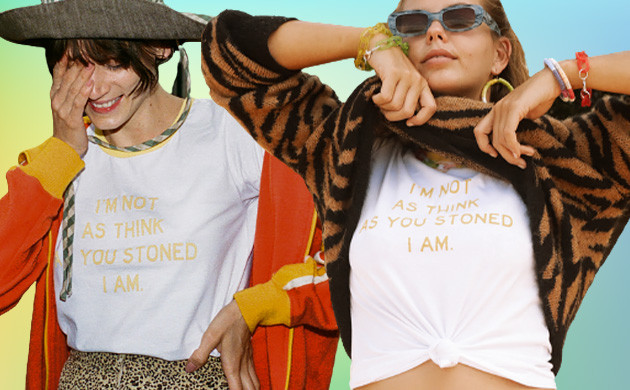 Not As Think Vintage-Inspired Ringer Tee
Summing up why we love this women's weed apparel clothing brand, this Not As Think funny statement shirt is vintage and cool, with a soft pastel-lined sleeve and neck and yellow text. This design is 100% cotton with water-based inks and comes pre-washed for an added vintage feel.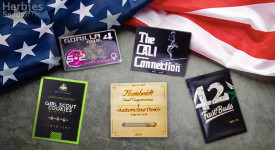 5 Absolute Best American Seedbanks
READ NOW
Letter Shoppe
A little less subtle, Letter Shoppe is the ultimate cannabis clothing brand for badass folk who like to wear their deepest expressions loud and proud for all to see. This is a forward-thinking brand focused on creating epic designs that spark conversations and spread empowering messages, whether about cannabis, mental health, or self-love.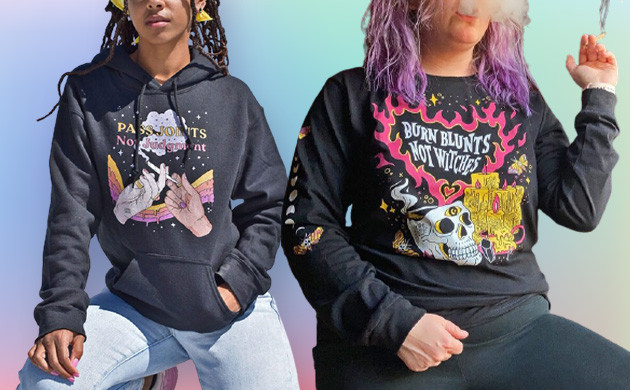 Pass Joints Not Judgment Black Hoodie
This charming Pass Joints Not Judgment black hoodie is probably one of the coziest weed apparel items on this list, and we can't get over how dope the artwork is. With a super soft 50/50 cotton and polyester blend, enjoy a comfortable and baggy fit with double stitching and a front pocket to hold your phone and lighter.
Burn Blunts Not Witches Unisex Long Sleeve
Another design by Letter Shoppe we love is this Burn Blunts Not Witches unisex long sleeve top. Perfect for blazing it up while doing tarot or reading about magic herbs, this gorgeous black top with a kickass design is available in all sizes, coming in plus-size weed clothing options up to 2XL.
Valfre
Founded by Mexican-born artist Ilse Valfre and named after its creator, Valfre is a women's weed apparel brand for the wild-hearted free spirits who want to express their love of cannabis in a fun, sexy way. With every design a psychedelic trip, you can find everything from clothing to coloring books in this talented artist's store.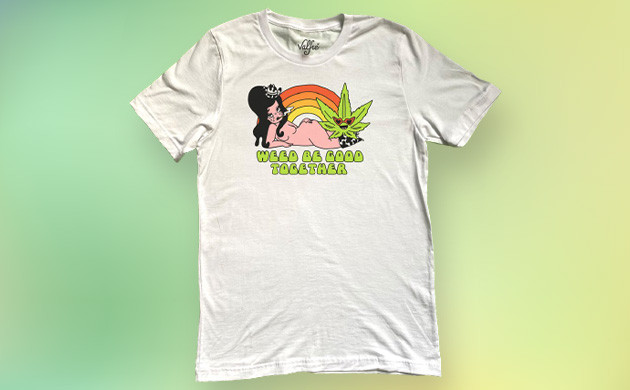 Weed Be Good Together White Unisex Tee
Our top pick from Valfre for this list is her sexy Weed Be Good Together white unisex t-shirt. A high-quality 100% cotton tee, this catchy design is eco-friendly, printed with a water-based dye, and coated in a 100% non-toxic pre-treatment to make the colors pop.
Bored Teenager
A no-brainer for any stoner looking for the dopest marijuana clothing brands is TV star Blake Anderson's Bored Teenager weed apparel store, better known now as simply Teenager. Starting with his wife's artworks printed on graphic tees for him to wear on his TV shows, the store is now a huge success and features some seriously stellar designs.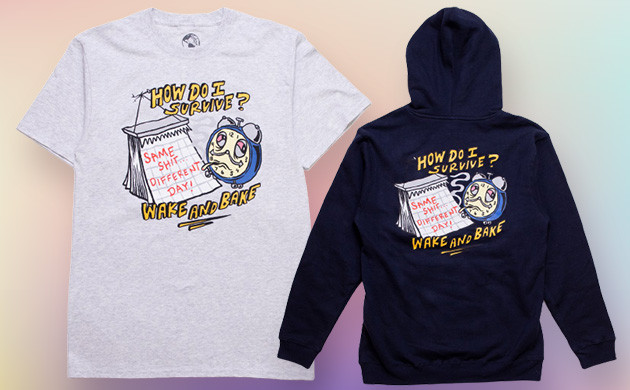 How Do I Survive T-Shirt
If you're looking for something to help express your frustration toward the daily grind, this How Do I Survive ash-colored t-shirt is the perfect way to do so. Featuring a stoned alarm clock with the words "Wake and Bake" underneath, we think this design is rather fitting.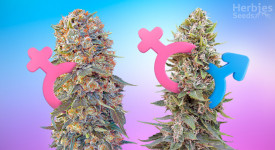 Feminized Vs. Regular Seeds
READ NOW
How Do I Survive Hoodie
Sometimes, the weather calls for something warmer than a short-sleeved t-shirt, so if you love the shirt but need something cozier, the How Do I Survive navy hoodie by Bored Teenager is the ultimate rainy day stoner's solution. With an 80/20 cotton to polyester blend, expect comfort to the max.
Mouthy AF
Made by designer and experienced e-commerce shop owner Kirk, Mouthy AF is the latest edgy art endeavor bringing his wild and versatile weed apparel designs to print so you can wear them while indulging in your stash. With the goal to make his t-shirts affordable for everyone, you can find cheap weed clothing in his store without compromising on funky design or quality – and Mouthy AF offers plus-size weed clothing too!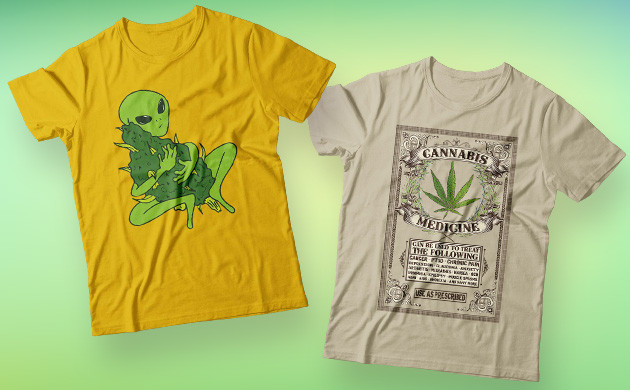 Alien Hugging Weed Nugget T-Shirt
Our favorite design of the day from Mouthy AF is this classic Alien Hugging Weed Nugget t-shirt that comes in black, white, or a nice mustard yellow. Wear it in the comfort of your own home, or get out with your best mates to trigger comments and giggles throughout the day or night.
Cannabis Medicine T-Shirt
Not every cannabis lover is in it for the jokes and laughs, so for all you medicinal smokers out there, this Cannabis Medicine t-shirt sends the right message with its sophisticated medical marijuana label design on a soft, natural-colored background.
High Citi
Created by husband and wife team Tom and Hailey, High Citi is a pop culture-inspired brand touching on a variety of interests and popular TV shows, including a wide range of exciting cannabis-inspired designs. Their weed apparel doesn't end with t-shirts either, so check out these two weed culture-themed swimsuits we just had to add to this list!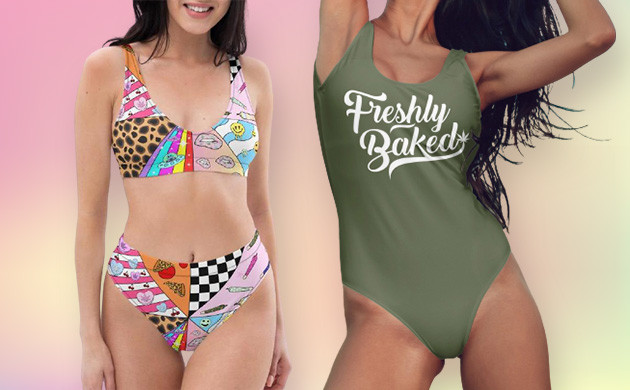 Freshly Baked Swimsuit
What's better than lying by the poolside in the warm summer sun getting completely baked? Lying by the poolside completely baked in a cheeky fit, Freshly Baked one-piece swimsuit. Coming in sizes XS-3XL, this chlorine-resistant polyester and spandex suit will be your new flattering poolside bestie.
Trippy High-Waisted Bikini
Next up from the High Citi women's weed apparel line is the Trippy high-waisted bikini featuring a dope design of everything stoner-esque. From blunts to slices of pizza and smiley faces, this double-layered, removable padded bikini makes so much sense for any proudly stoned babe hitting the beach.
Rasta Empire
A long-standing weed apparel legend we just couldn't forget about is Rasta Empire, the store with the most complete selection of Bob Marley gear on the internet. Along with their die-hard Bob fan merch, they also have some breathtaking general cannabis designs and quality Rastafarian items, including home decor and jewelry.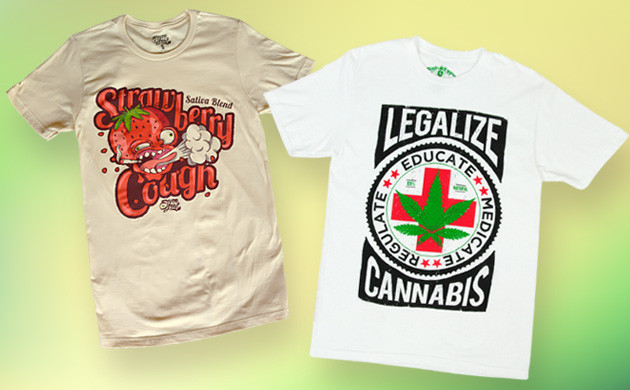 Seven Leaf Strawberry Cough Strain T-Shirt
For the love of an absolute classic cannabis strain, this Strawberry Cough t-shirt by Seven Leaf is so fun and detailed that we just had to add it to the list. Bringing you affordable weed clothing, you can grab this tee for less than $20 and enjoy super soft 100% cotton fabric, even for the low price!
Seven Leaf Legalize Cannabis White Heather T-Shirt
Making weed accessible for all and legalizing it is an important issue that deserves the limelight. This white Legalize Cannabis t-shirt is the perfect way to share your views on the topic, or boldly wear it to your next cannabis legalization protest.
Etsy
Although they aren't a brand in themselves, Etsy is a great way to find small creators and weed apparel brands using the platform. Here are our two picks we just had to show you.
Let's Plant Some Trees Long Sleeve
This funny Let's Plant Some Trees long sleeve is 100% cotton with a vintage style design and a great option to keep warm in the fall. Coming in black, white, and a lovely sand dune color, this top will work well with all the complementary colors for the season.
It's Just A Plant Green Crew Neck
A great design doesn't always need to be complicated or detailed. This It's Just A Plant green crew neck is enough to make a statement about your cannabis views while staying subtle and stylish. Featuring simple white text on a bold green sweater, you'll be ready for the colder weather in a flash.
Express Yourself With Weed Apparel
It's never too late to start expressing your love of cannabis through your fashion choices, so why not get yourself a cozy piece of weed print clothing to give your wardrobe a cannabis lover makeover while making the ultimate stoner statement?
We hope you found your personal must-have on this list, or at the very least, planted the seed for a future of wearing your highness on your sleeve. And remember, if you're looking for the perfect gift, weed apparel is a fantastic choice for loved ones with a borderline unhealthy weed obsession!
Herbies Head Shop expressly refuses to support the use, production, or supply of illegal substances. For more details read our Legal Disclaimer.