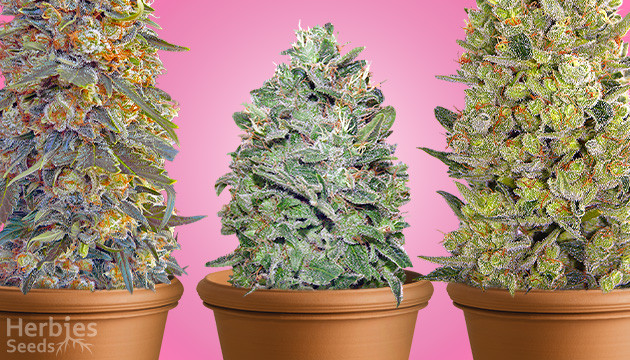 Sometimes, you don't have a spacious area to grow huge bushes. That can become a problem quickly. After all, cannabis 'grows like a weed!' If you're looking for something a little more compact in size, try picking up some of these short strains! Learn everything you need to know about potent shorties here!
What Makes it a Short Strain?
A short strain is, of course, shorter in size than other strains of cannabis. These little guys tend to fan out, becoming bushy pretty easily. They can be conveniently grown in a closet or on a balcony. Many of these strains are also very tolerant to being grown indoors or outdoors, meaning they can be cultivated just about anywhere. If you're looking for something small and strong, you'll want to find a short strain. They come in a variety of flavors and potencies, so you have plenty of options to choose from!
Different Short Strains Offered by Herbies Seeds
Take a look at some of our most successful short weed strain seeds available below. You can't go wrong with any of these short weed plants!
Thunder Bloody Mary
The Thunder Bloody Mary strain is an Indica-dominant hybrid. It's got punchy resin production, with buds offering 21% THC in most cases. If you're looking for a strain that provides you with a dreamy, suspended feeling, this is the one for you. You won't want to get off your couch after you've smoked some of this!
This strain is especially musky and is great for fans of that traditional cannabis funk. It comes with piney, woody notes that are quite lovely. The plant itself only reaches a height of 60cm (23.6in), making it compact enough for just about anywhere.
Berry Ryder Auto
If you're looking for flowers faster than you can imagine, Berry Ryder is the strain for you. Its buds contain an average of anywhere between 19-22% THC, along with 1% CBD. That means you're gonna be in a daze for hours on end – and it's going to feel great!
As the name implies, Berry Ryder Auto tastes sweet. It's a fruity strain with a heavy berry flavor. This plant reaches up to 90cm (35.4in) in height, making it both compact and powerful.
Gelato Auto
Even just saying the name of this strain is fun! Gelato Auto packs a serious punch in a mid-sized package, with its buds averaging 26% THC. This strain is going to get you up and going, as Gelato Auto is intended to be uplifting and energizing, helping you with your creative sessions.
The flavor palette of this strain is complex, with earthy tones underneath a sour profile with creamy notes. If you want something a little different, this is it. This plant ranges from 60cm to 110cm (23.6-43.3in), making it one of the taller short strains offered.
Mimosa Shot
Are you ready for the best feeling you've had all week? Get ready to take a hit of Mimosa Shot. This strain delivers an average of 30% of THC per bud, making it a powerful mood lifter. You'll be hit hard with euphoria that you won't want to let go of!
Like a mimosa, this strain is spicy and sweet, with notes of citrus in each hit. When grown indoors, the plant reaches a max height of about 80cm (31.5in). However, this is a highly adaptable strain that can reach great heights outdoors if given the opportunity, so keep this factor in mind.
Blue Sunset Sherbert
The Blue Sunset Sherbert strain gets its name from its buds, which are exotic in color, sporting orange-hued hairs for a gorgeous plant. With a THC content of 28%, you can expect a high that's going to provide deep body relaxation while sparking mental creativity.
Blue Sunset Sherbert is a citrus and berry-flavored treat you'll love. Sweet like a fruit-flavored candy, this plant only reaches heights of 80cm (31.5in) indoors.
Cream Cookies Auto
If you're looking for a lighter high than some of the other strains listed here, Cream Cookies Auto might be for you. This strain provides about 23% THC per bud and delivers a well-balanced brain and body high. The result? A relaxing search for food with a great case of the munchies!
As the name implies, the Cream Cookies strain is a sweet treat, tasting just like cookies and cream. The plant reaches a maximum height of 90cm (35.4in) and can be micro grown quite easily.
CBD 20:1
If you're looking for CBD rather than THC, the CBD 20:1 strain is for you. As the name implies, the ratio of CBD to THC is 20 to 1, with the CBD reaching up to 20% per bud. This is a natural medicine used to treat anxiety, insomnia, inflammation, and pain.
These plants are going to taste naturally sweet, like a bowl of fruit and honey. CBD 20:1 is a short and bushy strain, only reaching 90cm (35.4in) in height.
THC Bomb
THC Bomb is well-known for its fat buds that provide high yields in comparison to almost any other plant. These large buds average anywhere from 20% to 25% THC, and if you're looking for the best general, all-around high available, you'll get it here. It's even been called the perfect buzz.
This strain doesn't sport a unique flavor like some of the others on the list, but its notes of citrus and pepper, all with that enjoyable earthy flavor, is still tasty and speaks of good-quality cannabis. These plants are very manageable, only reaching 90cm (35.4in) in height indoors.
White Widow Auto
White Widow is a well-known strain that most weed enthusiasts love! The THC content is around 22-26%, delivering feelings of relaxation. It's easy to zone out entirely and escape from it all with this short weed strain.
When you think about White Widow, picture a sweet, citrusy weed with notes of pine. If you're looking to grow indoors, expect the plant to reach anywhere from 60cm to 100cm (23.6-40in) in height.
Extreme Impact Auto
Have a late-night session and hit the hay with Extreme Impact. This strain is going to leave you clear-headed and relaxed, so it's perfect for smoking right before bed. The THC content in each bud is around 21%, with CBD content reaching 0.6%.
The smell of Extreme Impact takes after its name. You might not be able to grow this outside with close neighbors, even though it only reaches 80cm (31.5in) in height. It's got a lemon-lime flavor that's zesty and delicious!
AK-49
This is one of the most well-known short strains for people who are looking to acquire an uplifting and healing effect. AK-49 delivers treatment for pain, nausea, and headaches. It's got an average concentration of 20% THC.
This easy-to-grow weed strain is a bit skunky, with floral and woody notes. This is the shortest strain we offer, reaching just 50cm (20in) in height when grown indoors.
Little Plants, Big Punch
Every one of the short cannabis strains on this list is going to help you get exactly what you're looking for. Size isn't everything, and these short height strains are here to prove it. No matter what kind of flavor or feeling you're after, you'll be able to find a short weed strain to accommodate your taste!
Herbies Head Shop expressly refuses to support the use, production, or supply of illegal substances. For more details read our Legal Disclaimer.