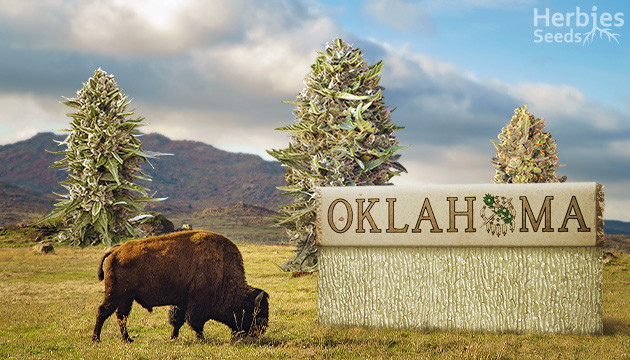 At this point in time, residents of Oklahoma can only acquire cannabis in a medical context under a state-issued license. Recreational cannabis use is unfortunately not yet legal. However, medical marijuana patients are allowed to keep several cannabis plants of their own. This begs the question: which cannabis strains are best for growing in Oklahoma? For our readers in Oklahoma, weed strains presented in this article are for you!
What are Good Strains for Oklahoma Climate?
First and foremost, let's discuss the growing conditions in Oklahoma. Luckily for you Okies, weed can be grown from March to November thanks to the state's characteristically long, warm summers. The peak summer months don't see much precipitation aside from the occasional surprise thunderstorm, so any danger of mold is significantly reduced compared to other areas. Of course, conditions vary depending on which part of the state you're in, since western Oklahoma sees more extreme temperatures and less humidity than the eastern portion of the state.
What does that mean for choosing the perfect cannabis strain to grow in OK? Essentially, any strain is going to do amazing when grown outdoors in Oklahoma! From Sativas that take half a year to reach maturity to autoflowering strains for multiple harvests before the season is over, this state is perfect for growing any kind of weed!
Top Marijuana Strains to Grow in Oklahoma
The climate of Oklahoma is pretty awesome for summer crops in general, and cannabis is no exception! Most marijuana strains will thrive in the Oklahoma sunshine, but we've made a point to personally curate a list of the top marijuana strains to grow in Oklahoma. Take the guesswork out of planning your outdoor grow for next year by following our advice!
Grandmommy Purple (Herbies Seeds)
First up is Herbies' own Grandmommy Purple, perfect for the cannabis enthusiast who likes to keep their hobby to themselves. Grandmommy Purple is as short and sweet as your neighborhood grammy, growing to a perfectly discreet height of 40-140cm (15.5"-55") that will keep your neighbors' noses out of your business. This strain brings classic Indica vibes in more than just appearance; the flowers are sticky and dense with resin, and guaranteed to pack a punch with a THC potency of 28-33%.
Runtz Muffin (Barney's Farm)
Time to deviate from all the secrecy – for growers who don't need to worry about wandering eyes, Runtz Muffin by Barney's Farm is at the top of the menu. This girl loves to stretch out and up into the sky, reaching heights of 200cm (6'5") outdoors and delivering harvests of up to 1kg (2.2lbs) per plant. With a terpene profile straight out of a bougie bakery, lighting up some of this bud will take you down a road of flavors and aromas reminiscent of fresh cream, relaxing lavender, and exotic fruits.
Strawberry Pie Auto (FastBuds)
The next strain on our list of good strains for Oklahoma is Strawberry Pie Auto from FastBuds – a classic Indica hybrid perfect for growers of all skill levels. This lady reaches heights of up to 1m (3'3"), growing solid and thick branches that will be laden with pungently sweet buds in next to no time! Strawberry Pie Auto could easily be called one of the most popular weed strains in Oklahoma due to its decadent terpene profile and well-balanced effects.
Café Racer (Blimburn Seeds)
Blimburn Seeds' Café Racer is a Sativa-dominant hybrid strain characterized by a euphoric, cerebral high accompanied by skunky, tangy flavors. This feminized strain will be ready for harvest outdoors usually in mid to late September, with excellent yields of 450g (1lb) per plant. Although Café Racer is not necessarily known for her mold resistance, this shouldn't be a problem for Okies residing in parts of the state with drier summers.
Dr. Grinspoon (Barney's Farm)
Another classic from Barney's Farm, Dr. Grinspoon is a pure Sativa that doesn't mess around. The effects of this strain are both fast-acting and long-lasting, leaving you with a pleasant buzz that's energetic and cerebral. Dr. Grinspoon will stretch out a lot during flowering, so be sure to plan ahead! If you don't provide this strain with plenty of space, you might run into some issues later. Although this pure Sativa needs about 90-95 days of flowering time, you'd be surprised at just how quickly she can grow in the meantime.
Godzilla Cookies Auto (Herbies Seeds)
Godzilla Cookies Auto, a fast-growing 27% THC hybrid that boasts flavors of cookies and bright, zesty citrus, delivers a perfectly balanced head high that later gives way to body relaxation. This strain is more guerilla than Godzilla in stature, reaching heights of 100cm (3'2"). Don't let that fool you though; indoors, this lady can yield heavy harvests of up to 600g/m2 (2oz/ft2) – mighty impressive for an autoflower that's ready in 70 days from seed to harvest. Outdoor growers will also be continuously impressed by Godzilla Cookies Auto and how absolutely resilient she is to temperature fluctuations, humidity, and pest issues.
Desfrán (Dutch Passion)
Dutch Passion is one of our favorite breeders, and their Sativa-dominant Desfrán is a great representation of the quality seeds they're capable of producing. Whether you grow this lady indoors, outdoors, or in the greenhouse, be prepared for her to get mega-tall during flowering! Desfrán can seriously triple in height during the flowering phase, so we recommend using growing techniques like SOG or SCROG to tame her long branches.
Gelato Auto (Herbies Seeds)
Another all-star strain from the Herbies catalog is Gelato Auto, one of the most powerful autoflowering strains on the market with a THC content that casually tests around 24-26%. These earthy yet sweet cannabis seeds are the quintessential addition to an Oklahoma grower's collection. Especially for those who are relatively new to growing their own marijuana, Gelato Auto is an easy and fool-proof lady that, after just nine weeks, can yield up to 200g (7oz) per plant outdoors.
Bruce Banner #3 (Original Sensible Seeds)
As incredible as her namesake, Bruce Banner #3 is a strain from Original Sensible Seeds that we at Herbies just can't get enough of! This monster of a cannabis strain is well-known and loved for its superpowered 28% THC levels and sweet, diesel-y aromas. Bruce Banner #3 maintains her claim to fame by reaching hulking heights outdoors, leading to an October harvest as huge as 1000g (35.3oz) per plant!
Shiskaberry (Barney's Farm)
Let's keep things rolling by introducing another strain with massive potential yields: Shiskaberry from Barney's Farm. This is definitely a book you shouldn't judge by its cover! Shiskaberry plants grow to be just 80-120cm (31-47") in height, yet are capable of producing 1500-2000g (53-70oz) per plant. Such a strain is the ideal addition to an Oklahoma garden, especially since it's highly resistant to pests and disease. For Indica lovers, Shiskaberry will become a permanent part of the rotation thanks to her pungent, earthy, and fruity flavors – and, of course, her potent 26% THC content.
Oklahoma: The Next Cannabis Growing Destination?
It's about time we acknowledge how amazing the weather and climate is in Oklahoma for growing cannabis! Sure, the state isn't known for being as dank-friendly as West Coast states, but the potential cannot be overstated! Although finding marijuana seeds for sale in Oklahoma could be a difficult journey in itself, you can always trust Herbies Seeds to provide you with quality seeds in discreet packaging.
Herbies Head Shop expressly refuses to support the use, production, or supply of illegal substances. For more details read our Legal Disclaimer.