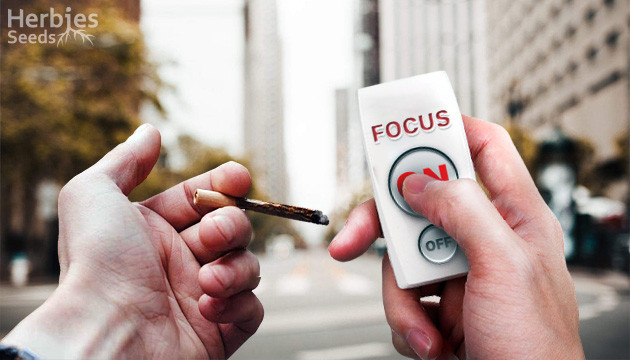 Some days we just need a little extra help. For whatever reason, our focus and concentration levels may not be as good as we want – and there's only so much coffee a person can drink. Luckily, certain strains of cannabis are conducive to mental focus and concentration. In this article, we highlight the different benefits Sativa and Indica varieties have on focus and list ten strains to help you get your work done.
Indica or Sativa for Focus?
Everyone is different, and every strain of cannabis offers different effects. Both Sativa and Indica varieties offer benefits that are useful for concentration, although we prefer the strains to be slightly Sativa-dominant. Let's have a closer look at the two so we can help you choose your best strain for focus.
Sativa - When we think of Sativa-dominant strains of weed, we think of uplifting and euphoric energy. These strains are best suited for those who struggle to formulate a thought without their fourth cup of coffee. However, it can be a delicate balancing act. Too much Sativa and you'll be doing laps of the building trying to burn that excess energy. Not enough, and you may miss out on that energy-focusing boost.
Indica – Known for inducing a relaxing body high, Indica strains serve their purpose for certain types of people. Although not typically known for being the best strains for focus, they are excellent for those with bags of unchanneled, restless energy. If this is you, an Indica-dominant strain could have the relaxing effect that calms your body and mind, allowing you to be more focused and productive.
Best Weed Strains for Focus in 2022
We've selected ten of the best strains for focus and concentration. The majority are slightly Sativa-dominant, although we've also included an Indica-dominant strain, as well as a pure landrace Sativa. However, not everyone loves the psychoactive buzz of high-THC weed, and some strains of medical CBD cannabis offer wonderful focusing effects too. So, we've also included the best CBD strain for concentration on our list.
Gelato Auto (Herbies Seeds)
This 60% Sativa-dominant autoflowering delight produces mind-blowing quantities of THC, testing as high as 26%. This puts Gelato Auto in illustrious company, being among the strongest autoflowering strains on the market. You can expect an outburst of creative energy that has you glued to your work for hours. But just remember that THC content! Less is more with this potent, ice cream-scented delight. Overdo it, and expect all that creativity to dissolve as you look for the nearest couch to occupy. Gelato Auto delivers a delicious yet complicated arrangement of terpenes, resulting in creamy, sour, sweet, and savory aromas.
Biscotti Mintz (Barney's Farm)
Despite her 80% Indica dominance, Biscotti Mintz delivers a cool, calm high that immediately promotes heightened levels of concentration. It's been touted as one of the best new strains of weed to make you focus. It also comes with a loving, mildly energetic body high that counters potential couch lock. The plant produces beautiful buds that form among deep purple leaves, the aroma of which comes with a firm drool warning. Expect long-lasting flavors of chocolate chip cookies, topped with some kind of creamy, minty, spicy sauce. This strain is also relatively quick to flower, finishing in just 56-63 days from trigger.
Mimosa Cake Auto (FastBuds)
This vibrant, fruity, and citrusy delight comes with THC levels reaching 24%. Mimosa Cake Auto is a well-balanced 60% Sativa-leaning hybrid that induces an exceptional buzz. The Sativa genetics activate a tireless head high that's ideal for channeling that creative energy, making it one of the best strains for focus on the market. The Indica side of things will put your body into a nice relaxed state – ideal for long hours of heightened concentration. The fruity bouquet gives way to curious tangy and sour flavors – so delicious that you may want to light up again. But remember, this is a strong strain of ganja, so consuming too much, too fast will have a counter-productive effect.
Harlequin CBD (Kera Seeds)
If you need a powerfully relaxing cannabis strain without the psychoactive effects, Harlequin CBD could be the plant for you. Featuring CBD levels of 17%, this medical marijuana masterpiece offers a wave of calm and well-being. If you suffer from anxiety – so bad that it cripples your chances of focus and concentration – then a CBD strain could be exactly what you're looking for. Feel tension instantly evaporate, allowing you to relax, focus, and get the job done, whatever it may be. This 75% Sativa-leaning strain is also useful for those suffering from pain, insomnia, and PTSD.
Jack Herer (Green House Seeds)
Named after the famous cannabis activist, Jack Herer is a well-known strain – an oldy but a goody. The 21% THC content produces a happy high that's equal in both relaxation and energy. This is a great combination for those sometimes necessary periods of mental focus and clarity. In this day and age, when it can be difficult to find weed that actually smells like weed, Jack Herer still offers that stereotypical marijuana aroma. The bud is pungent with hints of lemon, while the flavor is spicy with notes of earth and wood.
Zkittlez OG Auto (Barney's Farm)
A lot of excitement was generated when Barney's announced an autoflowering version of their mouth-watering delight Zkittlez OG Auto. This is a perfectly balanced 50/50 Sativa/Indica cross with about 19% THC. With such balance comes an array of physiological benefits for the user, and it's among the best strains for focus. Calming yet uplifting, the strain offers a focused and alert energy. As a bonus, it's one of the most terpene-rich strains on the market today, offering aromas that are sweet, fruity, and skunky but give way to flavors of sweet candy, tropical fruit, berries, and grape.
Green Crack (Blimburn Seeds)
The story goes that Snoop Dogg himself named the legendary Green Crack after sampling the delights for himself. This strain invokes a laser-like focus normally reserved for surgeons and air traffic controllers. It's also ideal for anyone suffering from motivational issues. A 65% Sativa-leaning hybrid, the strain offers THC levels up to 21%. Indoors, it flowers in just 50-55 days – exceptionally fast for a Sativa. Aroma-wise, you can count on mesmerizing notes of candy, exotic fruit, and earthiness.
Monster Profit (Heavyweight Seeds)
Named for its off-the-charts bud production, Monster Profit is a 60% Sativa hybrid that delivers effects conducive to extended periods of concentration. Experience an uplifting, happy, and energetic head high that places you firmly in the focus zone. With THC levels creeping up to 22%, it's an ideal aide to help get your jobs done, as long as you don't overdo it. The flavors are gentle, exuding a smooth and sweet taste that's pleasant on the palate. And those monster yields? You can expect to produce up to a whopping 800g/m2 (2.6 oz/ft2) indoors, while outside, yields of 1kg (35.3oz) per plant are possible. This strain is therefore ideal for extractions and concentrates.
Original Cinderella Auto (FastBuds)
At 65%, the Sativa dominance of this autoflowering delight ensures uplifting and highly focused energy for the user. Original Cinderella Auto induces a buzzy and creative head high, with just enough Indica to melt away any concerns in your body. Simply put, it's one of the best strains for focus available today. It features a THC content of 23%, so go easy in the mornings. Original Cinderella Auto produces tantalizing aromas of pine and skunk that, once lit, blend into appetizing flavors of tropical pineapple and peach. She also offers high yields for an autoflower, which will be ready to harvest in just 8-9 weeks.
Durban Poison (Dutch Passion)
If you'd like to cultivate a purebred Sativa for focus, we'd like to recommend Durban Poison, a legendary South African strain. With THC levels ranging between 16-22%, the buzz offered by Durban Poison is intensely stimulating and energizing. Expect razor-sharp focus all day long as the pure Sativa genetics whip your creativity into a frenzy. Flavor-wise, this African Sativa has never been overly pungent, but instead offers a unique and complex arrangement of terpenes. The smoke or vapor can be spicy, with hints of aniseed, fennel, licorice, and cloves.
Final Thoughts on Best Strains for Focus
Both Sativa and Indica plants offer benefits for focus and concentration, so generally, the strains that offer the best mental clarity come in hybrid form. However, due to the mental stimulation offered by Sativa strains, the best strains for focus are slightly dominant on the Sativa side. Some CBD strains can also make excellent supplements for focus and concentration.
Herbies Head Shop expressly refuses to support the use, production, or supply of illegal substances. For more details read our Legal Disclaimer.