Cannabis Seeds in Oklahoma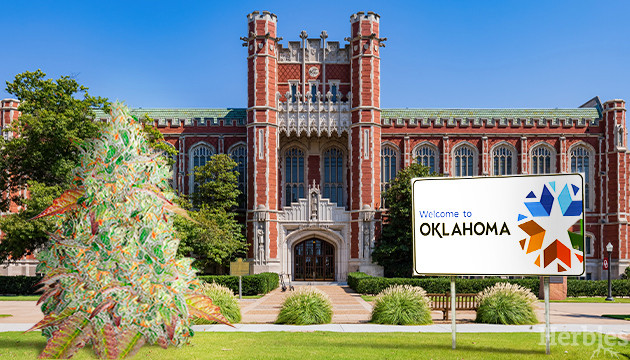 The Sooner State used to have pretty strict cannabis laws, but medical users there are now allowed to grow their own cannabis. Any patient with a medical card can grow a certain number of plants. Keep reading to find out more about cannabis laws, but also about the climate in Oklahoma and the best strains for a successful harvest.
Is It Legal to Buy Cannabis Seeds in Oklahoma?
Even though you can't grow weed without a medical license, you can still buy pot seeds in Oklahoma as long as you are 21 or older. You can legally purchase seeds from various local seed banks and online providers.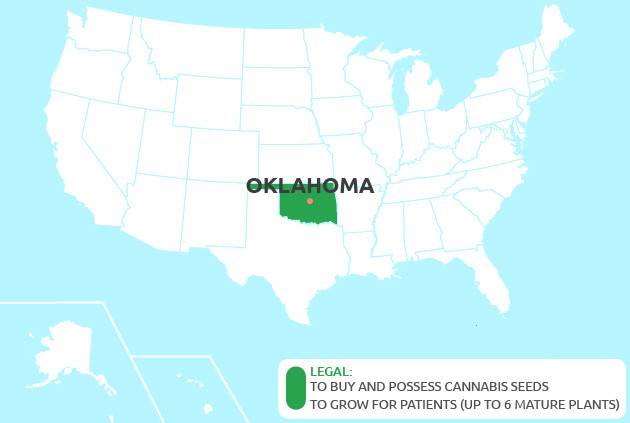 Can You Grow Cannabis in Oklahoma?
While recreational cannabis is still illegal, medical patients can legally grow their medical marijuana at home. However, even though medical marijuana is legal, there are some strict rules that must be followed. For instance, a licensed patient is allowed to possess no more than 6 mature plants and 6 seedlings. The crops are also not allowed to be visible and must be kept away from public view.
What to Consider When Buying Weed Seeds in Oklahoma
Besides cannabis laws, there are other things to consider before buying cannabis seeds in Oklahoma. Choosing strains for the climate in your area plays a big role when growing cannabis. Picking the right strain will make your cultivation much easier – otherwise, you might end up very disappointed come harvest time. Stick with us to learn more about the climate in Oklahoma and the best strains to buy for it.
Climate in Oklahoma
This region exhibits a continental climate with hot summers and very cold winters. Temperatures that are suitable for growing last from April until late September, allowing growers to cultivate a large selection of seeds. It's recommended to choose heat and drought-resistant seeds due to the hot weather to avoid any issues while growing. Meanwhile, those who live in the colder parts of the state might want to grow autoflowers that will finish flowering before the temperatures go down.
Where to Buy Marijuana Seeds in Oklahoma
Besides various local providers, you can easily buy cannabis seeds in Oklahoma online. At Herbies, we offer over 2,000 cannabis strains for sale, and you can get these for the most affordable prices. We offer strains only with stable genetics, and all of our seeds come with 100% guaranteed germination. Beyond that, with each order, our customers can expect some free seeds as a gift.
Best Cannabis Strains to Grow in Oklahoma
Finally, to the best part! Now that you've learned about the climate and cannabis laws in AK, it's time to find out the best strains to grow in Oklahoma.
Trippy Gorilla Auto (Big Head Seeds)
Trippy Gorilla Autoflowering is a flavorful Sativa-dominant strain that comes packed with an extremely high THC content and classic Sativa cerebral effects. This variety is a result of crossing the original Trippy Gorilla with a Ruderalis and can contain up to 28% THC. It delivers a potent, energizing, and euphoric high that will leave you clear-headed.
The terpene-rich buds produce an amazing flavor and aroma of citrus and pine. Trippy Gorilla Auto has a super-short flowering period of 56 days, and if grown in optimal conditions, it can yield up to 600 g/m2 (1.9 oz/ft2).
Caramelo Early Version (Delicious Seeds)
Caramelo Early Version is a potent and flavorful hybrid with 70% Sativa genetics that provides an uplifting high, perfect for any time of the day. This variety was developed by double-crossing Lavender and contains 24% THC. It delivers a strong euphoric high coupled with relaxing and pain-relieving effects.
The unique terpenes form a sweet and fruity taste and scent with a background of musky lavender. Caramelo Early Version has an impressive flowering period of just 45 days, producing heavy yields of quality buds. Indoors, growers can harvest about 450 g/m2 (1.4 oz/ft2), while in an outdoor environment, plants can yield up to 500 g (17.6 oz).
Grandmommy Purple (Herbies Seeds)
Grandmommy Purple is one of the most potent strains available at Herbies that will send you straight to sleep after just a couple of sweet tokes. This Indica-dominant variety is a cross between Big Bud and Purple Urkle genetics and can contain up to a whopping 33% THC. It delivers hard-hitting relaxing effects that will leave you calm and sleepy.
Grandmommy Purple's terpenes produce a mouthwatering smell of wild berries and a sweet, candy-like flavor. Growers can expect fully mature plants after just 65 days of flowering. Indoor yields average 500 g/m2 (1.6 oz/ft2), while outdoors, they can reach up to 550 g (19.4) per plant.
Jack 47 F1 Fast Version (Sweet Seeds)
Jack 47 Fast Version is a backcross version of Jack 47 that resulted in a fast-flowering and heavy-yielding cannabis strain. This variety has 75% Sativa genetics and can contain anywhere between 18-24% THC. It offers a cerebral and euphoric effect that slowly turns into a relaxing high.
The resinous buds have a citrusy terpene profile that produces a fresh and sweet flavor and aroma of lemon. Thanks to its premium genetics and selective breeding, this version finishes flowering in just 7 weeks. In optimal indoor conditions, growers can harvest up to 600 g/m2 (1.9 oz/ft2), while outdoor-grown plants can produce up to 1000 g (35.2 oz) per plant.
Smoothie Auto
Smoothie Auto is the THC-rich result of a cross between Somango and Blueberry. Thanks to its THC levels of up to 24%, Smoothie Auto offers a relaxing and euphoric high that can be enjoyed at any time of the day.
This strain has an amazing terpene profile that produces a combination of unique sweet and fruity flavors. The delicious buds are infused with an exquisite flavor and refreshing aroma of mango and blueberry ice cream. Smoothie Auto takes around 9 weeks to grow into a fully developed plant, producing yields of up to 550 g/m2 (1.8 oz/ft2) indoors and up to 250 g (8.8 oz) per plant outdoors.
Bruce Banner #3 Fast (Original Sensible Seeds)
Bruce Banner #3 Fast has inherited the best traits from its parents – the original Bruce Banner and Black Domina. This variety comes with 25% THC-infused buds that produce a well-balanced, calming, and euphoric high suitable for any time of the day.
Its fantastic terpene profile delivers a fruity aroma and flavor with notes of diesel. Thanks to its premium genetics, this variety produces massive yields after just 50 days of flowering. Indoors, growers can harvest up to 750 g/m2 (2.4 oz/ft2), while outdoors, they can get as much as 900 g (31.7 oz) per plant.
Skywalker OG Auto (Barney's Farm)
Skywalker OG Auto is an incredible Indica-dominant variety with unique terpenes and potent effects that are ideal for night sessions. Skywalker OG Auto is a cross between Skywalker OG and BF Super Auto #1 genetics that can contain up to 23% THC. This strain is a perfect stress reliever that will leave you completely calm and take all of your worries away.
The delicious flowers have a tropical and citrusy taste and aroma with an aftertaste of pine and earth. Skywalker OG Auto takes just 75 days to grow from seed to harvest, yielding around 500 g/m2 (1.6 oz/ft2) when grown indoors and up to 650 g (22.9 oz) per plant outdoors.