Cannabis Seeds in Arizona
If you're looking for cannabis seeds for sale in Arizona, you've come to the right place because our seed shop can sell and ship them to your AZ address just like the rest of the US.
For those of our customers who want to grow cannabis outdoors in Arizona, we offer over 2,000 of the world's best genetics, as well as attractive prices, 24/7 customer service, convenient payment methods, and discreet shipping. Read on to learn about growing marijuana seeds in Arizona and what strains to choose for the most satisfying results.
Is it Legal to Buy Cannabis Seeds in Arizona?
Starting from 2020, all adults aged 21 or older can buy cannabis seeds in Arizona and legally grow them. The Grand Canyon state was among the first in the country to jump on the bandwagon of sweeping cannabis reform by voting for medical marijuana legalization in 2010 – and 10 years later, the state also allowed adult recreational use and possession.
Although feds still prohibit anything that has to do with cannabis, they grudgingly allow individual states to set up their own rules. So, you can find marijuana seeds for sale in Arizona dispensaries, although we suggest saving yourself a trip and gas money. You can choose from among thousands of varieties and buy marijuana seeds online in Arizona without leaving your home. And since you're already here on our website, you can place an order in mere minutes.
Can You Grow Cannabis in Arizona?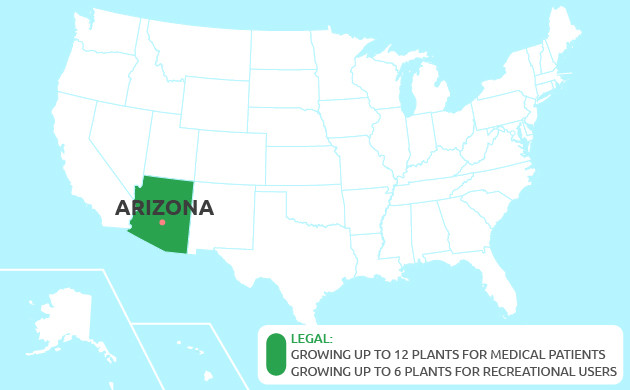 Growing weed seeds in Arizona is legal, but details depend on whether you're a medical patient or just an adult who wants to have a good time.
Proposition 203, which passed in 2010, allows medical cardholders to grow up to 12 plants at a time. For recreational smokers, the rules are not so lax – the maximum number of plants is only six, and no more than half of them can be in the flowering stage. The penalties are not severe but still something that's best to avoid.
No matter whether you grow medical marijuana or recreational cannabis, be sure to have your garden in an enclosed space and under lock and key. No one but you is allowed to be in the room where your pot is grown, and it must be hidden from public view. On the flip side, you don't need to mask the smell of cannabis because, under the new laws, the smell cannot be a reason for the police to search you or your home.
What to Consider When Buying Weed Seeds in Arizona
Now that legal barriers have been removed, nothing stands in the way between you and your first harvest of premium marijuana. Nevertheless, there are things that you should take into account if you want to have the best experience possible.
Since the state is very large and the climate varies considerably between the lowlands in the south and the plateau in the north, it's best to speak about them separately.
The Climate in Arizona: The South
The law requires that you grow pot seeds in Arizona in an enclosed space such as a greenhouse, so winter – November through February – is the most convenient cultivation season in the lower elevations. You'll get just about enough sunlight, and the greenhouse will shelter your garden from low night temps.
The downside is the short days, which will cause most varieties to start flowering too soon and stay small. Choose Sativa strains with longer flowering times to counteract this effect.
If you decide to grow in summer, choose heat-resistant genetics. Such a trait will come in handy both indoors and outdoors, not to mention in a greenhouse. Also, don't forget about the monsoon season. It's best to choose a strain that doesn't start to bud in August because rains and an extremely high dew point may lead to mold and bud rot in the forming flowers. It's better to stick with the plants that finish later – sometime in November.
The Climate in Arizona: The North
At higher altitudes in Arizona, a winter grow would be impossible outdoors and problematic in a greenhouse, but summers are milder than in the south, so you can cultivate a wider variety of weed strains, including Indicas and hybrids. You'll just have to make sure your plants get some shade in the hottest hours of the afternoon.
Another concern is too wild temperature fluctuations between day and night. Here again, Indicas are your best option because their natural habitat is mountainous regions in countries like Afghanistan, so these genetics are accustomed to significant temp swings.
Where to Buy Marijuana Seeds in Arizona
The new AZ laws allow people not only to possess cannabis seeds but also to sell and purchase them. That's why there is a growing number of marijuana dispensaries in the state that have them.
However, we suggest that you take advantage of all the perks of online shopping here at Herbies by browsing thousands of cannabis strains from every major seed bank. We ship to all US destinations, including Arizona, offer all payment methods a modern buyer takes for granted, and ship our discreet-looking parcels on the same business day.
Best Cannabis Strains to Grow in Arizona
Now to the fun part! Here are our top ten picks for cannabis seeds that will thrive in Arizona's climate.
Liberty Haze
With 25% THC, Liberty Haze is a formidably strong variety, but this Sativa-dominant hybrid also boasts a high level of CBD – perfect for those seeking pain relief or alleviation of other conditions. Recreational smokers will appreciate this weed's happy giggly effect with a creative vibe. We recommend growing these plants indoors, as they combine compact size with a fast flowering time of only 60-65 days.
Gelato Auto
This state-of-the-art autoflower routinely tests at 24-26% THC, which makes her one of the strongest out there. The buds offer an uplifting effect, allowing you to stay alert and happy for hours when doing monotonous work or performing creative tasks. The sweet and creamy taste is as intense as you'd expect from a strain named Gelato Auto. In Arizona, you can grow these plants outdoors throughout the year and get bumper harvests in under 10 weeks from seed.
Strawberry Cough
This delicious classic is still treasured for its one-of-a-kind flavor of red berries and the clear-headed mental stimulation that old-school Sativas are famous for. If you want to be the life of the party or the smartest person in the room, you'll need the creative spark provided by Strawberry Cough. You'll appreciate the short and bushy structure and strong branches of this cultivar during the season of summer storms, as well as in indoor setups with limited height.
Trippy Gorilla Autoflowering
This autoflowering reincarnation of the Gorilla Glue genetics is famous for its absurd stickiness and over-the-top THC content reaching 28%. However, it's not the kind of potency that knocks you out. On the contrary, Trippy Gorilla Autoflowering makes you more active with every toke, warping your mind to the point where you understand the meaning of it all. The cultivar is totally trouble-free, producing heaps of pine- and citrus-smelling buds in just 8 weeks from sprout.
Sour Diesel
Sour Diesel provides an outrageous but wickedly delicious combination of freshly squeezed lemons and diesel fuel. Besides this explosive mix of terpenes, the buds pack 25% THC, making it a one-hitter-quitter. The dominance of Sativa genes in this strain means that the high is euphoric and energizing and that the plants themselves grow tall and take longer to finish. It makes these seeds perfect for an outdoor season in Arizona, including winter grows.
Zkittlez Auto
A little extra beauty in your garden wouldn't hurt, and Zkittlez Auto buds have one of the highest bag appeals in the business. Her huge and dense colas are neon-green with streaks of red, pink, and purple, and all this shimmers through a thick coat of frost. As you might guess, such an amount of resin means an insane level of THC and a cornucopia of juicy terps – sweet and fruity with hints of chocolate. Grow her all year round and always have a bag of fresh 'candies' at hand.
Hulkberry
Hulkberry is as powerful as the name suggests because 27% THC is no joke. She's a delicious cross of OG and Strawberry Diesel and you may expect to find all of these influences both in taste and effect. Although dominant Sativa, this strain has the best of both worlds: electrifying cerebral energy and a nice all-around body buzz. Together, they make it a perfect daytime medicine. This hybrid is vigorous, powerful, and high-yielding and will perform great in your Arizona garden, whether outdoors or indoors.