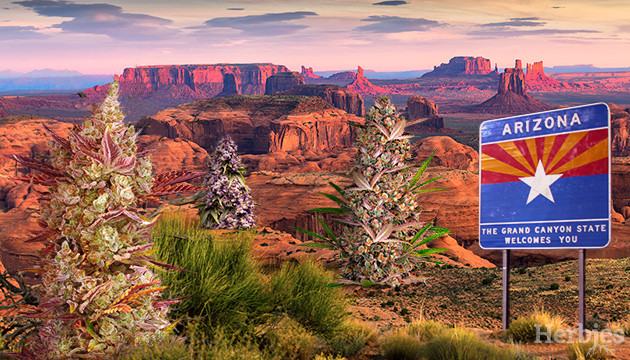 After a long legal road to recreational marijuana use in the state of Arizona, this once conservative state now is loosening up its grip on weed. The biggest hiccup in the road for cultivators eager to grow weed in Arizona is the difficulty of buying seeds in the state that can thrive in its arid climate.
Your best bet to find weed seeds for sale in Arizona is to order high-quality cannabis seeds from a reputable online source. To make things easier, we've put together a list of the best weed strains to grow in Arizona that are bred to thrive. So, what are you waiting for? Let's dive in!
Can You Grow Weed in Arizona?
Before you get too excited about growing cannabis in Arizona or any other state, always check the laws in your area to avoid any legal troubles. Arizona has had a rocky road with cannabis laws, but in very recent years, there has finally been a breakthrough.
Arizona Cannabis Laws
Prior to November 2020, growing weed in Arizona was not as simple. Arizona laws were very strict about recreational use and even home cultivation for medicinal use. Only those with a medical marijuana prescription who lived more than 25 miles from a dispensary could grow their own cannabis.
Now, thanks to the majority vote on Proposition 207, these laws have loosened up and opened the playing field to recreational users. However, as a newly legalized state, there are still some strict rules that apply.
Adults (21+) can now grow up to 6 plants each but are limited to 12 plants per household. Moreover, if you do grow, your plants must be kept out of public view in a secure grow room, shed, or greenhouse. These aren't too hardball considering past restrictions, but if these laws aren't respected, the possible consequences include hefty fines and jail time.
Is the Climate of Arizona Suitable for Cannabis Cultivation?
Two things Arizona has in abundance are sunshine and warm weather. With the right setup and watering schedule, the Arizona climate is ideal for many strains, especially sun-loving Sativas! With a sunny season of at least 6 months each year, the climate is also ideal for reaping several harvests in one season with the use of autoflower strains.
The main things to stay aware of in the hot arid climate of Arizona are heat waves and too much direct sunlight. However, to make things work in your favor, the use of basic garden netting for shadow and a decent supply of water will ensure your plants have a fruitful life.
Best Weed Strain to Grow in Arizona
With plenty of sunshine, the right care, and top-class seeds, you can certainly get to growing cannabis in Arizona in no time. On this list, you'll find a seed for every need. Simply pick one that floats your boat and don't waste any more time. Your dream homegrown stash is soon to be yours!
Glookies (Barney's Farm)
Don't let the strange name fool you – Glookies by Barney's Farm is an incredibly potent Indica-dominant strain that stems from the likes of Thin Mint Girl Scout Cookies and Gorilla Glue. As you can imagine with that kind of parentage, this strain pushes out heavy yields of dense, strongly scented, sticky buds!
With THC climbing to 25%, you can expect a strongly uplifting cerebral headrush that slowly melts into a full-body buzz. Enjoy a hit on a lazy afternoon of arts and crafts or bring it to the barbeque and get chatty in a cloud of nutty, diesel smoke with refreshing hints of lemon.
Grandmommy Purple (Herbies Seeds)
Another prime medicinal Indica-dominant strain with legendary parentage is Grandmommy Purple by Herbies Seeds. With a THC percentage from a fairytale reaching 33%, this warm and comforting strain is ideal for chronic pain, severe anxiety, and sleep disorders.
Enjoy her warm embrace with waves of euphoria and wholesome nostalgic scents of wild berries and flavors of Grandma's fruity hard candies. Her short and stout stature is discreet enough for any grow room, making her perfect for growing cannabis in Arizona.
Strawberry Banana Auto (FastBuds)
Make the most of the heat with Strawberry Banana Auto weed seeds in Arizona. This fruity delight will help turn those hot, dry summer days into a tropical paradise with a perfect Sativa/Indica blend.
Also known as "Straw-nana," this strain's flavors are off the charts with pungent fruitiness and an element of surprise – bubblegum! Along with this, get excited for super high yields and a THC percentage unheard of for an autoflower, reaching up to 27%. Last but not least, Straw-nana's effects are just as sweet as her flavors and can be enjoyed any time of day.
Tatanka Pure CBD (Royal Queen Seeds)
True to the spiritual heritage of Arizona, home to the Grand Canyon, Tatanka Pure CBD by Royal Queen Seeds is a medicinal herb worth having in the cabinet.
Indica dominant with CBD as high as 14% and THC lower than 0.25%, you can receive all the relief and healing your body and soul needs without the mind-altering intensity offered by other strains. With a delicious bitter caramel smoke, enjoy a relaxing, gentle effect with analgesic and anti-anxiety properties for an all-day or nighttime dose.
Caramelo (Delicious Seeds)
Arizona weed seeds and Sativas go together like peanut butter and jelly. This 70% Sativa-dominant hybrid, Caramelo by Delicious seeds, will grow like a caramel king in the Arizona climate. With potency as high as 24% THC, enjoy a striking cerebral high strong enough to brighten any day.
Along with this strain's noticeable energy rush, the sweet floral aromas hit your nose like a bundle of daisies, easing into a melty caramel flavor with a skunk pungency to remember.
Malawi x Panama (Ace Seeds)
The ultimate weed seed for Arizona, Malawi x Panama by Ace Seeds is a 100% Sativa queen ready to blow your mind with her mind-bending effects. With up to 26% THC and 0.2% CBD, get ready for a rollercoaster ride only fit for an experienced smoker.
As a plant that loves the sun more than her counterparts, she will thrive in the outdoor Arizona climate so long as you give her plenty of space to spread her leaves. If you do so, she'll gift you with a deliciously rich bouquet of oil, wood, and spice terpenes to savor all day long.
Wedding Glue Auto (FastBuds)
Draped in a beautiful veil of white trichomes, Wedding Glue Auto is a classic, high-potency hybrid for growing cannabis in Arizona. You'll swear that you're hearing beams of heavenly music after a puff of this sweet bride, with her 26% THC content giving you a blissful cerebral high that melts into a comfortable body analgesia.
To top off the fun day or night you have ahead of you, this scrumptious strain is like biting into a slice of fresh vanilla wedding cake with hints of sourness like a fresh cream icing.
Godzilla Cookies Auto (Herbies Seeds)
With the seemingly year-round sunny climate, growing cannabis in Arizona is a banquet if you use autoflowering seeds! This monstrous strain, Godzilla Cookies Auto by Herbies Seeds, is a must-have if you're looking for the perfect high-yielding all-rounder.
This well-balanced hybrid produces some of the most gargantuan buds with an epic cookie and diesel flavor explosion that you'll smell before you see. Not to mention up to 27% THC content to lighten the mood in seconds for a social, creative high that electrifies the body.
Euforia (Dutch Passion)
Wipe away your worries with the Euforia strain by Dutch Passion. An absolute breeze to grow, this is the perfect strain for beginners wanting to plant cannabis seeds in Arizona. A Sativa-dominant hybrid with an impressive THC content of up to 26%, she's called Euforia for a reason!
Straightforward and high-grade, she will never disappoint with her thick, green, and sticky buds and sweet fruity flavors with a classic touch of spice.
Amnesia Haze (Victory Seeds)
Despite the name, Amnesia Haze by Victory Seeds will only do the opposite of putting you in a daze. With her incredibly uplifting energetic cerebral high from up to 25% THC, she's the perfect daytime companion for the busy go-getter needing to take the edge off without losing your steam.
Famous for her tangy, citrus flavors and herbal aromas with hints of lemon and pepper, this strain is every cannabis cultivator growing weed in Arizona's dream.
Cannabis Seeds For Sale In Arizona
Finding the perfect strain to grow weed in your state has never been easier. There are plenty of cannabis seeds for sale in Arizona – you just need to look online! That's where Herbies comes in with close to two thousand varieties available to order!
At Herbies, all seeds are the highest grade and you can find a strain for every tastebud on your tongue. For all the delicious, high-yielding, feminized Arizona cannabis seeds you'll find at Herbies, you're also guaranteed safe and discreet packaging, free bonus seeds, and service with a smile. It's time to get your grow plans into gear, so go ahead and order today.
Herbies Head Shop rechaza expresamente el uso, producción o suministro de sustancias ilegales. Para obtener más información, consulta nuestro Aviso Legal.