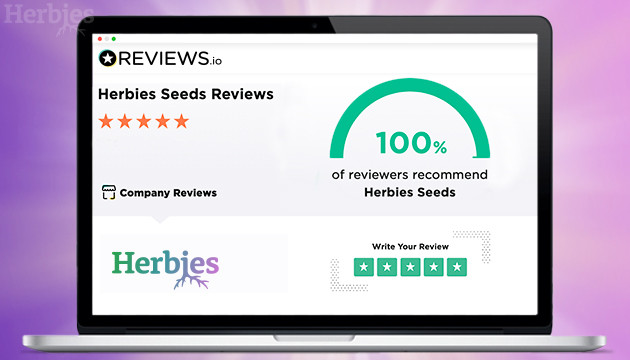 As you might have heard, last year, Trustpilot started to take action against businesses that sell cannabis seeds. As a result, Herbies was unilaterally removed from the platform – we've previously covered the story here. Long story short, while we disagree with the decision and pride ourselves on making quality cannabis seeds accessible worldwide, we can't do anything about it but move on.
Before the removal, we'd been working on our Trustpilot page for years, and thanks to you, our loyal customers, we've gained an astonishing 3,355 reviews and an "Excellent" rating. This helped our business tremendously by introducing Herbies to cannabis growers all over the globe. We can't understate the role those reviews had in making Herbies what it is today.
While we can't get those reviews back, we're choosing to start from scratch with another platform that welcomes cannabis-related businesses, reviews.io. Starting from zero again is challenging, but we know we can count on you. If you've ever ordered from Herbies, enjoyed an article on our blog, chatted with our Support Team, or interacted with us in any other way, please leave a review here – it won't take more than a couple of minutes, as the process is straightforward and doesn't require registration.
Now we need you more than ever. Plus, your review would help not just us as a business to improve and keep supplying our products to those who need them, but also your fellow home-growers and cannabis enthusiasts worldwide to source affordable seeds and grow high-quality, clean cannabis for medication and recreation.
It's in your power now to let the world know about Herbies once again, and we'd be forever grateful to you for doing that. On our part, we promise to keep improving and show everyone that the reviews you leave for us are more than deserved!
Herbies Head Shop expressly refuses to support the use, production, or supply of illegal substances. For more details read our Legal Disclaimer.