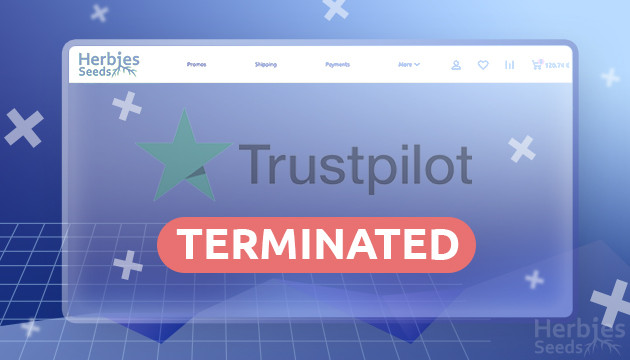 Herbies has become one of the companies removed from the consumer review platform Trustpilot in a ban wave partially targeted against businesses selling cannabis seeds that started earlier this year. The removal of Herbies from the website occurred unilaterally without the right of appeal.
We have been active on Trustpilot since 2015, and by the time of receiving the notice of removal, Herbies had gained a total of 3,355 reviews with an average company rating of 4.7/5 (Excellent).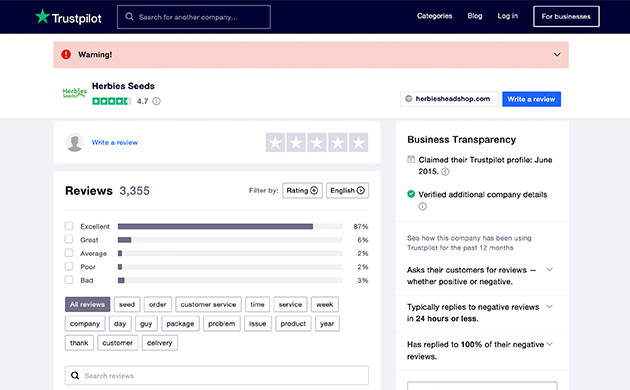 Why Was Herbies Removed from Trustpilot?
Trustpilot has ended its relationship with Herbies because the platform no longer sees it as a good fit for cooperation. Herbies has fallen into the category of "bad-fit businesses" due to selling cannabis seeds with THC content higher than 0.2%.

According to the information provided in its guidelines, Trustpilot takes action of this kind after a company is reported via the Whistleblower function on its website. Therefore, it is possible that Trustpilot received a whistleblower report on Herbies, after which they deemed us a bad fit and subsequently removed Herbies from the service.
What's Next?
Our Trustpilot account has been a great help to us in terms of collecting feedback on our services and improving our work based on what we hear from you. The 3,355 reviews and 4.7/5 score that we had until now has been a point of pride and an indication that we are moving in the right direction. A huge thank you from the Herbies team to everyone who contributed to this!
While there is nothing we can do to reclaim our Trustpilot account, that doesn't mean there are no other channels you can use to leave your messages of support or share your opinion on our work. Go to our Reviews page to see what other growers are saying about shopping at Herbies, look at pictures of them growing our seeds, or share your own thoughts.
Herbies Head Shop expressly refuses to support the use, production, or supply of illegal substances. For more details read our Legal Disclaimer.