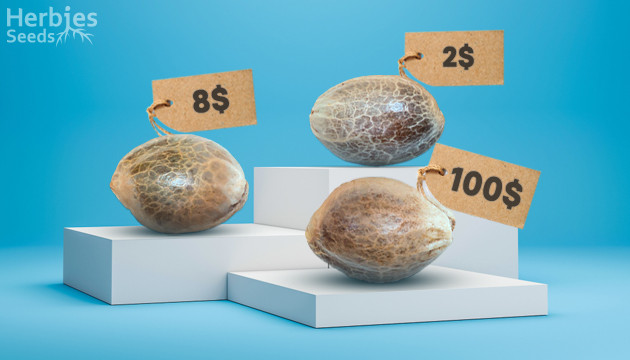 How much do weed seeds cost? This question is one of the first that comes to mind to anyone pondering the idea of growing their own weed. If the price is high, is it still worth it? If the price is low, is it some kind of scam?
We have all the answers – this article will break down weed seed prices, as well as show the best options in each price point.
Weed Seed Price: What Is It Based On?
There are a couple of different factors that affect the price of weed seeds.
The first is the actual genetics of the seed, as these determine how potent your marijuana will be. Seeds with higher-quality DNA will have undergone more research and testing. They'll also likely boast more complex flavors and high chemical content.
The second factor to consider is supply and demand. Especially during COVID-19, and due to other factors like climate change, there can sometimes be shortages of certain strains that can only be grown in specific regions or countries. That means demand can overtake supply, driving the cost up. Equally, buying cannabis seeds from reputable stores like Herbies ensures that you purchase from diversified, reliable supply chains, keeping the cost reasonable.
The last factor to consider is linked to supply and demand: trends. When new seeds with exciting novel chemical potencies come in, they have to undergo extensive R&D. With only a few breeders creating these new seeds, these can get expensive fast. However, as these seeds grow in popularity, expect them to drop in price.
In short, the answer to "how much are weed seeds?" is: it depends, but expect to pay somewhere between $3-35 for a single marijuana seed. With such a wide range, let's see exactly what's behind each price category.
How Much Do Weed Seeds Cost? Three Major Price Points
Weed seed price ranges from around $3 per seed to $30 and beyond, depending on the quality of the strain, the breeder, and the potency of the weed. Below, we cover some of the best seeds from each price point.
Expensive Cannabis Seeds: $15-30+
If you want to experience the newest strains or tried-and-tested best buds, expect to shell out $15-35 per seed. However, it's totally worth it: expect sky-high THC content, complex flavors, and a mind-blowing (or intensely mind-clearing) high.
CBG Force From Dutch Passion ($16-34 per seed)
Ready for a never-felt-before high? Experience the refreshing, clarifying high of cannabigerol (CBG). This is the first generation of CBG-rich strains. CBG has been in cannabis plants for decades, but only now have breeders developed strains with enough CBG to feel the true effects. These seeds are still pretty rare, making them some of the most expensive cannabis seeds on the market. Don't expect your high to be clouded by anything else – at just 0.15%, CBG Force has the minimal possible content of THC so that the 15% CBG can really take center stage, allowing you to feel that rare happy yet down-to-earth high.
Jack Herer From Sensi Seeds ($17-20 per seed)
A 55% Indica/45% Sativa split, you'll get a balanced high that hits mind and body alike. Jack Herer tastes and smells similar to hash, with floral, fruity hints. You're best off growing this strain outside in the sun, but it will do well indoors as well. However, make sure you've got enough space – you'll get huge yields from just one tiny seed, with lush thanks to the resinous buds produced by every plant. The price is totally worth it, as Jack Herer remains one of the most exquisite and prized genetics in the world.
Mid-Range Cannabis Seeds: $5-15
Get quality bud and reasonable marijuana seeds with mid-range-cost seeds. Here's where you'll find those exciting strains that have started to become more widely available, plus be able to get reliable, consistent seeds in every batch.
Runtz Muffin From Barney's Farm ($11-14 per seed)
We crowned Runtz Muffin Herbies' Strain of the Year in 2020 – it's a highly-demanded strain, at a competitive price. And it's not hard to see why. Barney's Farm fans say that smoking Runtz Muffin is like being wrapped in a soft, cozy blanket of relaxing euphoria. With a 70% Indica/30% Sativa split, this is a great strain to smoke before bed. You won't lose sleep growing this strain, either: it's super easy for beginners, and you also get a lot of bang for your buck. Enjoy 1 kilo of buds per plant when growing outdoors, and creamy, fruity buds with whopping THC levels of 29%.
LSD-25 Auto From FastBuds ($8-11 per seed)
Made from crossing LSD with a Ruderalis, don't be surprised if you experience a psychedelic trip after smoking LSD-25 Auto. That said, many users report only a euphoric high, with a feeling of being deeply connected to the world around them. LSD-25 Auto is a breeze to grow and only takes 8-9 weeks to flower. Harvest pungent, 21%-THC buds that are great for calming your body and numbing pain. For this price, an autoflowering genetic with such unique effects is a great catch!
Caramelo Early Version From Delicious Seeds ($6-8 per seed)
This is a reasonably-priced hybrid cannabis strain that takes just 6-7 weeks to flower. With a fresh, fruity, lavender flavor, expect an uplifting head high from this 70% Sativa. This is a great strain if you want a lot of potent weed at a good price, as Caramelo Early Version produces 450g/m2 (1.4oz/ft2) indoors and 500g (17.6oz) per plant outdoors. Buds come in at a heavy 24.2% THC – get ready for a real mind high and some extra pain-numbing effects. The best part? You pay just $6-8 for Caramelo Early Version's advanced genetics, which allow this strain to be harvested earlier than any other. What a deal.
Dos Si Dos 33 From Barney's Farm ($9-12 per seed)
Dos Si Dos 33 is the best of every world. Experience warming, spicy flavors next to cool mint notes and lime aromas. With a genetic makeup of 40% Sativa/60% Indica and hefty THC levels of 28% THC, this strain is all you'll need for a full heavy body, heavy mind high. It's also competitively priced, with this marijuana variety costing just $9-12 per seed. Dos Si Dos is simple to grow, but take it easy when it comes to smoking and work your tolerance up – for beginners, a couple of tokes is enough to wipe you out!
Super Lemon Haze From Green House Seeds ($7-10 per seed)
This is the perfect work-from-home strain or wake-and-bake bud. As a 70% Sativa, expect an uplifting, energizing high and an equally refreshing flavor profile of sweet lemon. The THC content is decent but humble, sitting at 19.33%, so this is a great strain to get you locked into productivity mode. The strain is also autoflowering, meaning it's uncomplicated to grow and requires little attention. Wait 11 weeks to harvest firm, sticky buds that are also perfect for cannabis wax, dabs, and shatter.
Cheap Cannabis Seeds: Under $5
Cheap weed seeds are great for beginners who are just starting out or for anyone on a budget. The key here is to purchase from reputable breeders so that you don't sacrifice quality for cost. If you want to keep your weed seed prices at a minimum but still enjoy great-quality bud, here are some budget seeds to try.
O.G. Kush Autoflower From Seed Stockers ($3-5 per seed)
Bred from a cross between Chem Dawg and Lemon Thai Paki Kush, this Indica-dominant strain contains 23-24% THC. Cue a heavy, hard-hitting body high and a pleasant, creatively stimulating mind high. If you're looking for a potent first seed to try growing, O.G. Kush is a great start – it's autoflowering, can be grown indoors, and takes 11 weeks to harvest. It's hard to believe this comes in at just $3-5 for a single marijuana seed!
Parmesan From Victory Seeds ($3-5 per seed)
This Skunk-Kush cross straight from the UK gets its name from its likeness to Parmigiano-Reggiano. Buds taste like cheese with a distinct earthy undertone, and with 0.78% CBD content, it's a good option for those looking to ease pain. The 24% THC content can also get you pretty stoned, but equally, a little at a time makes for a mild high that stimulates your creativity and isn't too overwhelming. The plant produces resinous flowers with big buds that can be used for hash and other concentrates. With a high THC content and yield, Parmesan gets you more for your money.
Find The Best Seeds On Your Budget
Marijuana seeds cost anywhere under $5 to over $30, but whatever your budget, you'll find your perfect marijuana seeds at Herbies. Go for budget seeds under $5 for your first-time grow, or opt for a reliable, easy-to-grow strain that's more consistent. If you're a seasoned grower, try branching out to more expensive, experimental strains. Either way, growing your own marijuana is far more affordable than buying it!
Herbies Head Shop expressly refuses to support the use, production, or supply of illegal substances. For more details read our Legal Disclaimer.