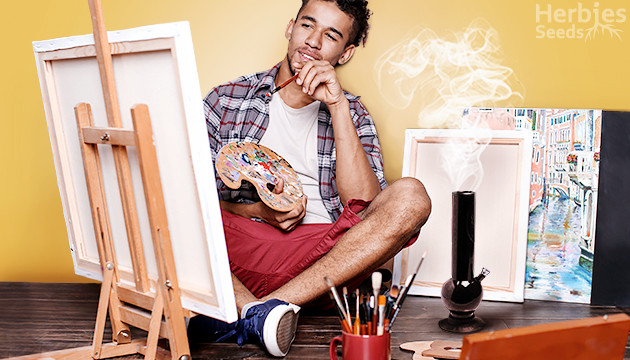 For centuries, famous artists have applauded cannabis for its beneficial properties, specifically in fueling their creativity and widening the imagination for their work and art. With widespread legalization, cannabis consumers are more and more prone to using marijuana at home or work to promote their creative senses while providing fine-tuned focus. If you're looking to benefit from the same effects, here are the 5 best strains to turn to when you're feeling artsy.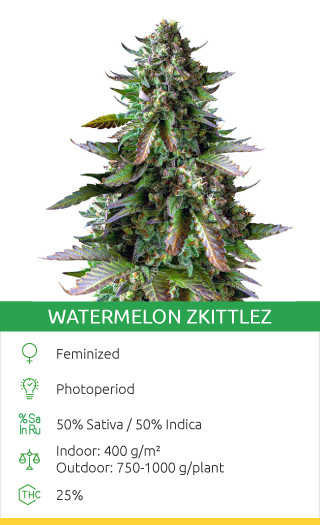 Watermelon Zkittlez
Watermelon Zkittlez was bred for pure creative energy, as it's a Sativa-dominant cross of the Watermelon Zum Zum #3 x OG Eddy genetics. This combination leads to resin-coated nugs that are effective in energizing effects that broaden the imagination. Watermelon Zkittlez delivers an uplifting and euphoric high that drives creative motivation with the focus to match. Beyond its alluring effects, the strain will satisfy your sweet tooth with its crave-worthy fruity flavor. This well-balanced hybrid is also known for providing quick relief with a head-rush of effects upon your first hit.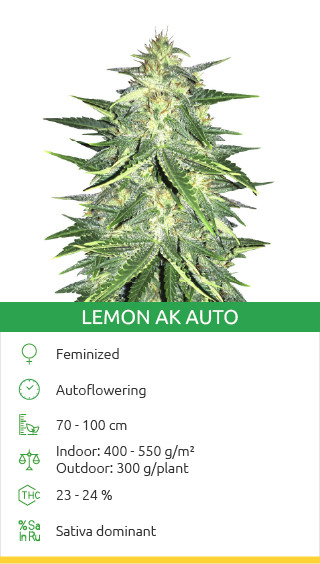 Lemon AK Auto
The limonene terpene is well-known for its uplifting and mood-elevating effects, and Lemon AK Auto is chock-full of this citrusy terp. The Sativa-dominant hybrid is not only pungent in tart, lemony aromas but promotes creativity just as potently. Its unique combination of cannabinoids provides ultimate clarity while delivering an energizing focus. The heady high comes from its increased levels of THC ranging from 23-24%. You'll be ready to take on any project or art piece after elevating with this sweet and satisfying strain.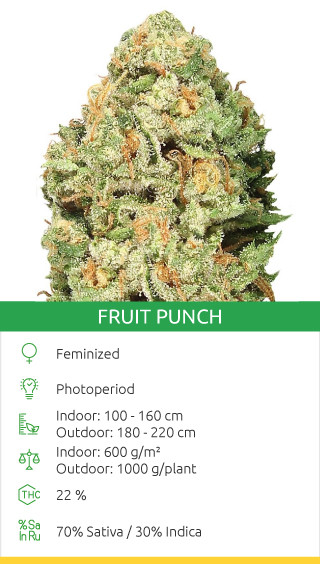 Fruit Punch
Fruit Punch is a three way hybrid of Skunk, Haze and Northern Lights that has 70% of Sativa genes and so is guaranteed to shake awake your creative self even if it has been dormant forever. 22% of THC will make this burst of happy energy last for several hours, and the hefty 1,2% of CBD will turn the possible Sativa-induced jitters into a mellow buzz, so that you can actually bring yourself to sit down and finish your next masterpiece. Finally, the fruity tropical flavors of these delicious buds will certainly help to make your creative juices flow.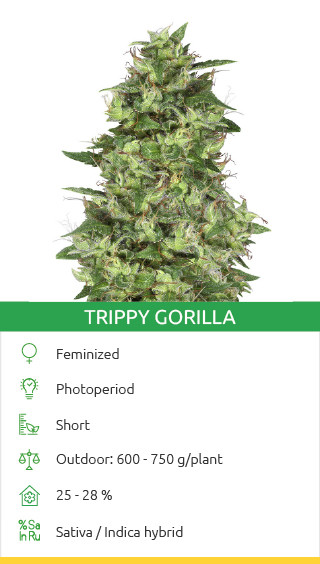 Trippy Gorilla
Trippy Gorilla is an elusive Sativa-dominant strain that any creative can rely on. The hybrid is a classic cross of Gorilla Glue #4 and Bighead #1, and delivers unique effects from the strain's terpene combination. Pinene and limonene come together with elevated levels of THC for clarity and boosted focus. A well-balanced strain, Trippy Gorilla is equally uplifting and relaxing for the ideal mindset of work and creativity.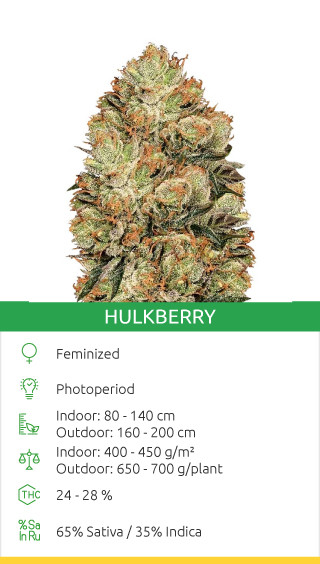 Hulkberry
A particularly big and bulky version of the infamous Bruce Banner #3, Hulkberry is a green monster that will smash through any creative block that you may have. Its THC content of 27% is formidable, so if you're looking for inspiration, be sure to pace yourself - otherwise, all creative activity will be only after you wake up from the long and blissful slumber. However, when used in moderation, you'll find this earth- and diesel-scented weed incredibly stimulating: the perfect fuel for generating new ideas, words, sounds, and images.
Elevate Creativity With Terpene-Rich Cannabis Strains
While some may turn to cannabis for its relaxing and couch-locking effects, many strains have quite the opposite effect. Sativa-dominant or hybrid strains like the five we touched upon today can be highly effective at promoting positive energy and creativity. These strains and others deliver both the focus and clarity many creatives need to increase their imagination – don't hesitate to try them out for yourself!
The Highest THC Strains
Open collection