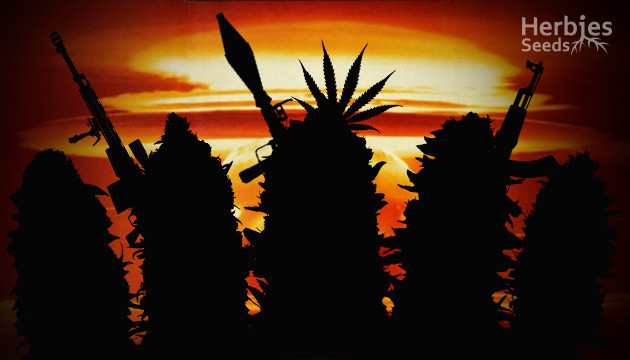 If we are stereotyping cannabis strains, Sativas could be described as the mighty 'uplifters' of the cannabis world. Thanks to their energizing and motivating effects, Sativa strains increase serotonin levels and thus help to uplift mood, boost creativity and enhance mental state by keeping the mind clear and focused. Ideal for morning, midday or mid-afternoon consumption, Sativas are often referred to as "daily strains". Depending on their terpene profile, some Sativas can help users to wake up and get excited for the day ahead. If you're not an early bird, a good Sativa will keep your eyes open better than coffee. Another superpower of Sativa strains is their ability to enhance creative thinking and concentration. If you need a hand in undertaking a tricky task or a bit of inspiration for creative pursuits like writing, painting or making music, a Sativa strain is the way to go.
Strong Sativa Strains: The Magic Power Of THC
From a growth perspective, Sativas may seem harder to cultivate, as they are quite sensitive to outer conditions and possible growing mistakes. Naturally tall and thin, Sativa strains may reach the height of 15' (4.5m) in an outdoor setup, and tend to develop multiple side branches with elongated leaves and buds. Especially tall and branchy Sativa plants often require training to keep them under control and improve the overall quality of the buds. Sativas prefer warm climates and may need more time to finish flowering than their Indica counterparts. On average, Sativa plants fully mature within 6 months and have a flowering stage of up to 16 weeks. This comparatively long wait time is compensated with large yields, rich terpene profiles and high potency. All of these features mean that Sativa plants bring a unique and exciting experience to the table in terms of both growing and consuming; one of the many reasons why they remain in-demand among growers all over the world.
As you browse the below list of the world's strongest Sativa strains available in our catalog, think of your favorite Sativa strain. If you don't yet have any, here's a great chance to choose one.
HulkBerry: A Happy High With A Fruity Flavor
Royal Queen Seed's HulkBerry is a 65% Sativa strain fueled with 27% THC and an intense, mouthwatering berry aroma. Unlike most Sativas, HulkBerry's plants have a surprisingly short flowering period of 9-10 weeks. While a bit tricky for first-time growers, this feminized cannabis variety is worth the effort! Recommended for early afternoon activities, HulkBerry helps to stimulate analytical thinking and get any job done, including mundane tasks like washing or cleaning. Euphoric and energizing, the strain is full of berry flavors with hints of earth and fuel, making it a nice addition to your daytime cannabis menu.
Bruce Banner #3: Instant Euphoric High
A cross between Colorado Ghost OG and Strawberry Diesel, Bruce Banner #3 from Original Sensible Seeds is a perfect combination of top Sativa traits with its tall height, high THC levels and outstanding productivity. Growing up to 10' (3m) tall, this cannabis strain is suitable for training methods like SCRoG or SOG that allow keeping its height and multiple side branches under control. It's also a heavy producer, serving up to 28-35oz (800-1000g) indoors/outdoors. Inspired by one of Marvel's superheroes, Bruce Banner #3 is a potent 'uplifter' in the cannabis world! With a THC content of up to 28%, it gives an instant blowout of euphoria balanced with a pleasant body relaxation. This strain is a perfect choice for weekday mornings when you need a boost of energy to get going.
Caramelo Early Version: An Exotic Taste Of Euphoria
A proud member of the Diesel family, Caramelo Early Version is a vigorous and tall Sativa-dominant strain featuring a rich flavor profile and decent yields. Like most Sativas, it prefers warm and dry climates or greenhouses, and can grow high in comfortable conditions. Surprisingly easy to grow, Caramelo Early Version does not need much attention and brings outdoor crops of 20 oz/plant (500g/plant). If planted outdoors, the strain performs better with short height – luckily, this variety is well-suited for all types of training. Boasting a rich flavor of sweet fruits, Caramelo Early Version brings a typical Sativa effect; uplifting, potent and euphoric, this high-energy strain provides a burst of motivation and will keep you active all day long.
Y Griega: AmHazing Energetic High
Bred from Amnesia and Kali Mist, Y Griega from Medical Seeds is an energizing cannabis strain prized for its therapeutic effects. Testing at 27% THC, Y Griega can help to ease pain and inflammation, as well as deal with appetite disorders. The strain grows tremendously tall (up to 11.5' (3.5m) outdoors) and needs 80-95 days to mature. What makes it different from other Sativa strains is its L-size buds and high resin content! With its Haze-like citrusy and floral aromas, Y Griega brings an aromatherapeutic cerebral buzz that will keep you energized even after a sleepless night.
Dr. Grinspoon: Tangy Flavors To Spark Creativity
A true gem of Barney's Farm cannabis collection, Dr. Grinspoon is a pure Sativa strain created for cannabis connoisseurs, artists and creative minds. Named after a famous cannabis activist, this Sativa strain is a perfect match for those who need to expand their imagination, gain access to new thoughts and ideas, or just paint the world in bright colors. Infused with pungent aromas of citruses and tropical fruit, Dr. Grinspoon will shake your imagination and stretch your creative muscles!