Cannabis Seeds in Connecticut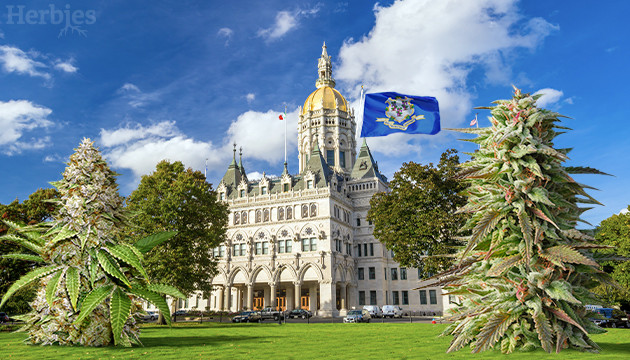 The Constitution State is among the lucky few that have great adult-use laws. As a result, many residents eagerly search for cannabis seeds in Connecticut. However, it isn't always as simple as heading to your nearest retailer. This is why CT growers often turn to online shopping.
Is it Legal to Buy Cannabis Seeds in Connecticut?
Among the most asked questions is this: is it legal to buy cannabis seeds in Connecticut? Don't worry – even in the areas of the USA where smoking cannabis is still illegal, seeds are legal to purchase and possess. The USA considers them to be industrial hemp and novelty products, so as long as they aren't used to produce black-market plants, anyone can buy them.
However, as recreational cultivation is not yet allowed, you won't see many seed banks in Connecticut. Instead, the best way to obtain seeds is online.
Can You Grow Cannabis in Connecticut?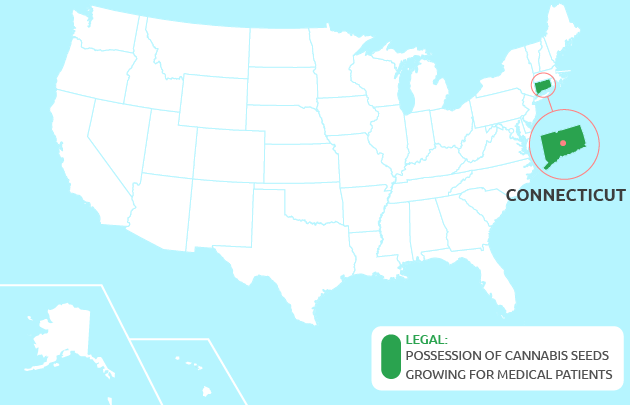 Although adult use is legal, not everyone can grow pot seeds in Connecticut. Before you order your next batch, make sure you're eligible for cultivation.
Most residents who possess cannabis seeds are likely medical cardholders. They are among the lucky few who can legally grow at home. The Nutmeg State allows medical marijuana patients to possess five ounces at home. Those who qualify can grow six plants at once, or 12 for a household with several patients.
Recreational cannabis users cannot grow plants at home, but that will soon change. At-home growing prohibition ends in July 2023, allowing anyone to cultivate without penalties.
What to Consider When Buying Weed Seeds in Connecticut
Before you buy marijuana seeds in Connecticut, there are some considerations to make. These include the local climate, available sunlight, and more. It can feel intimidating if you haven't dealt with growing weed seeds in Connecticut before. Discover how you can maximize your yields, even if you're brand-new to cannabis culture.
Climate in Connecticut
Summers in Connecticut with weather appropriate for cannabis-growing last from May until September, hitting 88˚F (31˚C) in July. June sees the most rain, with the wet season lasting from April until August. The rest of the year is drier, although rain is possible all year round. The month of June also receives the most sunlight – about 15 hours a day.
Your best bet for growing at home is outdoor cultivation. You should focus on picking quick autoflowering strains and photoperiod ones that finish sometime in September, before the cold weather hits. To maximize your yields, make sure to start your plants indoors in early spring, then transplant them outdoors when the days get warm enough (minimum 54F/12C).
Where to Buy Marijuana Seeds in Connecticut
Most cultivators will buy marijuana seeds online in Connecticut until physical seedbanks become available. Until then, Herbies Seeds has about 2,000 strains ready for you to order – more than you can try in your entire lifetime!
In addition to affordable products, you also receive free cannabis seeds. Get a freebie for each order and another one for every 20 euros (~$22) spent. All cannabis seeds for sale in Connecticut include stealth shipping packaging. While legal, this helps to minimize the risks of nosy neighbors and port authorities.
We also offer 24-hour support whenever you need to speak with us. See why we are the top name for marijuana seeds for sale in Connecticut.
Best Cannabis Strains to Grow in Connecticut
The best cannabis strains to grow in Connecticut are autoflowers and speedy photoperiod plants. That way, you can see decent yields without the risk of losing your harvest to cold. The best practice for regions like CT is to start photoperiod strains inside during early spring and transplant them outdoors when the weather allows it.
Bruce Banner #3 Fast (Original Sensible Seed)
Bruce Banner #3 Fast is a 65% Indica hybrid that lives up to its monstrous name. Not only does it pack 25% THC but also produces huge yields. This photoperiod strain finishes flowering in about 55 days indoors or in September outdoors. It has a sweet and pungent taste, leaving you energetic and uplifted.
Bruce Banner #3 Fast grows to 140cm (55") indoors and 280cm (110") outdoors. Expect to harvest up to 800g/m² (2.6oz/ft2) indoors and 1000g (35oz) per plant outdoors.
Wedding Glue Auto (FastBuds)
Wedding Glue Auto will have you saying "I do" (to another hit). Not only does she have a cake-like flavor, but she's veiled in white crystals as well. This 40% Sativa/60% Indica hybrid strain hits at 26% THC for a euphoric and heady effect that relaxes your body at the same time.
As an autoflower, it matures from seed to harvest in just 70 days. Expect to yield up to 550g/m² (1.8oz/ft2) indoors and 160g (5.6oz) per plant outdoors.
Godzilla Cookies Auto (Herbies Seeds)
Godzilla Cookies Auto is the perfect hybrid for kicking back with a cheesy movie. It tastes citrusy and gassy, making you giggly and euphoric.
Like the monster it's named after, it enlarges quickly, producing huge harvests even for beginners. Godzilla Cookies Auto reaches 120cm (47") in height and finishes in 70 days from seed, producing 600g/m² (2oz/ft2) of 27%-THC buds.
Trippy Gorilla Auto (Big Head Seeds)
No, Trippy Gorilla Auto isn't another NFT collection or cryptocurrency coin. It's a potent Sativa-dominant strain reaching 28% THC with pine and citrus flavors and an energizing, clear-headed high. Although strong, it also leaves you feeling focused.
Trippy Gorilla Auto produces resinous buds and unique green and purple leaves. It stays short at 100cm (39") and finishes in 56 days from seed. Expect to yield up to 600g/m2 (1.97oz/ft2).
Sweet Nurse Auto (Sweet Seeds)
As a unique hybrid, Sweet Nurse Auto produces 5-10% THC and 10-16% CBD for equal amounts of medication and recreation. This fifth-generation strain is sure to treat what ails you. Enjoy a sweet and skunky taste with a pleasant, mild high. While often used recreationally, Sweet Nurse Auto also treats nausea, inflammation, headaches, anxiety, and many other symptoms.
It matures in 56 days from seed and stays compact at 60-100cm (23.6-39.3"). When the time comes, you'll harvest up to 600g/m² (1.97oz/ft2) indoors or 125g (4.4oz) per plant outdoors.
Auto Critical Orange Punch (Dutch Passion)
With bright-colored buds and a citrusy flavor, Auto Critical Orange Punch looks, smells, and tastes like summer, all while reaching 26% THC. Enjoy a relaxing yet creative high from creamy white-haired flowers after the plant quickly matures.
This balanced hybrid finishes in about 75 days from seed. It peaks at 70-100cm (28" -39") in height and yields around 500g/m2 (1.64oz/ft2), given plenty of light and space for its roots.
Caramelo Early Version (Delicious Seeds)
Caramelo Early Version is a sweet, fruity, and frosty Sativa-dominant strain. This plant has a pungent, fruity aroma, making it almost intoxicating. Expect a deep body high that leaves you feeling calm. It reaches 25% THC and stays resistant to mold and pests – perfect if you're growing cannabis in Connecticut for the first time.
Caramelo Early Version finishes flowering in about 45 days indoors or in September outdoors. Expect to yield up to 450g/m² (1.47oz/ft2) indoors and 500g (17.6oz) per plant outdoors.