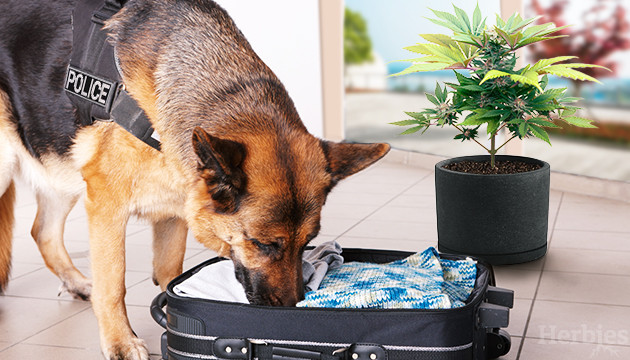 We get it – growing cannabis can have a pretty pungent aromatic quality for a residential area. That's why growing weed that doesn't smell is so appealing for the stealthy cannabis cultivator trying to get on with the daily growing grind, undetected.
Thankfully, smell and quality have nothing to do with each other. You can still grow deliciously potent weed of all flavors and effects without needing to wear a clothespin on your nose. So, how can cannabis have no odor, and which are the best low-odor strains to grow more discreetly?
What Makes Cannabis Low-Odor?
In reality, there's no such thing as a weed plant that has no smell. However, not all cannabis plants grow into stinky skunk blooms that release plumes of odor into your home. Some strains are more discreet because of their unique terpene profiles that allow them to smell less like weed and more like something in your everyday natural environment.
Terpenes are the naturally occurring aromatic oils a plant produces. These oils can offer various therapeutic qualities that enhance cannabis effects. Many plants share the same terpenes as marijuana, including lavender, black pepper, citrus fruits, and many more! They are responsible for increasing effects like "couch-lock," anti-depressant qualities, and pain relief, to name a few.
The main things to consider when choosing discreet, low-odor strains are the amount of smell a plant produces while growing, how much that smell resembles the stereotyped marijuana smell, and how pungent the weed smells when smoked.
Who Are Low-Odor Strains For?
Anyone can grow low-odor cannabis strains, but there are a few circumstances where it is highly recommended:
Growing indoors at home
Growing on a budget without an air filter
Growing near nosy neighbors
Large-scale grow operations
Growing near individuals sensitive to strong odors
Taking the time to find the best low-odor strains can save you a lot of hassle dealing with pungent smells protruding from your cannabis crop. You can still find a strain that meets the effect and flavor requirements you're looking for, only with less overall smell.
Best Low-Odor Strains With Practically No Smell
To save you the confusion of finding weed strains with no smell yourself, this list contains the best of the bunch with something for everyone's tastebuds. Take a look and get ready for a match made in heaven!
Green Crack Auto (FastBuds)
For weed that doesn't smell much, Green Crack Auto sure packs one hell of a punch! As a Sativa-dominant yet balanced hybrid, her 20% THC content will give you that intense euphoric daytime kick before slowly tapering into a lovely body relaxation.
Filled with intense flavors of sweet citrus and an earthy aromatic quality, her pungency is easily managed and discreet while maintaining an enjoyable terpene profile.
Green Ninja (Heavyweight Seeds)
Speaking of punch, Green Ninja is another low-odor marijuana that will kick you into gear without alarming the neighbors. A cross between two legends, Northern Light and Afghani, this stealthy 70% Indica soldier is an effective warrior against pain, anxiety, and stress with up to 22% THC.
Her fruity flavors with spicy undertones are strong in taste yet subtle on the nose, making this one of the best low-odor strains available.
Tutankhamon (Pyramid Seeds)
A true king of kings, Tutankhamon by Pyramid Seeds reveals magical emotional healing effects with around 25% THC levels and 2% CBD to uplift the heart and soul.
An ideal Sativa-dominant strain for daytime use, King Tut invigorates the senses with a moreish citrus and skunk flavor while remaining one of the greatest low-smell strains on the market, leaving only traces of earthy scents and a subtle skunkiness behind.
Northern Light (Royal Queen Seeds)
No list of best low-odor cannabis strains is complete without the addition of the award-winning legend Northern Light. An epic 100% Indica strain with up to 20% THC content, this etheric beauty offers daydreamy effects of calming sleepiness, munchies, and just the right dash of couch-lock to relieve all your wildest worries.
She also makes this list by a long shot thanks to her enjoyably sweet, fruity flavors with hints of natural spice, pine, earth, and herbs to fool the nose and keep things favorably discreet.
White Rhino (Nirvana Seeds)
Named White Rhino for the size of her massive central cola and not her height, this stealthy Indica-dominant strain has a rampagingly powerful high fit only for experienced smokers. With up to 22% THC content and a medicinally valuable CBD presence, let her slow come-up grace you with benefits for mental and physical ailments alike.
As she reaches the flowering stage, although pungent in her own right, her aromas of wood and earth are enough to keep marijuana out of the mind, making her a fantastic weed strain that doesn't smell like classic marijuana during growing.
Grandmommy Purple (Herbies Seeds)
If you're looking for potency up the wazoo and that good ol' "purple" flavor, Grandmommy Purple by Herbies Seeds is one of the best low-odor strains for your grow room. She tucks you in tightly with her 80% Indica dominance and THC reaching 33%, which is ideal for medicinal use in treating sleep disorders, severe anxiety, and chronic pain.
She may be a potent little lady, but with her unsuggestive sweet berry aromas, she still makes the list of low-smell strains in a heartbeat.
Green Poison CBD (Sweet Seeds)
The effectiveness of Green Poison CBD is quite contrary to its name! Offering a fairly rare 1:1-1:2 ratio of THC to CBD, the THC reaches a comfortable 9% while a complimentary CBD percentage of up to 12% follows suit.
This is one of the most effective low-odor strains for treating depression and stress, with well-balanced hybrid effects and a nice, complex combination of fruity, nutty, and sweet flavors to round it all off.
Strawberry Cough (Dutch Passion)
The perfect social lubricant for any smoker, Strawberry Cough leaves you feeling uplifted and chatty no matter what the situation with a pleasant THC uplift between 15-22%.
An all-American Sativa-dominant favorite, her classic sweet strawberry flavor never fails to impress, and her aroma is so fruity and light that no one will think to ask about the heavenly scent coming from your basement.
Original Auto Jack Herer (FastBuds)
If you're on the prowl for low-odor autoflower seeds, the Original Jack Herer won't disappoint with its delightful spicy fragrance and fast flowering period of just 9 weeks. As you take a puff of this peppery yet fruity flavored cannabis with up to 21% THC content, get ready for a Sativa-dominant cerebral high with a euphoric focus fit for an intense daytime smoke.
Luckily, growing Original Auto Jack Herer won't give away your grow – it stays discreet with almost no smell even during flowering.
Blue Mystic (Royal Queen Seeds)
Another legendary Northern Light descendant, Blue Mystic by Royal Queen Seeds is an 80% Indica-dominant hybrid offering dense and potent 21% THC buds with the fresh aroma of blueberry and tropical fruit.
Tasting even better than the smell and delivering a calm, delightful body high sending you into couch-lock, keep your grow room to yourself with this unbeatable low-odor marijuana.
Get Seeds of Low-Smell Strains at Herbies
Growing the best low-odor strains has never been simpler with Herbies. Take your pick of the best-suited strains for your needs and buy some seeds to get started in a stealthy fashion. From discreet delivery to low-scented harvests, you don't have to put up with a smelly home or complaining neighbors ever again!
Herbies Head Shop expressly refuses to support the use, production, or supply of illegal substances. For more details read our Legal Disclaimer.