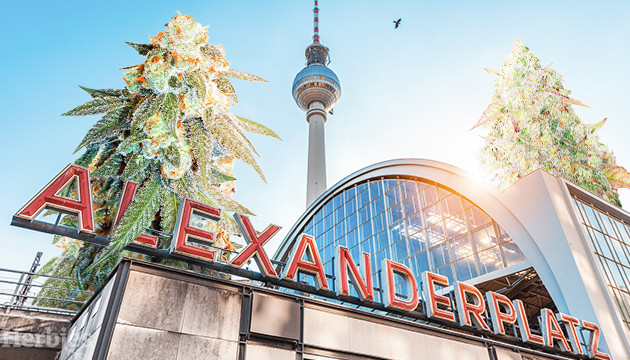 If you want to grow cannabis seeds in Berlin, you can easily find a good place online to buy them because imports are allowed. As for planting and growing the seeds you've purchased, be aware of regulations and legal limitations if you don't want to get in trouble with the law.
Our seed store and other places online offer cannabis seeds that Berlin residents can order and have delivered to their homes. The state of Berlin has rather lenient policies toward personal consumption of weed, and many locals choose to grow their own. Let's talk about some considerations of buying and growing marijuana seeds in Berlin and what strains will give you the most satisfaction.
Things to Consider Before Buying Cannabis Seeds in Berlin
We assume you haven't got any experience with cannabis seeds yet and don't know where you stand in terms of the law. You probably understand even less of what to expect from the climate and weather in Berlin. So let's tackle each of these issues.
Are Cannabis Seeds and Growing Them Legal in Berlin?
The laws regarding cannabis in Berlin and Germany at large are rapidly evolving. There've been talks of running a pilot project in Berlin that would sell recreational cannabis to a limited number of users in the city's pharmacies. Moreover, the new government has pledged to make adult use legal throughout the country by the end of the current term.
However, only medical consumption has been legalized so far. The problem for home growers is that even licensed medical patients can't cultivate their own – they still have to get their medicine in pharmacies. The upside is that their insurance pays for it.
Possession of small amounts of cannabis for personal consumption is mostly a non-punishable offense. For those caught with less than 10 grams of weed in Berlin, the police must drop the case if there was no danger to others. This mostly means that you don't smoke around children or don't do it in a blatant manner in public. For an amount between 10 and 15 grams, the police have the option of prosecuting you. Possessing more than that is a punishable offense.
Cannabis seeds are legal to buy and possess, although the chances of you finding a local seller are slim to none. The prosecution of amateurs growing weed in Berlin is a very low priority for the local police, but the media reports dozens of cases of large illegal grow-ops being raided each year.
Is Berlin's Climate Suitable for Growing Cannabis?
As one of the sunniest territories in Germany, Berlin has a climate that's quite suitable for growing cannabis outdoors. You can safely germinate your seeds in May, or even in April if you start your seedlings indoors for the first couple of weeks.
Summer months may be a bit too humid, but they offer just enough sunshine to meet the minimum requirements for a successful outdoor grow. With the start of fall, the amount of precipitation goes down a little, which is a good thing because fattening flowers are rather susceptible to mold and bud rot. The solarization drops dramatically in October, so make sure to harvest your buds no later than the first half of the month.
Indoor growing in a large urban area in summer is problematic because a lot of heat gets accumulated by buildings – it's about 4 degrees hotter in Berlin than in the surrounding rural area. Therefore, it might be a better idea to cultivate weed indoors off-season.
Where to Buy Weed Seeds in Berlin
Berlin residents can only realistically buy weed seeds online. There are many seed stores at your disposal, although only a handful have turned into reputable and reliable mega-malls with an international scope. And Herbies Seeds is one of them.
Herbies Headshop boasts 20 years of excellent track record that have resulted in great customer service available to you 24/7. On our website, you can browse through more than 2,000 premium marijuana strains from dozens of the most respectable breeders and place an order within minutes. We ship from Spain, and your discreet package with cannabis seeds will arrive at your Berlin address in no time.
Best Cannabis Seeds for Berlin
Now let's get to the fun part. Here's the list of cannabis seeds suitable for growing outdoors in Berlin climate – they will all perform well and finish before the cold weather hits the region. If you want to grow indoors, you can pick from among most of the strains at Herbies.
Girl Scout Cookies Auto
You can hardly do better than start your weed-growing career in Berlin with these seeds. Girl Scout Cookies Auto performs equally well indoors and outdoors and boasts the same properties as the famous original – a delicious terpene mix of sweet cookie dough and a potent blissful effect. It's really the coveted American classic in the autoflowering form, ready for harvest in just 10-11 weeks.
Bruce Banner #3 Fast
This September-finishing cultivar will be the star of your outdoor garden. Bruce Banner #3 Fast is capable of producing up to 1kg of huge, dense buds drenched in resin. With 25% THC, the invigorating and happy effect lasts for hours, and there's hardly any tolerance build-up over time. The smell and taste of fruit with a Kushy background are also fantastic.
Grandmommy Purple
Featured in High Times magazine, Grandmommy Purple became an instant classic as soon as her astonishing 33% THC was revealed to the world. It's the perfect night-time smoke but can waste you with even a single hit. Be just one second slow in passing the joint to your friend and you can end up snoring through the rest of the party. This Indica-dominant plant is a very rewarding cultivar; she never grows tall and finishes in September (or after just 9 weeks of flowering indoors).
Auto Orange Bud
If you prefer an ultra-potent but active high, look no further than Auto Orange Bud. This Sativa-dominant autoflower is a careful recreation of the original and packs so much more than the juicy essence of ripe oranges. With 26% THC, she's one of the most potent auto strains out there, and she can reach her peak potency in about 11 weeks from sprouts. In Berlin, you can easily have two harvests in one season.
Californian Snow Auto
Californian Snow Auto is one of the earliest forays of Americal genetics into the European cannabis market and is already a beloved classic. You'll fall in love with these frost-covered buds that pack up to 23% THC and lots of citrusy flavors. They create a Sativa-like effect – upbeat, exhilarating, and motivating – and are effective against a score of chronic conditions. A generous infusion of Ruderalis genes makes this plant an extremely hardy and resilient variety.
Sugar Black Rose Early Version
Sugar Black Rose Early Version is one of those cases where you don't need to compromise between an exceptionally short cultivation time and the quality of the outcome. This plant produces an abundant harvest of buds with a unique terpene profile. The flavors of fruit, spice, flowers, and skunk will keep you guessing from the first toke to the last, while the blissfully relaxing effect is just the thing for a cozy evening. 25% THC is also something you'd hardly expect from such a fast cultivar.
Pineapple Chunk
Want to take a bit more risk for an outsized reward? Try growing Pineapple Chunk, which finishes in late September but may take an extra couple of weeks. She's an exotic strain for an outdoor grow in Berlin, that's for sure, but the result will be amazing – huge, chunky colas with an intoxicating smell of tropical fruit and the taste of cheese and earth. The awesome 25% THC is mellowed out by high CBD levels, and the whole thing is a powerfully relaxing medicine for both body and mind.
Herbies Head Shop expressly refuses to support the use, production, or supply of illegal substances. For more details read our Legal Disclaimer.