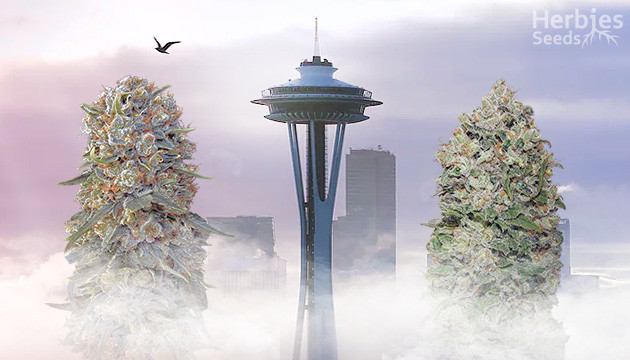 Washington state definitely loves its weed. It was the second state to legalize recreational cannabis sales, and residents spend hundreds of millions of dollars on weed every year. But what if you don't want to spend your hard-earned money on weed? Cultivate it yourself with our guide to the best strains to grow in Seattle, Washington.
The first thing to note here is that growing weed in the Seattle area can be difficult. First, growers have to deal with Washington state's marijuana laws, which prohibit home growing by private individuals. That's why for buying cannabis seeds in Seattle you need to resort to safe online shopping. Second, the region has a wet, cool climate that favors many types of vegetation. However, weed isn't one of these plants. That's why it's so important to know what strains of cannabis grow best in the Seattle climate.
Growing in Seattle: 10 Cannabis Seeds to Grow
Seattle generally has a short growing season with limited sunlight. As a result, we've mainly stuck to plants that have shorter flowering phases, such as autoflowering strains. Another benefit to autoflowering strains is that they often don't grow very tall. That will help you keep your garden stealthy – since you can't legally grow weed here, this is an important factor.
Northern Lights (Sensi Seeds)
Northern Lights tops our list of the best Seattle strains, and it's not hard to see why.
Even non-smokers know about Northern Lights. Anecdotal evidence suggests that Northern Lights was first bred in the Seattle area before it became famous in the Netherlands. This legendary Afghan and Thai cross is a powerful Indica that grows well indoors and has a low, shrubby profile. Northern Lights is also truly northern at heart, as it can withstand cool temperatures really well. It takes between 45 and 50 days to fully mature once it reaches the flowering cycle. Don't sleep on this strain if you like the calming, chilled-out vibes of a pure Indica.
2 Fast & 2 Vast Auto (Heavyweight Seeds)
Number two on our list of the top Seattle strains is 2 Fast & 2 Vast Auto. This strain is what happens when breeder Heavyweight Seeds combines a giggly, relaxing high that provides introspection and creativity with a respectable 20% THC and just under 1% CBD.
This Fast and Vast and Northern Lights Auto cross is ideal for the Seattle climate. It only takes 56 days to fully mature from seed, and its maximum height is somewhere around 40 inches (100cm), making it perfect for stealth gardens. No wonder it's one of the best strains to grow in Seattle, Washington.
Wedding Cake Auto (Original Sensible Seeds)
Wedding Cake Auto is a fairly new hybrid created by crossing Cherry Pie and Girl Scout Cookies (GSC). With a combination of tangy and spicy flavors and a mellow high, this strain is perfect for any time of day.
Wedding Cake Auto is also a great strain to grow in Seattle, Washington. This weed strain usually only spends about 5 weeks in the flowering phase thanks to its autoflowering genetics. Moreover, it doesn't grow very tall, usually reaching heights of around 31 inches (80cm). That makes it a great marijuana strain for growing outdoors in the Seattle climate!
Girl Scout Cookies Auto (Garden Of Green Seeds)
It's hard to go wrong with Girl Scout Cookies, one of the most famous strains of the last decade. Make it an autoflowering variety by mixing Girl Scout Cookies and Cannabis Ruderalis, and you have one of the best weed strains for growers in Seattle. Its high is simultaneously relaxing and uplifting, and it boasts a complex flavor profile with tons of sweetness and citrus.
Girl Scout Cookies Auto is also ideal for Seattle's climate. Since it's both Indica-dominant and an autoflowering strain, it's easy to grow both indoors and outdoors. It develops a low, bulky shape and is easy to train to grow wider instead of taller.
Bruce Banner #3 Fast (Original Sensible Seeds)
No list of the top ten strains in Seattle would be complete without Bruce Banner #3 Fast. This strain grows big, green, and mean, just like the comic book character's alter ego, the Hulk. Bruce Banner #3 Fast is a three-way cross between Colorado Ghost OG, Strawberry Diesel, and Black Domina, creating a potent Indica-dominant hybrid.
This strain matures quickly, reaching a height of up to a foot tall (280cm) in as little as 50 days. By harvest time, growers will be rewarded with buds boasting a hefty 25% THC, giving this strain a cranial, cerebral high.
Jack Herer Auto (GHS)
A new twist on a classic strain, Jack Herer Auto is next on our list of the best Seattle strains. Named after one of the greatest pro-cannabis crusaders, this Jack Herer and Cannabis Ruderalis cross is hybrid on hyperdrive. It has a gentle, uplifting high that inspires creativity and boosts energy.
Thanks to its Ruderalis genetics, Jack Herer Auto has a short lifespan of just 9 weeks from seed to harvest. Not only does that make it perfect for indoor growing, but it's also one of the few good marijuana strains for growing outdoors in the Seattle area.
Orange Sherbet Auto (FastBuds)
If you're a fan of citrus strains, it's tough to beat Orange Sherbet Auto. This Orange Sherbet and Ruderalis cross boasts a lofty 24% THC in addition to its incredible flavor.
Orange Sherbet Auto also produces high yields. With proper care, each plant is capable of producing about 1lbs/m2 (500g/m2). Use LST to keep plants growing outward instead of upward to maximize your grow space, and you'll see why Orange Sherbet Auto is one of the most popular strains to grow in Seattle right now.
Extreme Impact Auto (Heavyweight Seeds)
Here's a strain that doesn't pull any punches. Extreme Impact Auto is a Mazar Auto and Fast Vast Auto cross with about 21% THC, plus a dash of CBD to boot. The addition of this strain's powerful, in-your-face hashy flavor makes it an instant classic.
Extreme Impact Auto is a short, stubby Indica-dominant hybrid. It usually reaches a max height of 32 inches (about 80cm). Reaching full maturity within 8 weeks of germination, this is an ideal Indica for Washington's short growing season and one of the best strains for Seattle.
Auto Cinderella Jack (Dutch Passion)
Here's a hybrid you never knew you needed. Auto Cinderella Jack is a three-way Cinderella 99, Jack Herer, and Magnum cross, making it one heavy-hitting hybrid. Its THC content is certifiably huge, clocking in at 26%.
One huge benefit of Auto Cinderella Jack is that it's very easy to grow. As long as you keep your humidity under control (below 40%), you'll have healthy plants on harvest day. It's fully mature after about 70 days, covered in a sheen of trichomes with a fruity, citrus-centered flavor. Currently, this is one of the most popular strains in Seattle among both indoor and outdoor growers.
Eleven Roses Early Version (Delicious Seeds)
Although it may not have the same name recognition as Northern Lights or Durban Poison, don't sell Eleven Roses short. With a THC concentration reaching 24% and an unusual flavor with metallic and fruity tones, this Appalachian Kush and Sugar Black Rose cross is a dream to grow.
Eleven Roses takes a little more time to mature than some of the autoflowering strains on this list, needing 9 weeks before harvest. Your patience will be rewarded though, as each plant can throw down nearly 3oz (80g) on harvest day. All these benefits earn Eleven Roses Early Version a spot on our list of the top ten strains to grow in Seattle.
High CBD Strains' Seeds In Seattle
Sometimes, some smokers want a different experience: CBD. They're not looking for the high-flying zing of a Sativa or the mellow relaxation of an Indica. Instead, they may be medical patients seeking relief, or may simply enjoy the mellow vibes of cannabis without the psychoactive effects. Whatever your reason, keep this list in mind if you're looking for the best high CBD strains to grow in Seattle.
CBD Auto 20:1 (FastBuds)
Occupying the top slot on our list of Seattle's best high-CBD strains is CBD Auto 20:1. By crossing CBD and a Ruderalis, FastBuds has engineered a strain with nearly 20% CBD and negligible THC.
The first thing growers will notice about CBD Auto 20:1 is that it grows extremely quickly, and can often be ready to harvest in just one month. That quick turnaround time makes this one of a handful of good marijuana strains for growing outdoors in the Seattle area.
Stress Killer Automatic CBD (RQS)
Another great autoflowering CBD strain is Stress Killer Automatic CBD. Legendary breeder Royal Queen Seeds created this majestic marijuana by mixing Lemon Shining Silver Haze, Juanita la Lagrimosa, and a Ruderalis, and the result definitely measures up. Plus, it has an unbeatable citrus flavor!
While Stress Killer Automatic CBD has plenty of CBD, it also has about 11% THC. These two cannabinoids can work together to enhance each other's effects, making this weed one of the best Seattle-friendly strains.
CBD Lemon Potion Auto (Barney's Farm)
For a delicious hybrid with a heaping portion of CBD, choose CBD Lemon Potion Auto. With about 15% THC and 10% CBD, this strain is ideal for any grower who wants CBD in their cannabis without totally eliminating the THC.
CBD Lemon Potion Auto does take a little longer to mature than most of the strains here. It usually finishes in about 70 days – just slightly over the 2-month growing period that many autoflowers maintain. However, after you experience the lemony zest of its fragrance and flavor, you'll understand why so many growers consider it one of the best strains to grow in Seattle.
Go Forth And Grow Cannabis In Seattle, WA
That wraps up our list of what strains of cannabis to grow in Seattle, WA. There are only a couple of rules to live by: climate is everything, and autoflowering strains are your friends. If you follow these tips and stick to our strains, you'll be a happy gardener come harvest day.
Herbies Head Shop expressly refuses to support the use, production, or supply of illegal substances. For more details read our Legal Disclaimer.