Runtz Punch Feminized Seeds (Herbies Seeds)
Description
Runtz Punch Strain Info
Made for the dreamers of this world, Runtz Punch is the ultimate relaxation strain thanks to its extreme THC potency and awesome 70% Indica lineage. With a history of making the mind reach new levels of introspection, this tolerance breaker can calm an anxious body in seconds, tucking you into bed nicely for an evening of astral travel beyond compare.
Genetics
How does it achieve such therapeutic mastery, you ask? Well, with a phenotype including Zkittlez, Gelato, and Fruit Punch, this strain is off the charts for potency, effects, and mind-bending flavors.
Flowering Time
You won't have to wait long for your bedtime dose either, as Runtz Punch plants have a convenient flower time of just 55 - 65 days from germination.
Yield
Plants will yield 600 g/m² (2 oz/ft²) indoors, while outdoor harvests reach a hefty 1 kg (35 oz) per plant!
Effects
Enjoy the complex effects of Runtz Punch's impressive genetics, balancing a deep body high with an inspired creative rush. Get lost in artistic pursuits, and don't be surprised if you wind up making a masterpiece.
However, Runtz Punch wasn't bred for the faint of heart. Start slow with this bad boy, even if you're an experienced toker. You will get that feeling of being stoned for the first time, and if you don't take it easy you could end up couch-locked.
THC and CBD Level
She achieves her effects of epic proportions with her whopping 27-29% THC content, so proceed with caution!
Smell And Taste
This strain tastes as sweet as she feels – expect a rich, creamy flavor that makes tokes simply delightful. Allow delicate hints of tropical fruit to fill your senses on the exhale, thanks to Runtz Punch's premium family tree. Then, enjoy the powerful aroma of tangerine and lavender terpenes, which add a refreshing smell that balances the strain's earthiness.
Grow Tips
Runtz Punch is ideal for beginners – the only downside is that you might grow too much! This strain is stupidly easy to grow and will fit the majority of indoor grow set-ups, reaching a maximum height of 120cm (47 inches). Expect a dense plant with strong, thick branches that are rich with luscious dark green bud. For the most exciting experience growing Runtz Punch, keep this grow info in mind:
Our fine-tuned genetics give Runtz Punch a high quantity of resin that's packed full of terpenes and cannabinoids. You might want to keep some buds to the side to make hash or other concentrates.
Runtz Punch is already pretty compact, making it ideal for stealthy growers. To make sure you'll maintain a plant height that fits your grow space, use LST, HST, and SCROG techniques.
If you're growing this strain in pots, Runtz Punch will thrive in a final pot of 20-30 liters (5.2-7.9 US gallons). This will help the roots develop properly.
Runtz Punch Seeds
An insanely good bang for your buck, Runtz Punch feminized seeds grow into some of the juiciest plants in the cannabis sphere, producing bucket-loads of extremely potent bud that is sure to last even the most experienced tokers all year round. On that note, don't hesitate to buy a pack online today, right here, right now, at Herbies!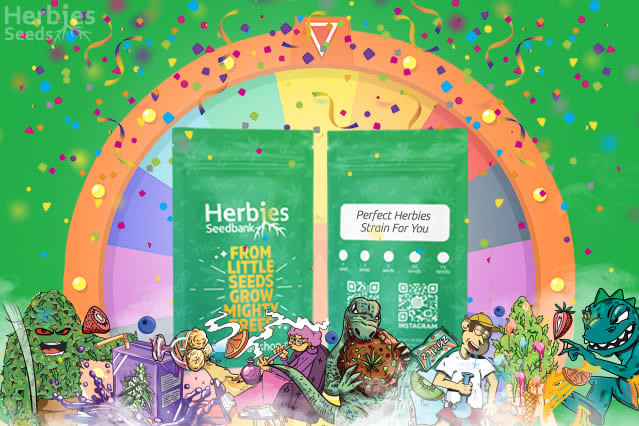 What Herbies Seed Is Right For You?
Characteristics
Brand

Herbies Seeds

Type of seeds

Feminized

Either autoflowering or photoperiod. Both have their pros and cons, but growing autos is easier.

Learn more

Type of seeds

Photoperiod

Suitable for growing

Indoor, Outdoor

Each strain produces a certain effect on your body. This is what you can expect from this variety.

Learn more

Effect*

Dream-like introspection

Genetic composition of the strain. Shows parent strains that were used to create this particular variety.

Learn more

Genetics

Zkittlez x Gelato x Fruit Punch

Height

90 - 120 cm indoors
140 - 190 cm outdoors

Harvest

500 - 600 g/m² indoors
800 - 1000 g/plant outdoors

The length of the flowering stage for photoperiod strains, or seed-to-harvest time for autoflowers.

Learn more

Indoor flowering time

55 - 65 days

This is when your plant will be ready for harvest when grown outdoors. Make sure it's still warm enough by then!

Learn more

Outdoor finish

September

% Sativa/ Indica/ Ruderalis

30% Sativa / 70% Indica

The main psychoactive compound in cannabis. The higher THC level, the more potent the strain.

Learn more

THC

29 %
*Herbies sells cannabis seeds exclusively as souvenirs that aren't meant for cultivation or germination. Customers should be aware that the germination of cannabis seeds is illegal in most countries. Herbies sells cannabis seeds exclusively for collecting and preservation for future generations. We advise customers to check with their local laws before germination, as Herbies does not accept responsibility for the illegal use of our products.