Blue Gelato 41
Description
Blue Gelato 41 Strain Info
By crossing these three well-known strains together, breeder Barney's Farm has managed to create a very high-yielding Indica strain that's loaded with pleasant smells and aromas.
Genetics
Blue Gelato 41's family tree is made up solely of American legends. Her lineage includes the sweet Blueberry, the good-feel Thin Mint Girl Scout Cookies, and the fruity Sunset Sherbet.
Blue Gelato 41 Yield
Although it might not be the easiest strain for beginners to grow, experienced growers will be rewarded with more than abundant yields of 700g/m2 indoors and 3000g/plant outdoors.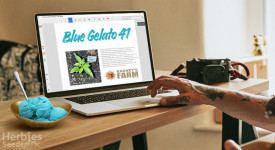 Blue Gelato 41 Grow Report
Effects
The effects of Blue Gelato 41 are strong, energetic, and will leave you focused, motivated, and clear-headed – a great daily strain. If you happen to have any aches or pains prior to toking, Blue Gelato 41 will surely squeeze them out of tense areas of your body.
THC and CBD Content
Blue Gelato 41 should be treated with respect as a highly potent strain. Its THC levels hover in the 20s, and as testing shows, may reach 25%, while CBD levels stay below 1%.
Smell And Taste
The taste of Blue Gelato 41 is sweet and citrusy with earthy undertones and scents. Its aromas are fruity and refreshing – indulging in these terpenes feels like plunging into a cool lake of tranquility.
Tips For Growing Blue Gelato 41
This feminized hybrid is 60% Indica and will usually stay under 150cm (4'11") in height. However, if given enough room and vegetation time, plants can easily reach 200cm (6'6"). You can expect to grow a sturdy plant that grows fast and vigorous with great side branching.
The Blue Gelato 41 flowering time finishes in only 9-10 weeks indoors, or by the end of October outdoors. Many phenotypes show purple or blue buds, but all end up covered with resinous trichomes with THC levels of up to 25%.
Use defoliation and low-stress training techniques to increase bud sites for larger yields.
Use topping and mainlining to focus the plant's energy on growing more colas.
HID 600W lights are suitable for both the vegetative and flowering stages.
THC levels usually test at 25% THC, with under 1% CBD and around 0.5% CBG.
Medical Properties Of Blue Gelato 41 Strain
Medically, Blue Gelato 41 is popularly used to treat symptoms of anxiety, stress, glaucoma, arthritis, rheumatism, and nausea, among others. This is all thanks to its high cannabinoid levels and a wide variety of terpenes present in its resin.
Blue Gelato 41 Seeds For Sale
Blue Gelato 41 seeds are now available for sale at Herbies. We offer free seeds with every order and stealthy worldwide shipping, including several delivery options for the USA and the UK.
Characteristics
Brand

Barney's Farm

Type of seeds

Feminized

Either autoflowering or photoperiod. Both have their pros and cons, but growing autos is easier.

Learn more

Type of seeds

Photoperiod

Suitable for growing

Indoor, Outdoor

Each strain produces a certain effect on your body. This is what you can expect from this variety.

Learn more

Effect*

Potent psychedelic pleasure

Genetic composition of the strain. Shows parent strains that were used to create this particular variety.

Learn more

Genetics

Blueberry x Thin Mint Girl Scout Cookies x Sunset Sherbert

Height

150 cm indoors
150 - 200 cm outdoors

Harvest

600 - 700 g/m² indoors
2500 - 3000 g/plant outdoors

The length of the flowering stage for photoperiod strains, or seed-to-harvest time for autoflowers.

Learn more

Indoor flowering time

63 - 70 days

This is when your plant will be ready for harvest when grown outdoors. Make sure it's still warm enough by then!

Learn more

Outdoor finish

October

% Sativa/ Indica/ Ruderalis

40% Sativa / 60% Indica

The main psychoactive compound in cannabis. The higher THC level, the more potent the strain.

Learn more

THC

25 %

CBD

0.5 %
*Herbies sells cannabis seeds exclusively as souvenirs that aren't meant for cultivation or germination. Customers should be aware that the germination of cannabis seeds is illegal in most countries. Herbies sells cannabis seeds exclusively for collecting and preservation for future generations. We advise customers to check with their local laws before germination, as Herbies does not accept responsibility for the illegal use of our products.