Dos Si Dos 33
Dos Si Dos 33 Strain Info
When creating their new feminized variety, Dos Si Dos 33, breeder Barney's Farm decided to take their foot off the breaks! Just see for yourself – this cannabis strain has it all!
Genetics
Thanks to its exceptionally impressive family tree, which includes Face Off OG, Cookies Kush, and Gelato #33 phenotypes, among others, Dos Si Dos strain boasts a colossal THC content of 28%, all tightly packed in a hardy 90cm (2'11") plant.
THC Levels
The THC content of Dos Si Dos 33 is stratospheric, coming in at anywhere from 22-28%. With enough THC to tranquilize a horse, cannabis novices should definitely take it slow with this lady.
Smell And Taste
The exciting terpene profile of Dos Si Dos 33 is just as bold as her effects. Neon-green and purple buds only enrich the experience, with the pronounced taste of spiced lime and mint fused with the aromas of sherbet and fresh cookies.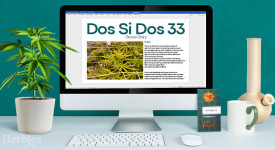 Dos-Si-Dos 33 Grow Journal
Dos Si Dos 33 Flowering Time
Thanks to the slight Indica prevalence in Dos Si Dos 33's genetics, the strain won't leave you hanging for too long. Expect to harvest this monster of a bush in 60-65 days indoors or in October when growing outdoors.
Dos Si Dos 33 Yield
Dos Si Dos 33 is a heavy yielder that keeps it on brand come harvest time! By that we mean that each outdoor plant will bring you Dos kilos (2000g/4,4lbs) of aromatic green nuggets! Indoors, expect to harvest a lot too – up to 700 g/m² (2,3oz/ft2).
Dos Si Dos 33 Grow Tips
Considering the monster quality of buds that you get after harvest and all of the benefits of choosing Dos Si Dos 33 for cultivation, this feminized strain is extremely easy to grow. Suitable even for first-time growers, she's completely resistant to various types of problems, including mold and powdery mildew. Even spider mites prefer to stay away from this vigorous bush!
This plant has a short height of just 90cm (2'11") – perfect for both indoor cultivation and stealthy outdoor setups.
She's also suitable for various climate zones, and can be grown in cool, hot, or temperate conditions.
Finally, she's easy to grow as a whole, so is well-suited even for novice growers.
Dos Si Dos 33 Seeds
Don't wait a minute longer to get your hands on some Dos Si Dos 33 feminized seeds. Buy yours today from Herbies Seeds and find out for yourself what makes this strain such a knockout both in terms of yields and effects.
Characteristics
*Herbies sells cannabis seeds exclusively as souvenirs that aren't meant for cultivation or germination.
Customers should be aware that the germination of cannabis seeds is illegal in most countries. Herbies sells cannabis seeds exclusively for collecting and preservation for future generations. We advise customers to check with their local laws before germination, as Herbies does not accept responsibility for the illegal use of our products.