Gelato Auto Feminized Seeds From Herbies Seeds
Description
Perfect for: creatives of all sorts
Powerful creative flow
Energy and focus for hours
A new, positive outlook
Gelato Auto Smoke Review: Effects & Flavors
Gelato Auto is a dessert from the adults-only zone! Casually testing at 24-26% THC, this autoflowering cannabis strain from Herbies is among the most powerful autoflowering seeds on the modern market.
Our ultimate mood booster, Gelato Auto is a strain that instantly elevates the mood of any party, filling the room with true belly laughs. It also alleviates social anxiety to help initiate infectious discussions. However, it's not just a party strain. If you decide to enjoy some Gelato Auto in the perfect company of just yourself, you're up for a sudden outpouring of creativity – ideal for planning and exploring your artistic side. However, with such a potent delight as Gelato Auto, you may take one scoop too many! In order not to get couch-locked, start with just a couple of good tokes. With a THC level of 26%, this is more than enough for most.
Gelato Auto's terpene profile is a sensory journey from sour to creamy, and then from sweet straight to savory. It can never get boring, even when smoking the same strain daily, when the main flavors are reminiscent of the best Italian dessert. With Gelato Auto, you get a tasty mix of sweet cookie dough and soft ice cream, backed up by tangy citrus and a subtle dank earthiness.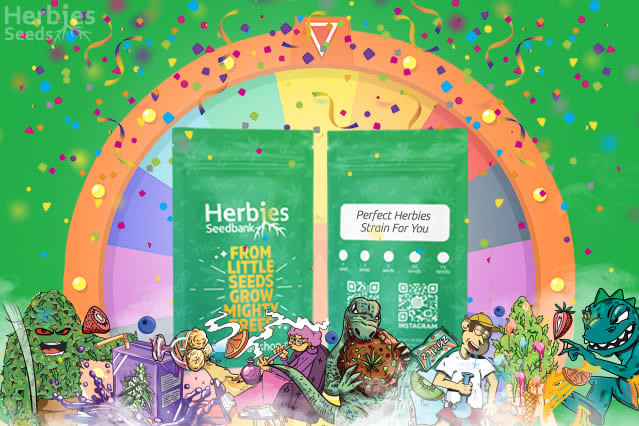 What Herbies Seed Is Right For You?
Gelato Auto Grow Info: Appearance And Grow Tips
Despite the balanced Indica to Sativa ratio in her genetics, Gelato Auto is an autoflowering plant with a pronounced Indica structure. This cultivar reaches a maximum height of 100cm (40 inches), making it ideal for modest indoor setups. By the end of the final ninth week of flowering, Gelato Auto will yield up to 200g (7oz) per plant outdoors or 600g/m2 (1,96oz/ft2) indoors. While Gelato Auto from Herbies is beginner-friendly and easy to grow, keep the following tips in mind for the best possible results:
Gelato Auto is quite smelly, so we recommend investing in a carbon filter to keep the sweet odor away.
Light defoliation is recommended to increase the mass of the final harvest.
Flushing 2 weeks prior to harvesting will benefit the taste of the bud.
Consider leaving some of the harvested buds for extraction – the abundance of resin makes Gelato Auto perfect for making hash and other concentrates.
Characteristics
Brand

Herbies Seeds

Type of seeds

Feminized

Either autoflowering or photoperiod. Both have their pros and cons, but growing autos is easier.

Learn more

Type of seeds

Autoflowering

Suitable for growing

Indoor, Outdoor

Each strain produces a certain effect on your body. This is what you can expect from this variety.

Learn more

Effect*

Outpouring of creativity

Genetic composition of the strain. Shows parent strains that were used to create this particular variety.

Learn more

Genetics

Gelato x GSC x Unknown Ruderalis

Height

60 - 110 cm

Harvest

400 - 600 g/m² indoors

From seed to harvest

60 - 65 days

% Sativa/ Indica/ Ruderalis

60% Sativa / 40% Indica

The main psychoactive compound in cannabis. The higher THC level, the more potent the strain.

Learn more

THC

26 %
*Herbies sells cannabis seeds exclusively as souvenirs that aren't meant for cultivation or germination. Customers should be aware that the germination of cannabis seeds is illegal in most countries. Herbies sells cannabis seeds exclusively for collecting and preservation for future generations. We advise customers to check with their local laws before germination, as Herbies does not accept responsibility for the illegal use of our products.