Gorilla Cookies Auto feminized seeds
Description
Gorilla Cookies Auto Strain Info: The Child Of Legends
Such a mighty duo of lineages as Gorilla and Cookies that make up Gorilla Cookies Auto also makes for an ultimate late-night strain, perfect for when there's nothing left to do but get completely stoned out of your mind and have an amazing time.
Gorilla Cookies Auto Effect: Highly-Euphoric, And Tranquilizing
Described by FastBuds as synergetic, the effects from Gorilla Cookies Auto blossom in their full power in the head high as much as the body relaxation. It's definitely an overwhelming experience, but in a good way – a constant battle of intense giggly euphoria with pleasant waves of tranquility going through every muscle. Expect to LOL at basically anything and feel relaxed in places you didn't know you could!
Smell And Taste: Kush & Cookies
When it comes to the flavor palette of Gorilla Cookies Auto, the first thing you're going to be hit with right after opening the jar with buds is fresh mint chip cookies. When lit, the flower of this cannabis strain exudes a complex blend of kush, lemon, and diesel. The layered nature of Gorilla Cookies Auto remains when you smoke it as well, giving you cookies on the inhale and bright citrus zest on the exhale. Delish!
Gorilla Cookies Auto Grow Info: Sticky, High-Yielding, And Mold-Resistant
Despite being called a gorilla, this autoflowering cannabis strain stays compact throughout its whole lifecycle, reaching only 100cm (3'2") in height. So, if you're a little tight on grow space, we highly recommend this autoflower. Even though the plant is pretty short, its production matches those of the highest yielders – expect to harvest up to 600 g/m2 (2oz/ft2 ). The structure of Gorilla Cookies Auto is incredibly sturdy thanks to a thicker main cola, fatter branches, and wide internodal spacing. However, the multiplied resin production may make the branches lean. Here are some tips you may want to follow to make the most out of Gorilla Cookies Auto:
Use bamboo sticks or nets for additional support of heavy branches laden with buds.
Increase the number of bud sites by defoliating and implementing LST techniques.
Gorilla Cookies Auto is a hungry cannabis strain and can take up more nutrients, especially after day 21 of its lifecycle.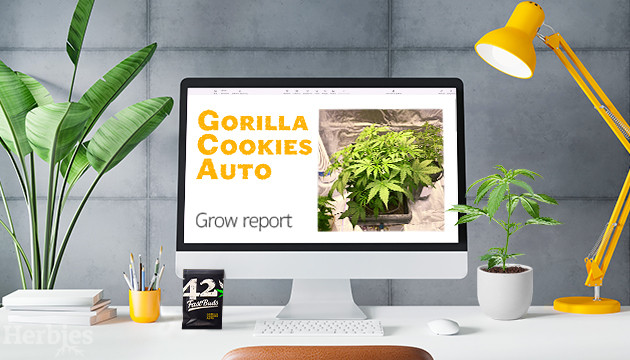 Gorilla Cookies Auto Grow Report
On top of everything else, Gorilla Cookies Auto autoflowering cannabis strain is extremely resilient and can withstand temperature fluctuations, humid environments, and pests. So, if you're looking for a great beginner-friendly strain, you've just found one of the best! Moreover, if your area is cold and your plants therefore prone to mold, there's no better autoflower choice than Gorilla Cookie Auto by FastBuds.
Characteristics
*Herbies sells cannabis seeds exclusively as souvenirs that aren't meant for cultivation or germination. Customers should be aware that the germination of cannabis seeds is illegal in most countries. Herbies sells cannabis seeds exclusively for collecting and preservation for future generations. We advise customers to check with their local laws before germination, as Herbies does not accept responsibility for the illegal use of our products.