Gorilla Zkittlez feminized seeds
Description
Gorilla Zkittlez Strain Info
Gorilla Zkittlez from Barney's Farm is a 60% Indica-dominant hybrid, a cross between two legendary and sensational strains – Original Glue and Zkittlez. Made with potency and flavor in mind, it delivers a hit and then some. Simply put, it's a must-try for all cannabis connoisseurs and casual users alike.
Genetics
This is a winning combination of two of the most trending weed varieties on the market today. Both parents are U.S. legends that populate the top shelves of West Coast dispensaries. With a family tree like this, it's clear that Gorilla Zkittlez can be nothing but excellent both taste and effects-wise.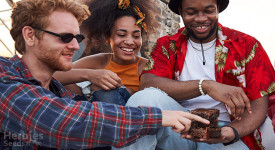 Gorilla Zkittlez Trip Report
Effects
The effects are strong and powerful, meditative and thought-provoking at first, and eventually transitioning into a perfectly calm state of mind with a relaxing body high.
THC Levels
This strain has a very high THC rating of 24%, making it especially popular among medical patients who use Gorilla Zkittlez for treating chronic pain, insomnia, arthritis, and other therapy-resistant conditions.
Smell And Taste
This strain's flavors and aromas are fruity, reminiscent of sweet fruit candy. This is clearly the influence of the Zkittlez parent, while Gorilla provides this hybrid with a complex and pleasant, though hard-to-describe mix of terpenes.
Gorilla Zkittlez Yield
This cannabis strain has decent yields of 600-700g/m2 (2-2.3oz/ft2) indoors, while outdoors (if given enough space for the root system to establish and enough time in vegetation), experienced growers can easily harvest 2000-2500g (4.4-5.5lb) per plant.
Gorilla Zkittlez Grow Report
Gorilla Zkittlez Flowering Time
It's truly amazing that the abundant yields of Gorilla Zkittlez require only 55-65 days of flowering, and that outdoor harvests are ready by early October.
Grow Tips
Gorilla Zkittlez is a real beauty with her multicolored buds and ample layers of 'frost'. Finished buds are almost white and entirely covered with resinous trichomes. Reaching a height of 100-140cm (3.3-4.6ft) indoors, but 140-170cm (4.6-5.6ft) outdoors, she'll stretch and double her size during flowering, so keep that in mind and provide adequate space for your girls to grow. As they approach harvest, especially if night temperatures are a bit colder, pink and light purple colors may appear.
Defoliate and use LST to increase bud production.
Top or FIM if you want more colas.
Gorilla Zkittlez Seeds
This variety is only sold as feminized seeds, with a guarantee that practically all of them will produce females. So don't worry about males and focus on what's important – the production of these extraordinary buds.
Characteristics
*Herbies sells cannabis seeds exclusively as souvenirs that aren't meant for cultivation or germination. Customers should be aware that the germination of cannabis seeds is illegal in most countries. Herbies sells cannabis seeds exclusively for collecting and preservation for future generations. We advise customers to check with their local laws before germination, as Herbies does not accept responsibility for the illegal use of our products.