Mimosa EVO Feminized Seeds (Barney's Farm)
Description
Mimosa EVO Strain Info
Mimosa EVO is a cross between Purple Punch and Clementine which both impart their sweet taste and aroma upon her.
Her zesty, citrusy side comes mostly from her Clementine phenotype, meanwhile, Purple Punch gives Mimosa EVO some excellent Indica genetics with its pleasant body high, which nicely complements the more euphoric and energizing characteristics of Clementine. The result: a perfect marriage of two high-quality strains that users are sure to appreciate.
Flowering Time
The plant is ready for harvest in early October, or after a flower time of just 65 days when grown indoors.
Yield
You can expect unbelievable indoor yields of 700 g/m2 (2.29 oz/ft2) and an outdoor harvest of up to 2000 g (70.5 oz) per plant!
Effects
Mimosa EVO has spectacular and uplifting effects. Those who take her in their stride will enjoy a high that's both energizing and euphoric, giving them plenty of energy to tackle the day. While the strain is a heavy hitter and appropriate for some medicinal users, its uplifting nature means that bad psychoactive experiences are rare (unless, of course, you overdo it).
THC Level
THC levels are usually around 24-26%, but can at times push 30%, so inexperienced users should go slow.
Smell And Taste
This is a truly delicious Indica strain, perfect for those who love their cannabis with a tropical and zesty terpene profile. There's a strong note of fruit punch and tangerines upon the first smell of this delicious bud, and the taste is similarly tropical, with intense hints of lemons and berries. These flavors and aromas will have you feeling like you've drifted off to an island in the South Pacific, leaving all your cares behind.
Grow Tips
The yields produced by this feminized cannabis strain are truly gargantuan, whether grown indoors or outdoors, although outdoor grows tend to be bigger with plants reaching heights up to 220cm (7'3"). It's a fairly easy plant to grow so long as measures are taken early to account for its abundant yields. It is also very visually appealing, growing large purple leaves and big, frosted buds in no time. To give this strain the best support possible take this grow info into account:
With indoor yields of 700 g/m2 (2.29 oz/ft2) and outdoor yields of up to 2000g (70.5 oz) per plant, care needs to be taken to support branches with heavy buds that may weigh them down.
Due to the sheer height of this strain, plants require plenty of space to fan out, or a decent amount of training when grown indoors.
Allow this strain to mature for a few days longer for the purple to take full effect and the buds to induce a more relaxing high.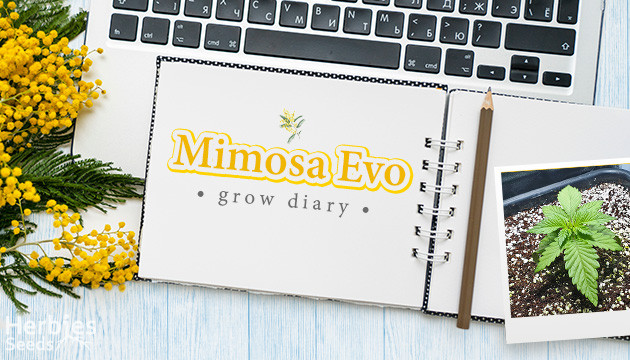 Mimosa EVO Seeds
With Mimosa EVO feminized seeds it's a matter of "Go big, or go home!" Buy a pack online today and be prepared, bucket-in-hand, for a yield of unbelievable proportions. Those glistening, fruit-punch flavored buds will be between your fingertips before you can say "Herbies."
Characteristics
*Herbies sells cannabis seeds exclusively as souvenirs that aren't meant for cultivation or germination. Customers should be aware that the germination of cannabis seeds is illegal in most countries. Herbies sells cannabis seeds exclusively for collecting and preservation for future generations. We advise customers to check with their local laws before germination, as Herbies does not accept responsibility for the illegal use of our products.