Shiskaberry Feminized Seeds (Barney's Farm)
Description
Shiskaberry Strain Info
Shiskaberry is one of a kind, holding a pure 100% Indica lineage under its belt and all the right genetics for a tasty, berry explosion. Leave it up to the breeders at Barney's Farm to cross two simple classics, Blueberry and Afghan landrace, to achieve this perfect combo of legendary origin.
Genetics
Simple, yet classic, Blueberry crossed with Afghan is a sight to behold in Shiskaberry.
Flowering Time
You won't have to wait long for these juicy buds either, with a highly convenient flower time of just 49 - 56 days.
Yield
If given enough root space and vegetation time, Shiskaberry will reward you with abundant harvests that can go up to 1500-2000 g/plant (3.3-4.4 lbs/plant) outdoors and 500-600 g/m² (1.6-2 oz/ft2) indoors.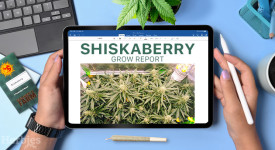 Effects
One for the die-hard Indica lovers, this strain's effects are what is to be expected from a pure Indica strain. Prepare for a strong, long-lasting body buzz that leaves you relaxed and calm for hours on end. This strain is ideal for beginners who want to get a true feel for Indica effects, or for the experienced smoker who just wants a mellow chill pill at the end of a long day.
THC and CBD Level
Its THC and CBD levels usually test at around 20-26% THC and 0.4% CBD for a fun, yet handlable potency.
Smell And Taste
Straight to the point and dominated by berry terpenes, these aromas are strong and pungent for a refreshingly sweet wild forest-like scent. As for flavors, they are strong, earthy, and spicy with more hints of berries to delight the tastebuds in a timeless terpene profile.
Grow Tips
All Indica lovers are going to welcome this cannabis strain with open arms. It's a pure Indica in every regard: staying short and compact in size and stature, just 80-120 cm (31"-47") in height, while growing vigorously, strong, and finishing fast.
It has great resistance to pests and diseases. The fact that it requires little to no special attention makes it a popular choice among beginner growers allowing big yields within reach. Experienced growers can take Shiskaberry to a new level and be rewarded with massive 2 kg/plant (4.4 lbs/plant) yields of high-quality buds. It has very nice side branching and will grow into a large bush that fills up with dense and hard buds. Give it all you've got with this grow info:
We recommend nutrients like Biobizz, Advanced Nutrients, Plant Magic, and Growth Technology to give your plants that extra oomph.
You can make use of LST to increase the number of bud sites in order to increase bud production.
A pot size of 10-15 L will give this plant plenty of space to produce maximum yields.
Shiskaberry Seeds
Take a leisurely stroll through the woods and pick a bunch of Shiskaberry feminized seeds for a massive home-grown yield of juicy, berry-like buds in a matter of weeks. Buy a pack online here at Herbies and smile when you see the price because you've never known value for money like this!
Characteristics
*Herbies sells cannabis seeds exclusively as souvenirs that aren't meant for cultivation or germination. Customers should be aware that the germination of cannabis seeds is illegal in most countries. Herbies sells cannabis seeds exclusively for collecting and preservation for future generations. We advise customers to check with their local laws before germination, as Herbies does not accept responsibility for the illegal use of our products.