Hottest New Arrivals At Herbies!
24 February 2020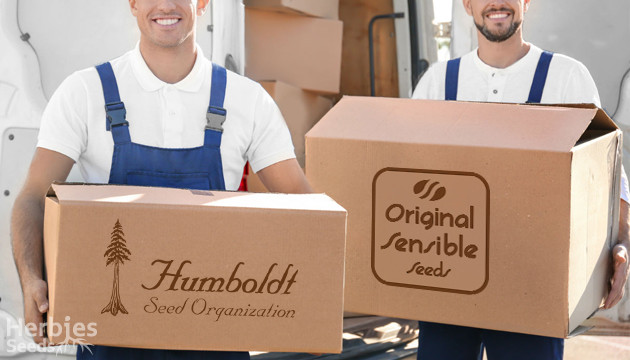 You love them? You've been waiting for them to come back? You got them! Explore our collection of newly-arrived favorites from Original Sensible Seeds and Humboldt Seeds! Bruce Banner #3, Gorilla Glue #4, Blue Dream and more… check out the most-wanted cannabis strains that are back in stock!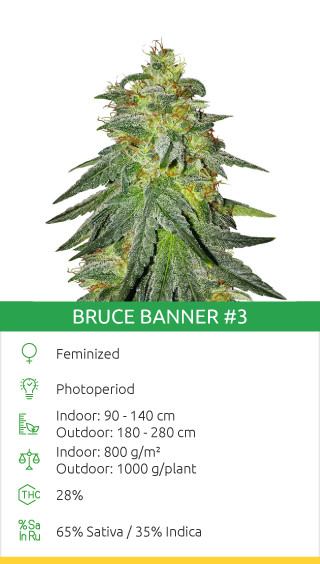 Bruce Banner #3: A Crazily Potent Cannabis Superhero
Testing at an incredible 30% THC, Bruce Banner #3 is a reliable source of energizing euphoria and pleasant relaxation. Amazingly potent and fast-hitting, this cannabis variety has more merits than just these. The feminized cannabis strain is super productive and boasts delicious aromas and flavors of ripe fruit and diesel. No wonder it's one of the most sought-after strains in the cannabis community.
Gorilla Glue #4: The Strongest Beast To Guard A Happy Mind
A proud member of the famed Gorilla family, Gorilla Glue #4 is among the strongest cannabis strains in the world. Featuring a whopping 28% THC, this variety brings happy and euphoric effects with a pleasant aftertaste and heavy sedation. As a medical strain, Gorilla Glue #4 can help to combat pain and get rid of muscle tension and insomnia. Alongside these highlights, this feminized strain serves up decent indoor/outdoor yields of 550-700g, keeping it high up on the list of cannabis growers.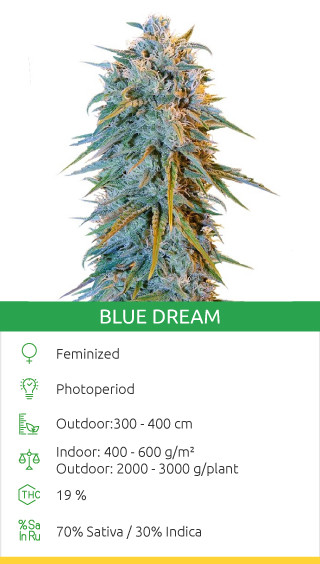 Blue Dream: Fruity Flavors For A Dreamy Experience
With the flavorful and strong Blue Dream, you can stop fantasizing about that perfect combo of balanced effects, crave-worthy flavors and high yields, as this strain has it all. Brimming with fruity, citrusy and piney flavors, Blue Dream provides gentle full-body relaxation combined with a long-lasting and clear cerebral high. On top of that, this feminized cannabis strain is a heavy producer, serving an amazing 600-3000g of buds indoors/outdoors. All these virtues come from Blue Dream's incredible West Coast genetics – take your chance to enjoy this top-10 US cannabis strain!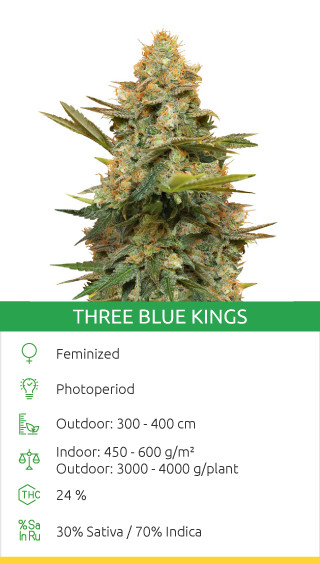 Three Blue Kings: A Californian Hybrid For Bumper Crops & Juicy Effects
Flavorsome, THC-rich and high yielding, Three Blue Kings is an all-timer in the US cannabis top charts. Delivering up to 600-4000g of resinous and juicy buds, this West Coast descendant outstrips most other cannabis varieties in both resin production and overall yield. Besides its high-yielding capacity, this Indica-dominant hybrid is much sought after among cannabis enthusiasts for its intense flavors, with notes of pine, fuel and citrus. Enjoy one of the best cannabis crosses in the USA!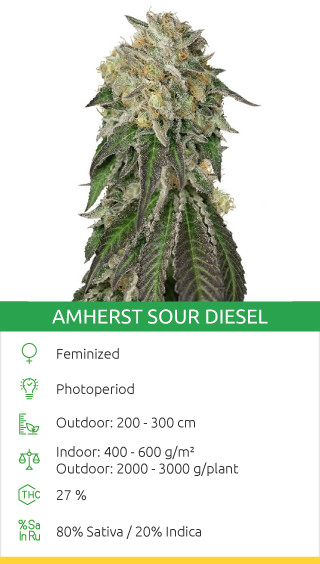 Amherst Sour Diesel: Euphoric Treat For All Sativa Lovers
Euphoric and fruity, Amherst Sour Diesel from Humboldt Seeds is a favorite of many for its potency and mood-enhancing properties. True to its diesel roots, this feminized cannabis strain boasts a rich and complex flavor of tropical fruit and exotic wood. With THC levels reaching 27%, Amherst Sour Diesel brings very strong typical Sativa effects, helping users to rid themselves of depression and get inspired for creative pursuits.
Shop now and enjoy the freshest cannabis seeds delivered right to your door!
New Cannabis Seeds
Open collection