Three Hot Arrivals from Top Breeders: What Are They?
31 May 2021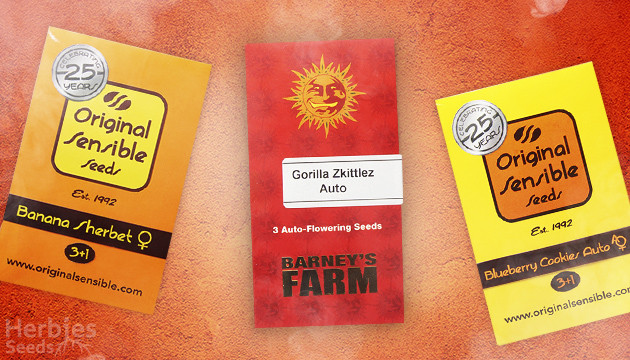 Two of the world's most prominent breeders, Original Sensible Seeds and Barney's Farm, have released new cannabis strains that are sure to satisfy your taste buds! OSS, while known for the best Skunks on the planet, is taking a much sweeter direction this time around with Banana Sherbet and Blueberry Cookies Auto. Barney's Farm, in its turn, is a no stranger to sugary strains, and hits it straight on the nail again with Gorilla Zkittlez Auto!
We put the spotlight on the taste characteristics of these new strains for a reason. The rich flavor palates of Banana Sherbet, Blueberry Cookies Auto, and Gorilla Zkittlez Auto are possible thanks to their superior levels of terpenes. Because of the entourage effect, these terpenes enhance the strains' effects, making them complex and long-lasting.
Let's get into the details of Banana Sherbet, Blueberry Cookies Auto, and Gorilla Zkittlez Auto, strains which together can cover the needs of all recreational tokers.
Banana Sherbet (OSS): Seeds with serious THC content for experienced stoners
Banana-flavored strains are known to produce deeply relaxing, almost sedating effects. Banana Sherbet is no exception! After an initial rush of energy and an all-around cerebral high, this 28% THC plant lets you melt into the couch and forget about all the aches and pains of both your body and your mind. This cultivar's 70% indica genetics make it perfect for indoor or outdoor growing, and it offers heavy yields of 700g (24.6oz) per plant.
Blueberry Cookies Auto (OSS): Potent cannabis seeds for day or night smoking
A love child of two weed titans, Blueberry Cookies Auto inherits a purely ecstatic effect followed by a mellow state of relaxation. A THC level of 20% lets users easily control their dosage, making Blueberry Cookies Auto an ideal daytime strain. This cultivar is an autoflower, which means it's the easiest plant to grow for those without previous experience. It's also the quickest grower, yielding 150g (5.2oz) per plant in just a little over two months!
Gorilla Zkittlez Auto (Barney's Farm): A flavor explosion with medical effects
Gorilla Zkittlez has always been one of the biggest hits produced by Barney's Farm, and now we're finally getting its autoflowering version, Gorilla Zkittlez Auto! It's mighty and packs 20% THC for an experience that the producer itself calls a "sensory overload". Gorilla Zkittlez Auto can also be used medicinally to treat pain, headaches, nausea, anxiety, and depression. Taste-wise, be ready to experience a unique mix of pine and summer fruits.
Craving more fresh strains? Check out our Hot New Arrivals for the latest updates on our always-growing collection of seeds.
Herbies Head Shop expressly refuses to support the use, production, or supply of illegal substances. For more details read our Legal Disclaimer.