Promos
Free Seeds
If you're looking for a real bargain, try our exclusive deals:
   Free Seed With Every Purchase 
   Free Seed For Every 21.53 USD Spent     
You can choose to receive any of the seeds below as a bonus:
Gorilla Glue Auto: Best-Selling Autoflower

24% THC Gorilla Glue Auto is an autoflowering version of a cannabis legend, and a fast-flowering plant with a compact structure, complex flavor, and cheerful high.
Gorilla Glue: Knock-Out Potency

This 26% THC monster means business – the effects go straight to your head with pure euphoria and happiness. Overindulging leads to a body high and the munchies.
Zkittlez: Extra Zesty

Fruity and with 24% THC content, Zkittlez is a speedy and easy-to-grow strain. Her effects are connoisseur-worthy: narcotic-like for a happy, creative state of Zen.
Zkittlez Auto: Tiny Mood Booster

Growing up to just 100cm (39"), Zkittlez Auto offers huge yields of energetic 24% THC buds with mouthwatering flavors of sweet fruit and happy effects.
Gelato Auto: Ecstatic Delight

This Gelato Auto contains 26% THC and guarantees a potent, euphoric high hidden under a thick coating of sickly-sweet resin. By far the easiest Gelato strain to grow!
CBD Lemon Auto: Universal Medicine

With its 1:1 THC to CBD ratio, this strain is a unique blend of effects that combines medicinal value active against various ailments with a mellow, happy high.
Amnesia Lemon: Classic Energy Source

A well-known citrus-flavored uplifter! Her slight Sativa dominance along with 21% THC makes this strain perfect for working or partying for hours without getting tired.
FAQ
How Can I Get Free Cannabis Seeds?
You have two options and basically unlimited free seeds. First, you receive a bonus seed together with any order made at Herbies. Second, you can choose one of our bonus seeds for every $ 2.150 in your cart! Make your order and get your free seeds now!
What Seeds Can I Get as a Free Seed at Herbies?
Whether it's a bonus seed that we add to every order or an extra free seed that you receive for every $ 2.150 spent, at Herbies, you can choose from seven options of free seeds. These include Zkittlez, Auto Zkittlez, Amnesia Lemon, Auto Gelato, Gorilla Glue, Gorilla Glue Auto, and CBD Lemon Potion!
Are These Free Seeds High Quality?
Yes, of course! We get our seeds from reputable seed banks only, and the free seeds you get from us are no exception! Our free seeds make Herbies' reputation, so we inspect each of them before shipping them out to make sure the quality is great – you can check this after your first order!
Discounts
With our discount system, you can always save on your passion for growing cannabis. When shopping for marijuana seeds at Herbies, you get:
5% off orders over 100 euro
10% off orders over 200 euro
15% off orders over 400 euro
Please keep in mind:
This discount system also applies to other deals on our website.
Herbies discounts do not extend to the shipping costs of your order.
By the way, we add free seeds to EVERY order! Visit this page for more info. 
And that's not all - we have also prepared some great gifts for our customers. Check out our Gifts page to learn what you'll get.
Gifts
To enjoy growing and the fruits of this labor to the fullest, you'll need some high-quality equipment. Herbies has got you covered! When ordering* seeds at our store, you can get some pretty awesome gifts that will help you throughout GIY'ing and after! Here they are.
WITH EVERY ORDER
When purchasing at Herbies, you'll automatically get a gift set that includes:
A tube container. Made of durable plastic, this elongated container will keep its contents in a pristine shape, without a single wrinkle. You can hike, jog, dance, or even shoot some hoops without worrying that your handiwork could disintegrate. We've all been there, and it sucks. And the cap is so airtight, no one will get a whiff of what you're carrying.

Rolling paper. You can never have enough rolling paper, right? To save you from the times you suddenly realize you're all out, keep an extra by your stash just in case.

A sticker-bombing set. A perfect souvenir to make you smile every time you look at it, three cool stickers with 420-inspired designs are the best things to randomly look at. Start your collection of our stickers and use them to sticker-bomb anything that needs an added touch of coolness.
When You Reach 60 USD, You Also Get…
A grinder. We're sure you'll grow good herb, but you also need to take care of your grind. Too fine or too coarse can make or break the product. That's why we're adding this long-lasting grinder made of clear plastic. This grinder is made specifically for herbal products, so you know it will be broken up into perfect pieces.

A reusable zip-lock bag. This airtight zip-lock bag is ideal for keeping anything away from light and excess moisture. Keep several ounces in there at all times for easy excess and absolutely no scent leaks.
When You Reach 86.13 USD, You Also Get…
Pruning shears. A pair of sharp pruning shears will forever be a grower's best friend. They'll come in handy whenever you want to train your plants, defoliate, or harvest. Ropes, stalks, roots, you name it – the blades of these shears can easily snip through it all. And look at that handle: it's bright and arched, which means hard to lose and easy to store.

A stash holder. This durable stash container in Herbies green will serve you well in all scenarios. Whether you're on the go or just like to keep everything prepared at all times, reach out for this container. It's compact enough to fit in a pocket or be discreetly hidden anywhere in your living space.
When You Reach 100 USD, You Also Get…
A keychain capsule. Here's our high-quality capsule made of metal in our signature green. The capsule is durable and airtight, so its contents can stay there for a really long time without going bad. And when its time has come, just reach for that inconspicuous container hanging with your keys!

A filter tips book. Made of 100% recycled paper, these tips are thin and easy to roll. The tips book contains 60 tips with a quote or advice on each. Ever got inspired by a book of filter tips? Here's your chance!
When You Reach 121.53 USD, You Also Get…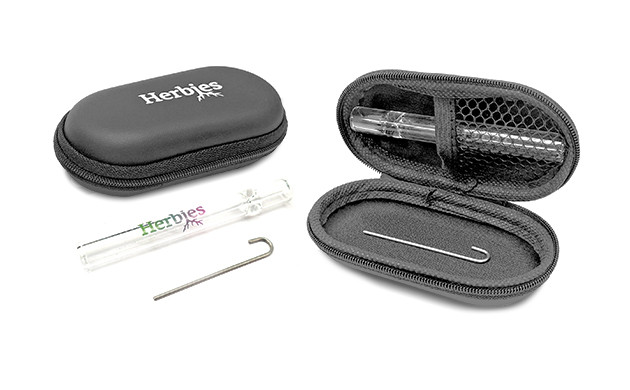 A glass pipe. Here comes an upgrade of our branded pipe, previously made in silicone. Made of a single piece of heat-proof glass, this solid device comes in a three-piece set together with a hard case cover and a metal pipe cleaner.
***
IMPORTANT. Additional information concerning the distribution of gifts from Herbies:
Gifts will be added to your order as long as they're in stock. On our side, we'll do everything possible to make sure we never run out.
*For the sake of stealth and smooth delivery, we currently don't add gifts to orders from the United States, Australia, Bulgaria, Estonia, Germany, New Zealand, and Pakistan. We'll keep working on making gifts from Herbies available to customers from these regions as well – stay tuned for updates.