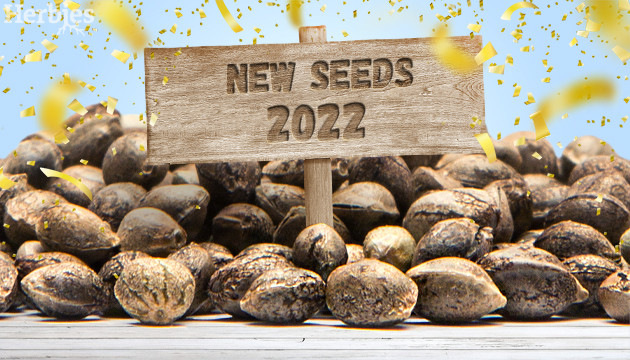 I'm going to go ahead and say it: we've got it good in the cannabis community at the moment. Real good. Bud has never been as potent, aromatic, or straight-up sticky-icky as it is today. So naturally, our expectations surrounding our new marijuana strains are high. Real high. Every now and again, we comb the globe, looking for the best of the best. The sticky-ickiest. And we think we've found them. Here are ten of our favorite new weed strains of 2022.
Apple Betty (Herbies Seeds)
Meet Apple Betty, one of the latest arrivals in our in-house line of potency champions. With up to 33% THC, old aunty Apple Betty will take you on a psychedelic-like trip that starts off with a feeling of intense euphoria and ends up nailing you to the couch. Add in astonishing yields of 2,600 g (92 oz) per plant outdoors, and you'll realize why this strain is an absolute must-try in the coming year.
Bubba Kush (Barney's Farm)
Bubba Kush is a new take on the old-school strain that was believed to have been lost around 1998. Barney's Farm has recovered the legendary pre-98 genetics in all its glory. This Indica-dominant hybrid is known for her dreamy, peaceful, and hypnotic effects fueled by THC content reaching as high as 29%. Make sure you check out this weed if you haven't already – after all, if you haven't tried Bubba Kush, you haven't tried cannabis at all!
Banana Purple Punch Auto (Fast Buds)
'Banana', 'Purple', and 'Punch' probably aren't the words you thought you would see in one sentence. However, these perfectly encapsulate the essence of this new marijuana strain from Fast Buds – she has a tropical fruit smell and flavors, lovely purple-colored blooms, and a serious punch of 26% THC.
Strawberry Gorilla Auto (Fast Buds)
Strawberry Gorilla Auto is a balanced 45% Sativa/55% Indica hybrid, but her effects will throw you OFF balance courtesy of a staggering 27% THC. You'll feel incredibly happy and delightfully euphoric at first, only to end up being deeply relaxed and a little sleepy. Get ready for a next-level smoking experience provided by a tropical cocktail of deliciously sweet flavors and aromas!
Moby Dick (Barney's Farm)
This large beast is a needy plant, but once you have her satisfied, expect admirable trichome production and insane yields of up to 700 g/m² (2.3 oz/ft²) indoors and 1.5-2 kg (3.3-4.4 lb) per plant outdoors. With 27% THC, Moby Dick stands out as one of the most potent strains in our store, and her high is sedating and relaxing for body and mind alike.
Za-Za OG (Herbies Seeds)
This new marijuana strain by Herbies Seeds hails from the reputed Kush family. With 26%, she's even more powerful than her Afghani predecessor. Although her genetic makeup leans toward the Indica side of the spectrum, Za-Za OG produces an explosion of happiness in your head on the onset before sending waves of relaxation throughout your body. Her yields are also plentiful, reaching up to 800 g/m² (2.6 oz/ft²) indoors and 1800 g (4 lb) per plant outside.
Gorilla Punch Auto (Fast Buds)
A descendant of two exceptional auto genetics, Gorilla Punch Auto is one of the best new weed strains worth trying in 2022. With up to 26% THC, she delivers perfectly balanced effects that make social butterflies spread their wings and bring out the user's artistic side. Thanks to her Indica genes, you'll find yourself in a focused state of mind, with any anxiety giving way to a positive drive.
Tropicanna Poison F1 Fast Version (Sweet Seeds)
The future of flavor has arrived with this terpene-rich plant from Sweet Seeds. The buds have earthy, fruity, and floral flavors with notes of mango and wood, making for an unforgettable smoking session. Typically testing at up to 24% THC, this new weed strain produces relaxing effects that are great to enjoy at night or for lazy afternoons. Moreover, this strain is ready for harvest in just 6-7 weeks indoors, or in late August/early September when grown outside.
Red Hot Cookies (Sweet Seeds)
This 60% Sativa hybrid provides a great way to start or finish your day. Crossing a super potent Cookie strain, Tropicanna Cookies, with the mandarin-scented Tangie resulted in a new marijuana strain with a fruity mix of aromas and flavors. The THC content in this strain reaches 25% and is the reason behind a strong cerebral buzz with long-lasting effects, which evolve into deep relaxation toward the end of the session.
Banana Punch (Barney's Farm)
With the ratio of Indica and Sativa genes at 55:45, Banana Punch offers the best of both worlds, embracing the body with deep relaxation while supplying a delightful euphoric rush to the head. Aside from her short flowering period of just 60-65 days, she gives off an aroma of ripe bananas and other tropical fruit, while the flavor of the smoke resembles that of earth and citrus fruits. This strain is definitely one for the connoisseur.
CBD Lemon Auto (Herbies Seeds)
If you want to incorporate CBD into your daily health and wellness regimen in 2023, CBD Lemon Auto by Herbies Seeds is the way to go. The 17% CBD does all the healing work, while the 17% THC makes sure you'll have fun in the process. This resilient herb grows tall but sturdy, rewarding patient growers with 500-600 g/m² of bud indoors in around 10 weeks. What's more, it kicks out strong herbal tones with fruity and spicy notes in the background.
Beginner Auto Mix (Herbies Seeds)
Sturdy autoflowering genetics, heavy yields, and top potencies – growing weed has never been so fun or easy! If you don't have many grows under your belt, make sure to get your hands on our Beginner Auto Mix to have your own supply of happiness in 2023. Godzilla Cookies Auto, Ape Fruit Auto, and Purple Chill Auto are all great choices for beginners – you can't go wrong with these easy-to-grow hybrids, which make no concessions when it comes to THC content (up to 27%) and yields that go all the way up to 700 g/m².
Dessert Mix (Herbies Seeds)
Have you grown tired of the same old-school stinky weed? Try out our Dessert Mix – three strains that are both potent and full-flavored. Meet the relaxing Banana Pudding with a sugary banana flavor accompanied by an aroma of sweet creaminess, the euphoric apple pie-flavored delight that is Apple Betty, and the calming Mango Mousse featuring the entire palette of tropical flavors. If the delicious terpenes aren't enough, we should also mention the record-breaking potencies of up to 33% THC and massive yields of over 2,600 g/plant.
Moby Dick Auto (Barney's Farm)
This autoflowering version of one of the strongest Sativas of all time is what you need to take the edge off any anxiety and stress in 2023. Moby Dick Auto takes around 9-10 weeks to race from seed to harvest, which isn't bad at all for a dominant Sativa, and it produces gorgeous harvests of 550 g/m² indoors and 550 grams per plant outdoors. After only one or two hits, this weed provides a strong boost of euphoria and gives you a warm, slightly psychedelic hug.
What are the Best New Marijuana Strains for Me?
Our best new cannabis strains of 2022 come with a vast array of different benefits depending on grower and consumer preferences. For fans of flavor, it would be hard to look past Tropicanna Poison F1 FV or Banana Punch with their complex arrangements of terpenes. Beginner growers looking for something on the easier side to work with could consider growing an autoflowering strain such as Gorilla Punch Auto or Strawberry Pie Auto. Meanwhile, the strongest strains featured in this selection are Apple Betty and Bubba Kush.
Herbies Head Shop expressly refuses to support the use, production, or supply of illegal substances. For more details read our Legal Disclaimer.