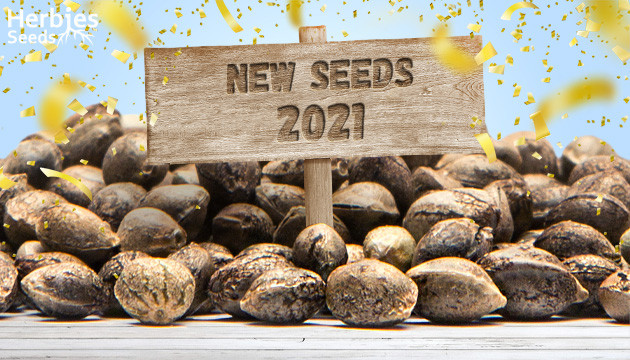 I'm going to go ahead and say it: we've got it good in the cannabis community at the moment. Real good. Bud has never been as potent, aromatic, or straight-up sticky-icky as it is today. So naturally, our expectations surrounding our new weed strains are high. Real high. Every now and again, we comb the globe, looking for the best of the best. The sticky-ickiest. And we think we have found them. Here are ten of our favorite new cannabis strains of 2021.
Strawberry Pie Auto (FastBuds)
The future of flavor has arrived with this terpene-charged autoflowering masterpiece from FastBuds. This Indica-dominant new marijuana strain contains 26% THC and offers full-body relaxation without the sedation. It grows purple, red, and yellow leaves that protrude from frosty pink and green buds, making it quite a sight to behold. It's so beautiful, in fact, that you may not want to smoke it (an illusion that won't last long). The aroma is that of skunky, strawberry candy infused with cookie dough and complemented by whiffs of fruity diesel. When lit, the aroma gives way to exquisite flavors of strawberry, gas, cinnamon, and pine. This is definitely one for the connoisseur.
Tatanka Pure CBD (RQS)
Named after Native American medicine man Tatanka Iyotake, this new stress-annihilating strain provides instant, blissful relaxation. The bud is loaded with 9-14% CBD while THC levels reach no higher than 0.25%, meaning Tatanka Pure can be smoked or vaped with no psychoactive effects. This strain is a cross between Elixir Vitae and Medical CBD, resulting in contrasting tastes of caramel and bitterness. It's an ideal remedy for stress and anxiety, while the short flowering time means you won't need to wait too long for your medicine.
Strawberry Amnesia (Herbies Seeds)
This pungently aromatic new marijuana strain comes from the delightful pairing of Original Amnesia and Strawberry Cough. Packed with 20% THC, this strain is all about euphoria and happiness. Expect familiar haze terpenes to mingle with fresh berries and citrusy flavors to send your palate into a frenzy. Plant these cannabis seeds outdoors and this Sativa will grow into a beast. Indoors, expect to pull in around 600g (21.2oz) per square meter in just 65-75 days, which – given the genetics and sheer size of the plant – is relatively quick.
Blueberry Cookies Auto (Original Sensible Seeds)
It's hard to imagine that such a powerful and appetizing strain could be ready to toke in no more than 75 days from germination. But this autoflower by Original Sensible Seeds delivers exactly that. A tasteful blend of Blueberry Ghost OG and Girl Scout Cookies lends complex earthy, musky, and sweet aromas. Experience berry and fruit flavors that give way to a curious citrusy aftertaste, and a THC content of 20% that induces a buzzy head high, which coincides nicely with full-body relaxation.
Biscotti Mintz (Barney's Farm)
The world-renowned breeders of Barneys Farm have done it again, this time creating an 80% Indica-dominant hybrid with over 20% THC that could be the most intriguing-looking plant we've seen in a long while. She forms gorgeous deep purple leaves with alien-like slivers of orange and green. The high is dominated by clear-headed creative energy, with a little body relaxation to go with it. The terpenes are complex and varied, producing flavors reminiscent of chocolate chip cookies with a creamy mint topping. Expect an aftertaste bursting with fresh lemon and eucalyptus. This plant is short in both height and flowering time, making it a great choice for stealth growers.
Jack's Dream (GHS)
Beginner growers, lend me your ears! If you're seeking a new strain of weed that's easy to grow without skimping on spice, this 70% Indica-dominant cross could be just what you're looking for. Jack's Dream comes with THC levels between 18-25%, offering a relaxing and balanced high, while the Sativa genetics ensure this strain is suitable for daytime use. It also exhibits an exceptional resistance to all that nasty stuff like mold and pests, making it a dream to grow. Moreover, the ludicrously quick flowering time means that less can go wrong. And the aroma? Expect sweet and spicy fragrances to be complemented by an earthy, hazy flavor exuding pepper and pine.
Runtz XL Auto (Sweet Seeds)
This sixth-generation autoflowering delight is ready to harvest in just 8 weeks from germination, which makes it a shade faster than Usain Bolt. This perfectly-balanced 50/50 hybrid produces THC amounts ranging from 17-25%, depending on who's doing the growing. Runtz is a combination of Zkittlez and Gelato. Sweet Seeds then crossed a primo Runtz clone with a Sweet Gelato Auto. As you can probably imagine, the flavor profile is delightfully sweet and fruity. The Sativa genetics are conducive to mental stimulation, while the Indica side offers a nice body relaxation.
Banana Sherbet (Original Sensible Seeds)
If you're looking for a new cannabis strain that will knock your socks off, Banana Sherbet could be for you. With THC levels testing at 28%, this new entry from Original Sensible Seeds has the power to elevate your mind, while offering full-body relaxation at the same time. Predictably sweet, Banana Sherbet conjures flavors of tropical fruits and banana with citrusy overtones. 60 days of flowering produces up to 600g/m2 (2oz/ft2) indoors, while outdoors, you can expect up to 700g (24.7oz) per plant.
Mimosa Shot (Herbies Seeds)
Featuring a conscious-altering 30% THC, this new pot strain comes dripping with a citrusy bouquet of fragrance. But these aren't your standard limonene terpenes – expect a complex marriage of orange and tangerine flavors that mix to form this astonishing citrus cocktail. And that's only on the inhale. Get ready to experience an infusion of sweet spices and peppercorn on the exhale, as unmistakable feelings of bliss and happiness quickly displace any negative emotions in the body and mind. If that's not enough for you, this strain produces a whopping 800g/m2 (2.6oz/ft2) indoors, and a branch-snapping 1.6kg (56oz) if grown outside.
Skywalker Haze (Dutch Passion)
Dutch Passion's original Skywalker was a loving blend of Blueberry and Mazar. In 2021, they've taken this a step further, crossing their prized strain with a super-potent Amnesia phenotype from Amsterdam. The result is a Sativa-dominant hybrid that's immediately citrusy on the palate, giving way to a mixed fruit aftertaste. It's also high in THC, giving the user a full-on energetic head buzz. If you're searching for a new Sativa strain that flowers in less than 10 weeks, this powerful plant may well be for you.
What are the Best New Strains of Marijuana for Me?
Our best new weed strains of 2021 come with a vast array of different benefits, depending on grower and consumer preferences. For fans of flavor, it would be hard to look past Mimosa Shot, Biscotti Mintz, or Strawberry Amnesia with their complex arrangements of terpenes. Beginner growers looking for something on the easier side to work with could consider growing Jack's Dream, or an autoflowering strain such as Runtz XL Auto or Strawberry Pie Auto. The strongest strains we feature are Mimosa Shot and Banana Sherbet. For a purely medicinal experience, Tatanka Pure CBD could be the strain for you.
Herbies Head Shop expressly refuses to support the use, production, or supply of illegal substances. For more details read our Legal Disclaimer.