Blue Dream feminized seeds (Blimburn Seeds)
Description
Blue Dream: A Balanced High For All Times
This feminized cannabis variety has THC levels that can range from 17-24%. While this shows that Blue Dream is very powerful, its effects don't usually tend to feel overwhelming. Instead, this hybrid is valued for its very calming properties, with users typically feeling balanced and relaxed. On the medicinal side, it has potential for those battling depression, MS, glaucoma, chronic pain and anxiety.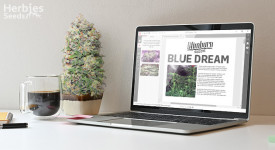 Flavors And Aromas Like A Field Of Blueberries
Blue Dream really does taste and smell like a blue dream. The plant itself has a very sweet aroma profile that will make your grow operation feel like it has turned into a field of blueberries. This characteristic is carried over into its taste, which is likewise very sweet and delicious, with blueberries still being the dominant flavor.
Blue Dream: Easy To Grow With A Bit Of Care
This feminized marijuana strain gets its name not only from its blueberry aroma and taste, but from the fact that it produces a bluish bud coated in crystals. It's suitable for a Mediterranean-style climate and, while generally an easy plant to grow, it does tend to attract pests due to its strong aroma, so be warned.
Expect average yields of 600g/m2 (2 oz/ft2).
The plant has a flowering period of 9-10 weeks indoors.
Outdoor harvests come in mid to late-October.
Plants tend to be on the tall side - consider training.
Blue Dream Genetics Combine Sweetness And Haze
Blue Dream is a feminized cannabis strain that combines the best of two worlds. A cross between Blueberry Indica and Sativa Haze, it obviously gets its delicious flavors and aromas from its Blueberry lineage. Its Haze genetics, meanwhile, impart on Blue Dream its highly cerebral and clearsighted effects. The combination of these two characteristics has helped make Blue Dream one of the most popular marijuana strains on the market.
Characteristics
Brand

Blimburn Seeds

Type of seeds

Feminized

Either autoflowering or photoperiod. Both have their pros and cons, but growing autos is easier.

Learn more

Type of seeds

Photoperiod

Suitable for growing

Outdoor, Greenhouse

Each strain produces a certain effect on your body. This is what you can expect from this variety.

Learn more

Effect*

Medical high/stone waves

Genetic composition of the strain. Shows parent strains that were used to create this particular variety.

Learn more

Genetics

Blueberry x Haze

Height

High

Harvest

600 g/m² indoors
800 g/plant outdoors

The length of the flowering stage for photoperiod strains, or seed-to-harvest time for autoflowers.

Learn more

Indoor flowering time

65 - 70 days

This is when your plant will be ready for harvest when grown outdoors. Make sure it's still warm enough by then!

Learn more

Outdoor finish

Late October

% Sativa/ Indica/ Ruderalis

Sativa / Indica hybrid

The main psychoactive compound in cannabis. The higher THC level, the more potent the strain.

Learn more

THC

17 - 24 %

CBD

0.2 %
*Herbies sells cannabis seeds exclusively as souvenirs that aren't meant for cultivation or germination. Customers should be aware that the germination of cannabis seeds is illegal in most countries. Herbies sells cannabis seeds exclusively for collecting and preservation for future generations. We advise customers to check with their local laws before germination, as Herbies does not accept responsibility for the illegal use of our products.