Bruce Banner #3 feminized seeds (Original Sensible Seeds)
Description
Bruce Banner #3 Strain Info
Bruce Banner #3 is a feminized cannabis strain brought to you by breeder Original Sensible Seeds. Her origins are a cross between Colorado Ghost OG and Strawberry Diesel – two incredibly powerful cannabis strains. Bruce Banner #3 is a fantastic all-rounder that boasts 65% Sativa and 35% Indica with excellent effects.
Flowering Time
The flowering time for Bruce Banner #3 is definitely on the long side at about 60-65 days indoors. Outdoors, you can expect her to flower in October.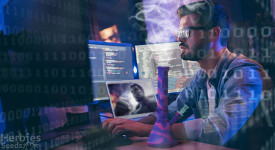 Bruce Banner #3 Trip Report
Yields
Bruce Banner #3 should be nicknamed 'The Incredible Bulk' due to her monster harvests, which will have your friends green with envy! Indoor growers can bring in as much as 800g/m2 (2.62oz/ft2), which can be increased even further by growing via SoG/SCRoG using high power lighting. Meanwhile, outdoor growers can expect to bring in as much as 1000g (35.3oz) per plant!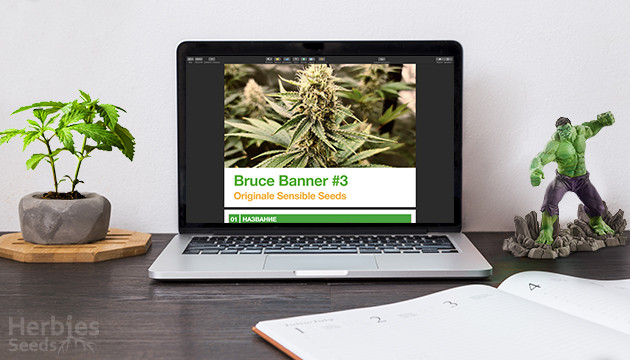 Bruce Banner #3 Grow Report
Effects
If you're a fan of great-tasting cannabis strains with fantastic effects, Bruce Banner #3 is right for you. She delivers a good, balanced high that will leave you feeling relaxed and happy.
THC Levels
With a THC content percentage of 28%, Bruce Banner #3 is definitely one of the more potent strains on the market.
Smell And Taste
Bruce Banner #3's Strawberry Diesel genetic lineage gives her an incredible fuel-like aroma, with hints of citrus over a general Kush taste. Her terpenes ensure that she has a good mix of sweet and earthy aromas and flavors.
Grow Tips
Bruce Banner #3 undergoes rapid growth during the vegetative stage and has relative stability during her 60-65 days of flowering. Here is some further grow info to help you with this strain:
The strain is suitable for both indoor and outdoor operations.
It grows to a medium to tall height – 90-140cm (2'11-4'7) indoors and 180-280cm (5'11-9'2) outdoors.
Expect dense, sticky flowers and huge yields.
Bruce Banner #3 Seeds
Bruce Banner #3 feminized seeds are exactly what the doctor ordered if you're looking for a plant that delivers monster-sized yields and effects. Buy your seeds online today to enjoy her Hulk-like benefits faster.
Characteristics
*Herbies sells cannabis seeds exclusively as souvenirs that aren't meant for cultivation or germination. Customers should be aware that the germination of cannabis seeds is illegal in most countries. Herbies sells cannabis seeds exclusively for collecting and preservation for future generations. We advise customers to check with their local laws before germination, as Herbies does not accept responsibility for the illegal use of our products.