---
A Bold Cross For Both Sativa And Indica Lovers
Unlike its namesake from the Marvel universe, there's no dark mystery about the origins of the Bruce Banner strain. Its creator, Jason Holck of Dark Horse Genetics, has kindly revealed the info about its background. This green monster is a cross between OG Kush and Strawberry Diesel; a bold combination that immediately proved itself a winner.
Out of five original phenotypes, two were soon discarded, but the remaining – #1, #3 and #5 – lived on. All three are celebrated for their great flavor and high potency, although Bruce Banner #3 stands out among its counterparts thanks to its high THC content that can sometimes hit the 30% mark! Small wonder that this particular strain quickly became a legend, and one of the most sought-after varieties among cannabis enthusiasts.
Happy, Upbeat Effects For A Highly Productive Day
A true child of its illustrious parents, Bruce Banner is as incredibly strong as the Incredible Hulk himself. The effects come on quick, smashing you in the face as if you've gotten in the way of this charging green monster. For a moment, you might wonder whether it wouldn't be more honest to name the strain just that – The Hulk. However, the rush of raw energy soon subsides, leaving you happy, euphoric and mindful. This is no angry giant after all; this is his mild-mannered and soft-spoken alter ego. It's Bruce Banner alright.
Due to its OG influence, the strain's tingly mellow buzz engulfs the user's body and makes the world a kind place that begs only to be made better by your creative energy – and the Strawberry Diesel part will provide plenty of this. You'll be up to any task and can get completely absorbed by what you're doing, making this strain perfect for both daily routines and more challenging activities. Just don't use too much – otherwise the darker side of its Sativa aspect will kick in, potentially leaving you a racing heartbeat and feelings of paranoia.
For medical patients, Bruce Banner helps with anxiety and stress (in small doses), but also depression, as it brings back motivation and increases productivity. For pain management, e.g. arthritis, greater doses are required.
Terpene Profile Of A Perfect Medicine
Bruce Banner is rich in caryophyllene that not only carries a peppery and spicy aroma, but also modifies the effects of the THC, making users euphoric and free of paranoia. Another major terpene in this strain, myrcene, accounts for the strain's hoppy flavor and makes you feel more stoney – the same effect that mango has when you eat it while high. Limonene is also present here in noticeable quantities, giving the buds a great smell of lime and lemon.
All three phenos of Bruce Banner have a strong intoxicating smell dominated by jet fuel and citrus fruit, mingling with an occasional sweetness. When you smoke these fragrant buds, the Indica earthiness comes to the foreground and dominates the taste.
Short Flowering Time And Hefty Yield
You don't have to hunt for clones of the original to grow yourself a perfect Bruce Banner. Instead, you can achieve this by using seeds, which several companies have in supply.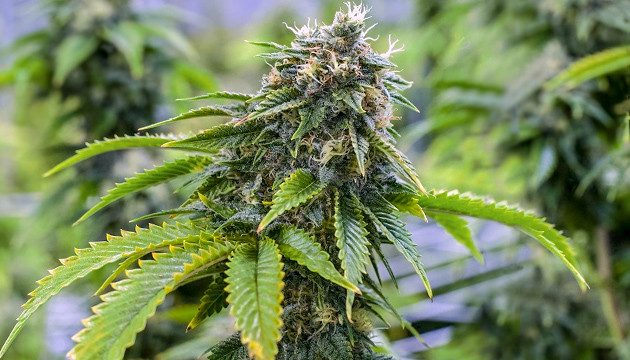 This 60/40 Sativa-Indica hybrid grows strong and tall, with vibrant green leaves and sturdy branches. Be sure to have plenty of space in your indoor garden – these babies will use it all if you let them. They finish in just 9-10 weeks after the 12/12 flip, forming by harvest time long and thick, moderately-dense colas that promise above average yields. Cut them down at 8 to 9 weeks for a more clear-headed high, or keep them in flowering for an extra week or two to make your buds more relaxing or even sleep-inducing.
Outdoors (if you're among the lucky few who live in California, Southern Europe or maybe Israel), Bruce Banner can be harvested in early October, and the yields will be even more spectacular than if grown indoors.
This vibrant lady is highly resistant to mold, pests and other common plagues of cannabis, and only requires so much love and care to reward the grower with heaps of beautiful buds with intensely green hues and multicolored pistils. Their bag appeal is huge.
One Of The Highest THC-Tested Strains Ever
With its THC level lab-tested at 28%, Bruce Banner #3 took the High Times Cannabis Cup 2013 in Denver by storm and won first prize as the most potent strain. Back in the day, such potency was practically unheard of and instantly made this weed an urban legend.