LSD feminized seeds
LSD Strain Info
The LSD cannabis strain from Barney's Farm is a successful hybrid (70% Indica/30% Sativa) with high resistance to different diseases and pests. In terms of the quality of its smoke, this outstanding variety was voted the Best Indica at High Times Cannabis Cup 2008.
Genetics
LSD was created by crossing Original Skunk #1 and an Afghani Indica, and she carries all the features you would normally associate with this lineage: vigorous growth, compact plant structure, short flowering period, and most importantly, a heavy-handed yet pleasant Indica-type stone.
Effects
LSD will guide you through a full spectrum of pleasant feelings that are dominated by the profound relaxation of both body and mind. It's not only the suggestive name but also the unique cannabinoid profile of this weed that causes some people to see a world distorted by the imagination.
THC Levels
25% THC is a level that many modern growers have experienced first-hand. However, for a classic strain, it's just short of a miracle – potency-wise, LSD was way ahead of its time.
Smell And Taste
The terpene profile of LSD is incredibly complex yet balanced. The aroma and taste are quite earthy and musky while very pungent, with hints of a Skunky flavor and herbal scent. Meanwhile, the taste is reminiscent of an earthy chestnut, with the stench of sweet and sour lemon.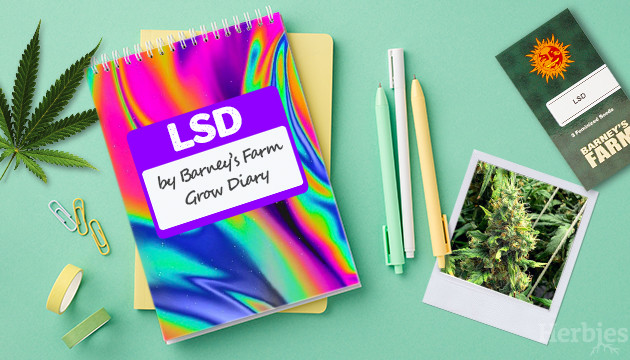 LSD Cannabis Strain Grow Report
Yields
Not only novice gardeners but also commercial growers will find themselves perfectly satisfied with the bumper harvests that these seeds consistently produce. Reap as much as 700g/m² (2.3oz/ft²) indoors, or 600-750g (21-26.5oz) per plant if you choose to grow them outside.
Flowering Time
LSD is a true Indica in this respect. After only 60-65 days of flowering, you'll find your buds fully mature, not to mention huge, dense, and sticky.
Grow Tips
LSD plants produce dense buds with lots of trichomes. When growing indoors, plants can reach 100cm (3.3ft), while outdoors, the height ranges from 90-100cm (3-3.3ft). This strain's aroma is strong, so it's advisable to use carbon filters – a small price to pay for the quality and quantity of this beautiful product that boasts that famously high THC. Here are some more tips to get you started:
Use SCROG to max out LSD's yield potential.
Try this plant outdoors to test its incredible hardiness.
Its great mold-resistance guarantees rewards even in colder climates.
LSD Seeds
Available for sale as feminized seeds, LSD is a perfect choice for growers that have bud production first and foremost in mind. Every seed will grow into a female, and each will bring in numerous ounces of top-shelf product.
Characteristics
*Herbies sells cannabis seeds exclusively as souvenirs that aren't meant for cultivation or germination.
Customers should be aware that the germination of cannabis seeds is illegal in most countries. Herbies sells cannabis seeds exclusively for collecting and preservation for future generations. We advise customers to check with their local laws before germination, as Herbies does not accept responsibility for the illegal use of our products.