Monster Bruce Banner Auto Feminized Seeds (Monster Genetics)
Description
Monster Bruce Banner Auto Strain Info
Named after one of the most fearsome superheroes, Monster Bruce Banner Auto lives up to its reputation with a mighty lineage of potent parent strains including a well-balanced hybrid of 60% Sativa genetics and 40% Indica genetics. With effects and flavors just as robust, this strain is a must-have for your cannabis cabinet.
Genetics
The breeders at Monster Genetics knew exactly what their creation would muster when crossing the one and only OG Kush, the epic Auto Diesel XXL, and none other than Fast & Vast.
Flowering Time
Like the growth spurt that occurs during the incredible Hulk transformation, expect a quick green explosion of buds in a flower time of as little as 56 days!
Yield
Need we mention the monstrous size of the harvest you can prepare for, with indoor plants growing 550 g/m2 (18 oz/ft2), and outdoor plants popping up 700 g/plant (25 oz/plant).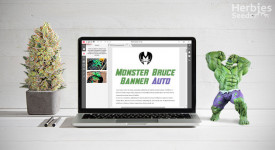 Monster Bruce Banner Auto Grow Journal
Effects
With THC levels through the roof and a powerful Sativa element blended perfectly with an Indica sedation, get ready for effects that will blow your mind while cradling your body in deep relaxation. Keep this strain for the night time and you shouldn't have a problem, however, some users may still find "powerful" to be an understatement.
Medical Properties
With this incredible potency comes the potential for medicinal benefits of deeply refreshing sleep promotion and the mitigation of most anxiety symptoms.
THC Level
Monster Bruce Banner Auto offers a formidable 25% THC content, not for the faint of heart.
Smell And Taste
Being a cross between three equally recognizable strains, Monster Bruce Banner Auto marries their unique terpenes to impart a poignant citrusy taste that is earthy and spicy all at once. To make matters more memorable, the sweetness blended with a diesel undertone is simply unforgettable. However, much like how only Bruce can describe how his transformation feels, you'll only truly know the taste once you try it for yourself!
Grow Tips
Monster Bruce Banner Auto is an auto-flowering cannabis variety that's fairly average in height at about 100-120cm (39-47 inches). Indoor and outdoor cultivation is possible with great yields easily achievable by both experienced and beginner growers respectively. Expect breathtaking buds, characterized by their rich scarlet pistils, to occur in just 6-8 weeks from germination.
To concur a massive harvest this season, keep this grow info in mind:
This strain is recommended for indoor growing because of its relatively small height - ideal for a stealthier grow operation.
This strain is beginner-friendly thanks to its low maintenance growability, although novice users need to be wary of the high THC content!
Despite the memorable flavors that ensue upon curing and smoking, the plant's smell is close to non-existent.
Monster Bruce Banner Auto Seeds
Offering low-maintenance genetics with a potency that will knock you out of the park, this is a bona fide easy-to-grow weed that can make you feel as calm as a Zen monk in no time! Truly the dream weed of many a seasoned stoner, buy a pack of feminized seeds online today and skip the fuss with a discrete delivery right to your doorstep.
Characteristics
*Herbies sells cannabis seeds exclusively as souvenirs that aren't meant for cultivation or germination. Customers should be aware that the germination of cannabis seeds is illegal in most countries. Herbies sells cannabis seeds exclusively for collecting and preservation for future generations. We advise customers to check with their local laws before germination, as Herbies does not accept responsibility for the illegal use of our products.