The Incredible Bulk Feminized Seeds (Dr. Krippling Seeds)
Description
The Incredible Bulk Strain Info
The Incredible Bulk cannabis strain is a feminized flower-producing machine created by the breeder Dr. Krippling. These seeds are some of Herbies' bestsellers. If you've been on the lookout for a powerhouse Indica, look no further – The Incredible Bulk is everything you want and more.
Genetics
The Incredible Bulk was bred to produce incredibly heavy yields while remaining easy to grow. Her lineage is star-studded with excellent strains, including Green Spirit, Big Bud, and Super Skunk. The result? Humongous plants drooping with enormous buds littered with glittering crystals.
Yields
The Incredible Bulk's name is indicative of the XXL harvests you can expect! Just take our advice and make sure you have plenty of space for this big green monster. Indoors, plants can yield up 600-1000g/m2 (17.7-29.5oz/yd2), while outdoor grows can see yields of a whopping 800-1500g (23.6-44.2oz) per plant.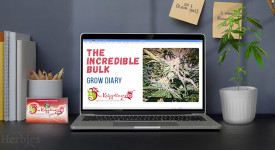 The Incredible Bulk Grow Journal
Effects
The Incredible Bulk is a super-sized Indica with matching effects best enjoyed in the evening or before bed. The strain has sedative properties, leading to a state of total relaxation in the mind and body. The long-lasting high is perfect for when you just need to take a time-out from reality.
THC And CBD Levels
The Incredible Bulk doesn't just boast big, sticky buds – she's also incredibly potent! With THC content ranging from 20-24%, this strain makes for one powerful evening smoke. Meanwhile, CBD levels stay below 1%.
Smell And Taste
The Incredible Bulk's flavor profile is dominated by the terpene pinene. When smoked, the buds release a sweet, earthy flavor with smoke that smells of hash.
Growing The Incredible Bulk Marijuana Seeds
When growing indoors, it's best to only allow The Incredible Bulk about 2 weeks of vegetation. Why, you might ask? If you don't limit this lady's growth, she will explode with growth later on and overwhelm your space!
Indoor plants reach a height of 0.6-1m (2-3.3ft), while outdoor plants can reach colossal heights of 1.5-3m (5-10ft).
This strain has a flowering time of 49-56 days, and should be harvested in mid-September when grown outdoors.
Appropriate for growers of all skills levels, The Incredible Bulk is super resistant to pH and nutrient fluctuations, as well as extreme weather conditions.
She also loves CO2 enhancement and hydroponic growing!
Medical Properties of The Incredible Bulk
As an Indica, The Incredible Bulk is powerful against ailments that affect sleep quality. This lovely lady will kick insomnia to the curb, helping you get to sleep and stay that way until morning. However, you may need to experiment a little to find the right dose, because she sure is potent!
The Incredible Bulk Seeds For Sale
Just like her namesake, this marijuana strain is truly a huge, green monster! The Incredible Bulk seeds are available at a great price right here at Herbies, so you can start your growing journey with this superhero strain right away!
Characteristics
*Herbies sells cannabis seeds exclusively as souvenirs that aren't meant for cultivation or germination. Customers should be aware that the germination of cannabis seeds is illegal in most countries. Herbies sells cannabis seeds exclusively for collecting and preservation for future generations. We advise customers to check with their local laws before germination, as Herbies does not accept responsibility for the illegal use of our products.