Three Blue Kings feminized seeds
USA
Unfortunately, this strain is not available.
But we have something even better to offer
This product is out of stock
Leave your email and we will notify you as soon as the product is back in stock
Enter your email
Three Blue Kings is a feminized cannabis variety known for its strong stony effects, distinctive sweet and fruity scent. She offers a dreamy, balanced body buzz and calm, clear head high that's softly relaxing and perfect for evening use when you're ready to kick back and take it easy. Great for sleep, Three Blue Kings is an indica-dominant hybrid to enjoy when you're done with the day and ready to unwind.
Read more
Humboldt Seeds
Feminized
Photoperiod
Outdoor
Indoor
Greenhouse
30% Sativa / 70% Indica
THC 24 %
CBD 0.1 %
All characteristics
Three Blue Kings: Powerfully Potent & Wonderfully Relaxing
The notably strong and powerful effects of the Three Blue Kings cannabis strain are perfect for easing you into a state of blissful relaxation. Three Blue Kings effects start off warmly in the head and make their way down through the body for an enveloping sense of ease and total relaxation. She's wonderful for lulling you into a sleepy state and is known for her couch-lock effects that can last for hours.
Super Fruity and Dank Aroma and Flavor
If you're into fruity and sweet-smelling strains, Three Blue Kings is your girl. Her exquisitely stunning scent is only second to her delectable flavor. You'll find Three Blue Kings offers a powerful piney flavor with strong hints of fuel and zesty lemon citrus. She's easy on the inhale, smooth on the lungs, and potently flavorful on the exhale.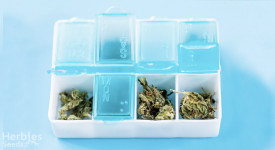 Three Blue Kings Trip Report
Dense Buds and Excellent, Above-Average Yields
If you're looking for a top garden performer, look no further than Three Blue Kings. She's known for her tremendously heavy yields that can average up to 3000-4000 g/plant when grown outdoors.
This strain supports herself well, despite the fact that she produces big and heavy dense, beautiful buds
Even internodal spacing allows for Three Blue Kings' flowers to flourish
Known to be extremely stinky during flower. If growing indoors, carbon filters are highly suggested to help hide her potent aroma.
When cultivated indoors, it's advised to use a medium veg growth.
When cultivated outdoors, Three Blue Kings prefers dry, warm climates or a greenhouse.
Above average resin production
The Royal Lineage of Three Blue Kings
Three Blue Kings comes from an award-winning line of cannabis strains. She's a cross between legendary Blue Dream and Three Kings (Sour Diesel x Headband x OG Kush).
Characteristics
Brand

Humboldt Seeds

Sex

Feminized

Flowering type

Photoperiod

Suitable for

Outdoor

Suitable for

Indoor

Suitable for

Greenhouse

Effect

Waves of relaxation

Genetics

Blue Dream x Three Kings

Height

300 - 400 cm outdoors

Yield

450 - 600 g/m² indoors
3000 - 4000 g/plant outdoors

Flowering indoors

63 - 70 days

Outdoor finish

Mid October

Genotype

30% Sativa / 70% Indica

THC

24 %

CBD

0.1 %
How To Post Your Review?
Thank you for sharing your opinion about our website!
Your feedback will be posted shortly after our moderator has reviewed it.
Please note that we do not publish reviews if they:
Written in all CAPS
Contain aggressive or offensive language
Have a promotional content (contact details or links to other websites)