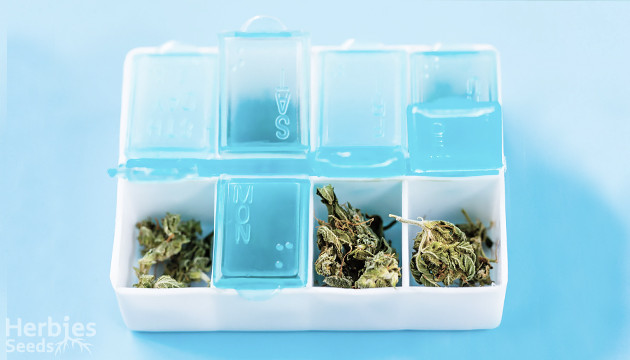 Hi, all! It's not the first weed smoke report I've written, but this one definitely stands out from the rest – first of all, because it's a microdosing weed trip report, something I've never done before, and honestly, never seen before either! Instead of describing a couple of hours under the influence of weed, I'll be covering a much broader timeline. The second reason why this weed trip report is so special is that it's had the most impact on my life. Now that I've caught your attention, let's begin!
Three Blue Kings Seeds For Sale
VIEW STRAIN
My Story: Why I Decided To Write A Microdosing Weed Trip Review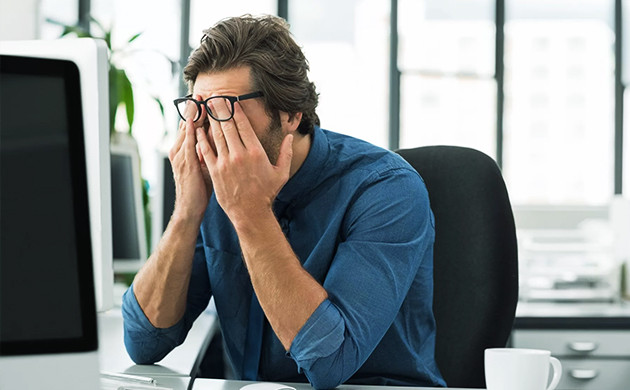 I (M 32) am a project manager in a large PR company. It's a pretty stressful environment on its own, and every time it gets closer to a deadline of an important project, the more this place reminds me of a shark tank. Unfortunately, sometimes I feel like a tortoise that ended up there by accident. I've been handling this place pretty well thanks to my empathetic nature, as well as the ability to just do my job no matter what, do it well, and not take things close to heart. Up until recently. Last month, I went through a stressful and unexpected breakup, and this is how I got acquainted with anxiety. After that, shit got real. Work went from being bearable and sometimes even enjoyable to depressing and overwhelming. And of course, a deadline's approaching and raising my workload. My anxiety started affecting the flow to the point where I'd get heated comments from my boss about me being less productive. I myself also started noticing how negative thoughts would snowball, clogging my mind completely and leading me to make stupid mistakes I wouldn't have made before. The first method of coping with anxiety I thought of was letting my feelings out on paper and keeping a journal as a means of therapy, but it didn't seem to work.
My Microdosing Weed Trip Report: Three Blue Kings Concentrate For Almost A Month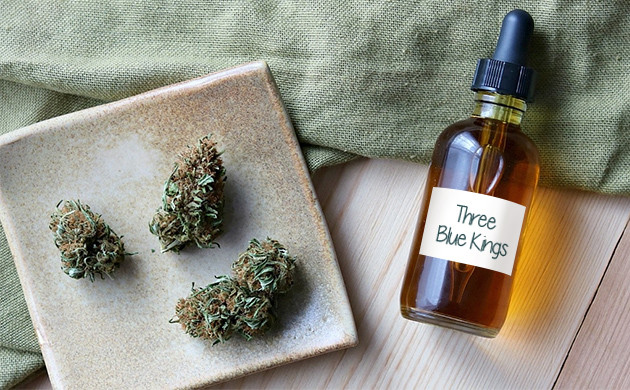 A good friend of mine then told me about an article she read on microdosing cannabis and explained how it could be the solution to my problem. I decided to give it a try since there was nothing left to lose – I was lonely and borderline depressed, and nothing seemed to bring me any joy or even make any sense. So, I followed a tutorial online and made a tincture from Three Blue Kings cannabis strain. Why did I choose this strain for microdosing? Honestly, first, because I already had it in my stash, and I couldn't be bothered trying to find more weed. Second, Humboldt Seeds' version of Three Blue Kings is one of my all-time favorites for escaping from my daunting everyday routine. However, it's just too potent, and I can't be high all the time, so I figured a tiny dose of a Three Blue Kings concentrate could do the trick instead.
Day 1
So for my first day of the experiment, I bring my tincture to work, and while everyone is making their coffee to start the day, I go to the bathroom and take the dark brown bottle from my bag. I should have probably trained at home because when I squeeze the eyedropper, nothing comes out, even though my tincture is as liquid as water. Then I give my tincture a stir with the eyedropper, hold it right above my tongue, squeeze, and it squirts in my mouth. I immediately understand that the amount of tincture in my mouth isn't the drop or two I was intending to have. The liquid is burning my tongue and mouth, and I can feel that my breath is both weedy and boozy – uh-oh! I close the bottle while trying to spit at least something out in the toilet. I rush to the sink and wash my mouth. At the same moment, I understand that I'm getting high. I rush out of the office, take an uber home, and call in sick. At this point, I'm high af. I can't get up from my bed – my limbs feel like they're 10ft long and I can't stop laughing at my fail, but I'm also feeling very happy that everything happened this way. The high is very cerebral and warm. I enjoy the day and try not to think about being behind at work, and before going to bed, I learn to use the eyedropper properly.
Day 2
I take exactly one drop of the tincture before going to work. The whole day there, I'm feeling fine – maybe better than usual, but I don't know if that's because of the drop of my Three Blue Kings concentrate or because of the amazing break I had yesterday.
Day 7
After a week of microdosing weed, I'm still not sure if it's working or not. I know I shouldn't feel any weed-like effects, but that's what's confusing me. Don't get me wrong, I feel pretty fine most of the time and am quite productive at work, but I can't tell for sure if I can attribute this to the microdosing. I can't stop analyzing my mood, and when it's better than what I'm used to, I usually think it's either because I keep my mind busy with work or because of the placebo effect.
Day 10-11
Work is going well and I'm handling the stress there the way I used to before the breakup. Me being kind of miserable in my personal life is still a big issue though. Every day when I'm back home, any negative thought can snowball really quick, and it's hard to concentrate on anything or fall asleep. This is when I decide to start taking the microdose twice a day – around 9am before starting work and 5pm before going home.
Day 15
I can definitely feel the results of microdosing now! Taking the Three Blue Kings strain concentrate twice a day was the best decision of this experiment. Today, I just realized that my mind is more preoccupied with abstract thoughts and ideas rather than my personal problems, and my sleep quality has also improved – yesterday, I fell asleep almost immediately.
Day 18
We finally finish one of the bigger projects at work today, and my boss didn't have anything negative to say about my performance. He actually thanks me for effectively reorganizing the work of the design team, which drastically improved their workflow and efficiency. Compared to his negative remarks last month, this is a great improvement. I've also noticed how the headaches I've been getting at work happen much more rarely now. I don't think this is a direct effect of microdosing weed, but it could be a very pleasant side-effect due to generally lower stress levels.
Day 24
Okay, this is the final entry of my Three Kings review, and, I must admit, I love microdosing! It definitely works. It's been almost a month now, and I think I can already conclude a few things.
First of all, if you microdose cannabis, you just need to let it do its job and not examine your behavior for changes. Once taking a drop of Three Blue Kings strain cannabis concentrate became a habit, I definitely felt an improvement. It's nothing too spectacular or mind-blowing – the effects are barely noticeable if you don't think about it, partly because it's easy to just get used to good things. Of course, my heart was broken and it's too early for me to be over what happened. However, I can now easily switch my negative thoughts off when I need to – I catch the snowball at the beginning, tell myself I don't need and don't want to be suffering right now, and it works! I can shut the negative voice out of my head and think of something else, something that's beneficial for me and makes me grow. Know what I mean? I've also gone back to my journal, and what I wrote there about my negative personal experiences doesn't affect me as much anymore. I'm not completely healed, and I don't think microdosing cannabis can do it by itself, but it helps me get my mind under control, that's for sure. So, I'm feeling really positive about what's to come, and I'm absolutely bringing that dark brown bottle of my Three Blue Kings strain tincture wherever my life takes me.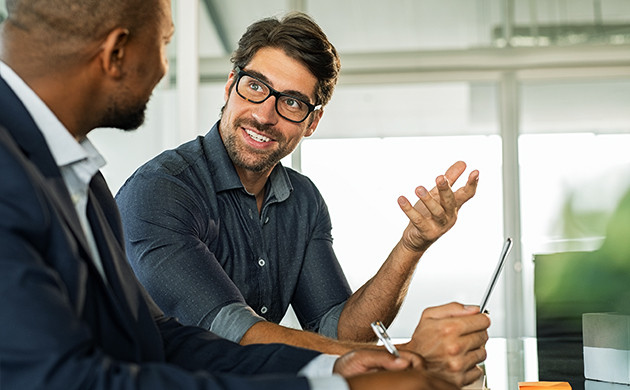 I hope you liked my Three Blue Kings cannabis strain review, even if it was a bit unusual. If you smoke or grow cannabis, definitely use some of your stash for microdosing. I truly believe it could improve anyone's quality of life.
Humboldt Seeds Organization
VIEW ALL
Are you ready to share your own experience?
Send us your smoke reports to [email protected] and get 3 high-performing seeds for free! There are only 2 requirements:
Your submission should review one of the strains that we offer for sale.
It should be at least 400 words long.
Herbies Head Shop expressly refuses to support the use, production, or supply of illegal substances. For more details read our Legal Disclaimer.