UPD: More Gifts For Every Purchase Available Now. What Are They?
9 February 2021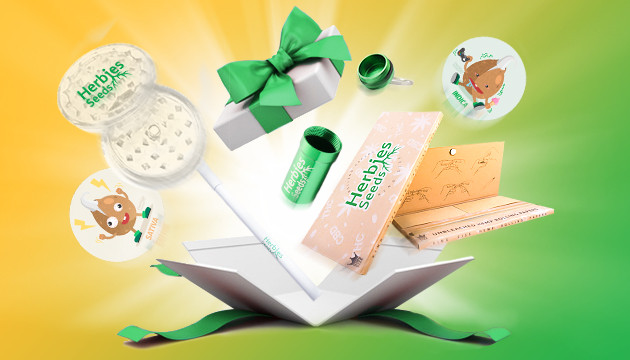 If you've purchased from Herbies before, you already know that we love giving out cool stuff like cannabis seeds! Now there's one more reason to cheer and grow, as starting from January 15th, 2021, each order will come with a free set of branded souvenirs, including 
a pen for keeping your grow diary, 
rolling papers to roll the thickest joints,
stickers to sticker-bomb your bong*.
If your order total exceeds 100 euro, in addition you'll receive
A keychain stash capsule. For whenever you catch a craving to smoke on the go, here's our high-quality stash capsule made of metal. When its time has come, open that inconspicuous container hanging with your keys and light up!
If your order total exceeds 120 euro, in addition you'll receive
A durable grinder. Herbies grinder is made specifically for cannabis, so you know the bud will be broken up into perfect pieces for a smooth smoking experience.
Can't wait to get your dope gift set? All you need to do is complete a purchase. For some inspiration for your next order, check out our seed collections - with more than 100 categories, there's something to anyone's taste.
*UPD: For the sake of stealth and smooth delivery, we currently don't add gifts to orders from the US. We keep working on making gifts from Herbies available to customers from this region as well.
Herbies Head Shop expressly refuses to support the use, production, or supply of illegal substances. For more details read our Legal Disclaimer.