New Herbies Gifts to Your Order: Check Them Out!
5 August 2021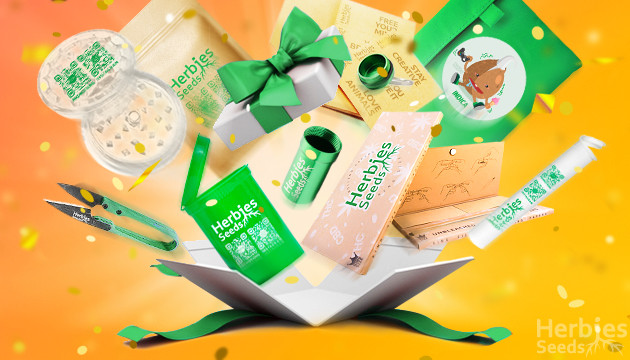 We told you we were going to add more gift options soon, and we're keeping our word! Thanks to everyone who participated in our questionnaire on gifts, we learned what you most wanted to receive from Herbies together with your orders. Welcome the new additions to Herbies Gifts!
A tube container. Whenever you can't finish a joint, you can preserve it in this airtight case that quickly extinguishes smoke. Comes with every order along with rolling papers and a set of dope stickers.
A reusable zip-lock bag. Ideal for keeping your weed away from light and excess moisture, this reusable zip-lock can hold several ounces for easy access at any time. Comes with orders of over 60 EUR.
A stash holder. Whether you're on the go or just like keeping everything needed for a sesh on hand at all times, this durable and airtight container can be used to keep some bud and papers ready. Comes with orders of over 80 EUR.

A filter tips book. Made of 100% recycled paper, and compact and easy to use, this tips book is a must-have for self-rolling weed smokers. The tips book contains 60 tips, with a unique and inspiring message on each. The filter paper is soft and easy to roll, making it perfect for a smooth smoking experience. Comes with orders of over 100 EUR.
A silicone pipe. Made of a light matte silicone that tightly holds a bowl, this pipe is a classic shape that's easy to use even if you normally prefer other methods of smoking. Comes with orders of over 120 EUR.

A smell-proof bag. This discreet bag made of layered fabrics guarantees protection from light, moisture, and smell leaks. Plus, it's big enough to fit all the equipment and a variety of strains. Comes with all orders over 140 EUR.
To learn more about new and old gifts from Herbies, visit this page, where you can find all info on eligible countries and other terms of receiving our gifts.
Herbies Head Shop expressly refuses to support the use, production, or supply of illegal substances. For more details read our Legal Disclaimer.