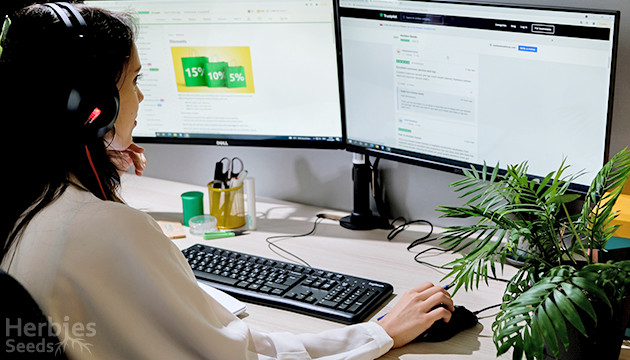 In this series of articles, you'll get to meet the people who make Herbies Seeds and peek behind the closed doors of our headquarters – there's a lot we'd like to share!
Last time, we met Gabriel, our customer satisfaction manager. Today, it's Emilia's turn, who's the head of the sales department at Herbies. Let's get to know her better and learn more about Herbies along the way.
The Move to Spain
If you're a hardcore Herbies fan and have been with us for at least a couple of years, you know that 2019 was a huge year for Herbies Head Shop. That was when the company moved to Spain after almost two decades in the UK. The change was hard to miss – while we moved, we also completely changed our website. The upgrade made Herbies modern again, with a sleek new design and an improved, more user-friendly interface.
The move wasn't the only thing that made 2019 a great year for us – after we settled in Alicante, Emilia joined the team as a sales manager. She had lots of previous experience, ranging from being a restaurant waitress to an online assistant for smart cars, from working for a trading company to leading her own business.
If you've ever moved house, you know that it's a messy project. Now imagine the scale of moving a whole company abroad! Luckily, Emilia trusted us and wasn't scared off by the state of our headquarters at the beginning of our Spanish journey.
I was invited to the head office that looked quite messy those days after the move into the new place. At first, I was a bit confused, but the fact that a famous company moved here from England together with a team of inspired people convinced me to try working here.

Growing at Herbies Seeds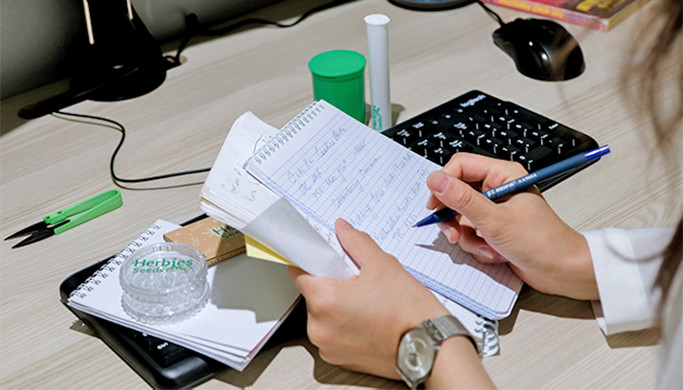 Emilia is a great example of steady professional growth at Herbies, which is not only in the best interest of our employees but also of the company as a whole. Cannabis and the cannabis industry are much bigger and more complex than they might seem to people outside of it. That's why we like to educate and grow our own professionals in the sphere that will be the guiding light for our customers. Here's what Emilia says about her experience:
"I'd heard about cannabis, but never thought it was such a big culture. After I joined the company, I started to learn the theory to be helpful to my customers. Herbies gave me opportunities to visit great international events like canna festivals and also see the work of the breeders we work with, so you can totally trust that our team of managers will help you to understand what you want and find the best option for you."
Our employees' hard work and effort put into education always pays off. In the case of Emilia, she quickly climbed the ladder to managing her own team and trying out self-generated ideas.
Gradually, after years of work and changes, the company got even bigger, and I was then offered to lead my own team of managers. I enjoy this a lot because now I can make my ideas become reality and apply my own experience to make our services the best.
Things We Love
After the move to the new place, Herbies grew significantly and took on some new traditions that folks in the office absolutely loved. It was a natural process that happened thanks to the Herbies employee working culture. While there's always work to do, there's also always time to wind down and connect. One such example is having pizza on birthdays – lots of it! We're not sure who the first person was to order pizza for everyone on their birthday, but the tradition definitely took off! Now it's become a sort of an unwritten rule at Herbies: if it's your birthday, bring some pizza! And as the company is quite big, every couple of weeks, a message like this will enter the Herbies chat: "There's pizza in the kitchen! Enjoy! :)"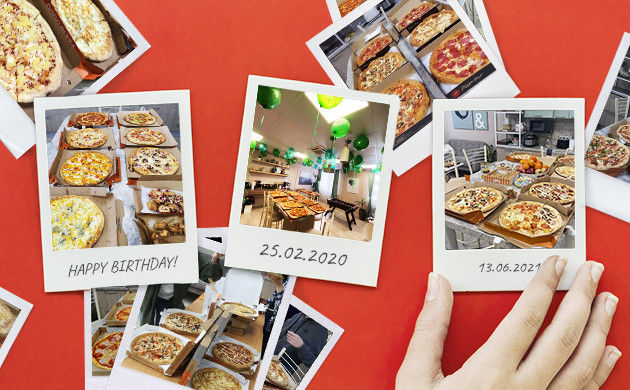 When speaking of her fondest memories from the Herbies office, Emilia mentions another of our traditions: "It's connected with my colleagues – for Christmas, we usually play Secret Santa, and the first time we did this, it was so enjoyable and funny that I'll never forget it!"
It honestly seems like gift-giving and gift-receiving is a big part of Herbies' culture! For instance, take the Herbies gifts that we launched not so long ago, and which our customers really seem to enjoy. According to what Emilia remembers from her time working on the Herbies phone line, you're all on the same page with us and love getting gifts from Herbies: "I like to see that people are buying our seeds for their loved ones. I once placed an order for an older lady who said that she was buying a present for her grandchild. It was so cute!"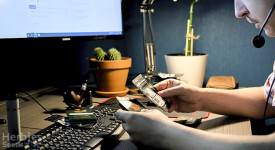 Meet Gabriel, Our Customer Satisfaction Manager
READ NOW
Moving Forward
Herbies' internal culture is growing and evolving together with the company and our employees. Emilia, just like many others at Herbies, has blossomed in the company and became an extremely valuable asset to the team.
I feel more confident now, inspired by new ideas. When you can see that something you offered works well, you want to contribute more and more.
It's a symbiotic relationship that benefits everyone, including you, our customers. We'll keep developing, and we'll take you on the ride! What Herbies employees would you like to learn about next? Let us know in the comments below, and we'll keep getting you acquainted with the company through the lens of our employees' experiences.
Herbies Head Shop expressly refuses to support the use, production, or supply of illegal substances. For more details read our Legal Disclaimer.