Cannabis seeds in Edmonton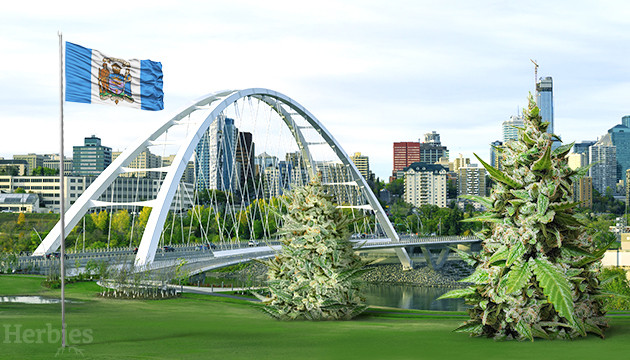 Edmonton is already a thriving mecca for festivals, street art, and craft beer, but weed is set to join the list of attractions, too. Cannabis stores have spread rapidly across E-Town since legalization in 2018, so it's no wonder that demand is catching up with supply.
Read on to learn what the law says on the legality of buying and growing cannabis in Edmonton, what to consider when buying seeds there, and where to find the best cannabis seeds for sale in Edmonton.
Is It Legal to Buy Cannabis Seeds in Edmonton?
Yes, it's legal to buy cannabis seeds in Edmonton for adults aged 18 years or older. Alberta is the only province where 18-year-olds can legally purchase cannabis and cannabis seeds. The minimum age in most of Canada is 19, except in Quebec, where it's 21.
There's no limit to the number of cannabis seeds an adult can purchase. However, you can only legally buy pot seeds in Edmonton from authorized retailers.
Can You Grow Cannabis in Edmonton?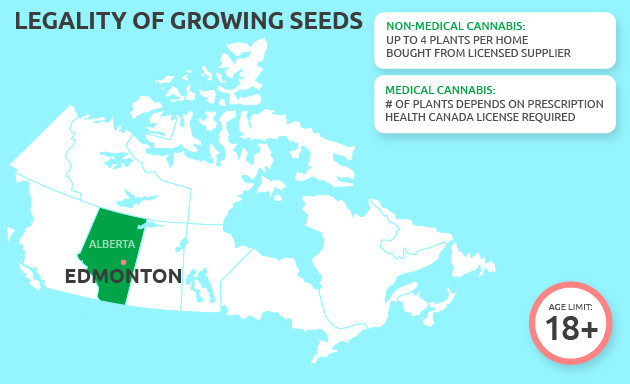 Yes, Edmonton residents aged 18 or older can grow cannabis for recreational and medicinal purposes.
Recreational cannabis cultivation is allowed with a few caveats:
You can grow up to four plants per household (not per person)
The location must be at the grower's own residence
It has to be in a secure area that passersby cannot see or access
You can't grow at more than one dwelling at a time
You're only allowed to grow for personal use
Growing shouldn't violate your rental agreement or condo bylaws
Growing over four cannabis plants may result in harsh penalties. If the charge is deemed indictable, you may face up to five years in jail, and if it's considered a summary conviction, you could get a fine of up to $5,000, six months in jail, or both.
Just like in the rest of Canada, adult Albertans need a license from Health Canada to be able to grow medical marijuana. Technically, there's no limit on the number of plants you can grow – this depends on your authorized daily grams and garden type (indoor/outdoor). For example, if you're prescribed 95 g of cannabis a day, this puts you in the clear to start growing up to 463 medical plants at home. You can use this calculator to determine your limit.
What to Consider When Buying Weed Seeds in Edmonton
When buying marijuana seeds in Edmonton, especially for outdoor growing, consider the following factors: the type of cannabis you want to grow (Indica, Sativa, or hybrid), the specific qualities you seek in a strain (high THC levels, flavor, or ease of growing), and the strains that would be best-suited to Edmonton's growing conditions, which brings us to...
Climate in Edmonton
Edmonton enjoys a continental climate with very cold winters and mild or pleasantly warm summers. Summer lasts between late May and early September, with little of the humidity present that bothers many people in Ontario.
If you're going to grow cannabis outdoors in Edmonton, the best time to start is in mid-May. Train your plants for outdoor conditions a couple of weeks before planting. Always check the forecast, and don't start your grow until the minimum temperatures are above 12°C.
To avoid frost damage, choose early-harvest strains – otherwise, you won't have time for them to mature by the time the first frosts arrive in September. Look for hardy Indicas, Indica-dominant hybrids, and autoflowers – these are better equipped for the local climate than Sativas, which typically take longer to mature and will struggle to hold up against the outdoor growing conditions in Alberta.
Where to Buy Marijuana Seeds in Edmonton
If you're looking to buy marijuana seeds in Edmonton, you can either hit up a dispensary or get them online. Edmonton is home to 180 government-regulated cannabis providers, so you've got quite a few options there. However, while licensed retailers are great, they don't provide as wide a range of products as the international seed banks that ship to Canada.
Speaking of which, Herbies is a great spot to cop your seeds – we've got over 2,000 strains to choose from! Plus, we ship all products in discreet packaging to avoid customs issues.
Best Cannabis Strains to Grow in Edmonton
We've curated a list of the best cannabis strains to grow in Edmonton, all of which are well-suited to the local climate and conditions for an easy and rewarding grow. All strains are also feminized, eliminating the need to sex male and female plants. In no particular order:
Runtz Punch (Herbies Seeds)
Runtz Punch is a 70% Indica hybrid with mind-blowing potency secured by its 29% THC. This strain offers a combo of energizing cerebral effects and a deep body high, which is best kept for dreamy evenings and weekends. Runtz Punch is the bomb – it tastes like a creamy dream with fruity notes. Its family tree also brings in some tangerine and lavender goodness for a refreshing smell that's just right.
This strain adapts well to Edmonton's climate, with a flowering time of 55-65 days and yields reaching up to 1000 grams per plant outdoors. Meanwhile, indoor-grown crops bring 500 g/m² of thick, juicy buds.
Wedding Cake (Barney's Farm)
Wedding Cake is another mostly Indica strain with high THC levels testing at 24-26%. Despite its Indica nature, this sweet treat will wash your body and mind with uplifting, euphoric, and calming waves. Wedding Cake's buds smell earthy, sweet, and sour all at once, with an extra hint of vanilla goodness.
With a flowering time of 55-60 days, this strain will thrive in Edmonton's climate, and its yields will absolutely floor you if you give it enough care. Outdoors, each plant can bring up to 2000 grams of bud, while indoor yields reach a respectable 650 g/m².
Wedding Cake Auto (Barney's Farm)
The autoflowering version of Wedding Cake boasts high THC levels of up to 25% and delivers well-balanced effects that combine relaxation with euphoric giddiness. Wedding Cake Auto serves layers of skunky aromas with notes of woody spice, making it a delicious treat for your taste buds.
This autoflower is very easy to grow, making it perfect for beginners. It takes just 70-75 days from seed to harvest, so you'll be able to harvest these crystal-coated buds before the first spell of cold weather. The yields reach up to 750 grams per plant outdoors and 500 g/m² indoors.
Strawberry Banana Auto (Fast Buds)
Strawberry Banana Auto is an almost evenly-balanced hybrid with a whopping 27% THC. This strain delivers uplifting effects for heightened focus while also soothing the body of aches and pains. True to its name, it kicks out fruity aromas that remind of tropical fruit with underlying notes of bubblegum.
With a life cycle of just 70-77 days, it's well-fit for growing in Edmonton's climate and yields up to 250 grams per plant outdoors or 600 g/m² indoors.
Gelato Auto (Herbies Seeds)
Gelato Auto is a balanced hybrid that tilts slightly to the Sativa side of the spectrum. With THC levels of 26%, it's the ultimate mood booster that offers a sudden burst of euphoria and creativity. Gelato Auto is a flavor rollercoaster, from sour to creamy and sweet to savory. Smoking this weed is like hitting the jackpot with Italian desserts – sweet cookie dough mixed with soft ice cream, tangy citrus, and a hint of dank earthiness.
Gelato Auto has a short flowering time of 60-65 days, making it a great choice for Edmonton's climate. Outdoor-grown plants yield around 200 g each, while indoors, it brings up to 600 g/m² of premium bud.
Regardless of your experience level as a cannabis grower, selecting the right seeds is crucial for a successful harvest. At Herbies, we offer a wide selection of high-quality marijuana seeds for sale in Edmonton, along with expert support and safe shipping. So why wait? Buy marijuana seeds online in Edmonton today and start growing the best cannabis possible!