Cannabis seeds in Quebec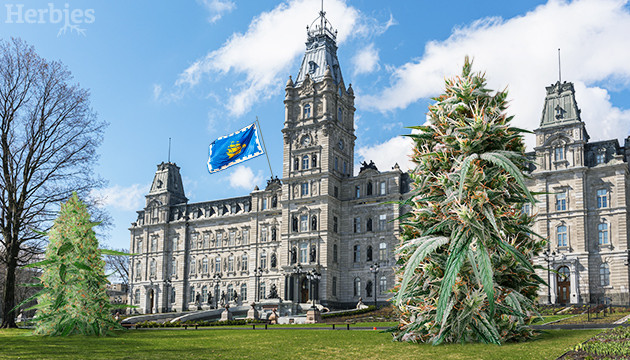 Despite its relatively small size, Quebec City, with its rich history and vibrant culture, is also home to a thriving cannabis community. If you want to become a part of it and are on the lookout for marijuana seeds for sale in Quebec City, you've come to the right place. In this guide, we'll discuss everything you need to know about growing cannabis in La Vieille Capitale, from the legality of buying and growing weed seeds to the best strains for the area.
Is it Legal to Buy Cannabis Seeds in Quebec City?
The good news for those looking to buy marijuana seeds in Quebec City is that it's completely legal. The bad news is that:
You have to be 21 years or older (the highest legal age among all the Canadian provinces).
The only way to legally purchase seeds is through the government-run Société Québécoise du Cannabis (SQDC).
Can You Grow Cannabis in Quebec City?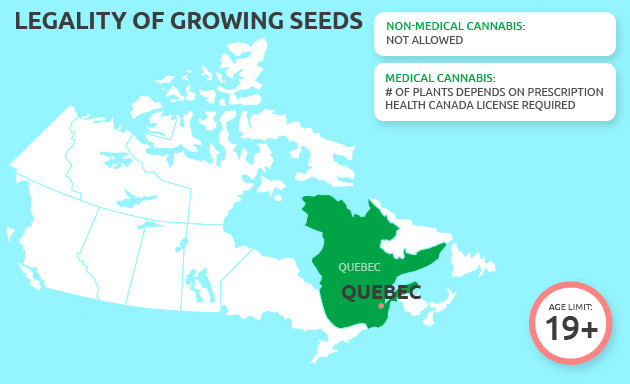 Just like in the rest of the province, growing recreational cannabis at home is prohibited in Quebec City, with fines capped at $750 for first-time offenders. However, the amounts double for further offenses.
This is why aspiring growers get to grow medical marijuana, which is legal on the condition that you get a prescription from an authorized health practitioner and a permit from Health Canada. Technically, there's no limit on the number of plants you can grow for medical purposes – it depends on your prescribed daily grams and your setup (indoors, outdoors, or both). To learn how many plants you can grow, use Health Canada's calculator.
You can store as much medical cannabis as you want at home if you have a permit. In public, medical patients are allowed to possess no more than 150 g or a 30-day supply of dried cannabis, plus the 30 grams allowed for non-medical purposes.
What to Consider When Buying Weed Seeds in Quebec City
Before you start shopping for cannabis seeds for sale in Quebec City, there are some things you should consider, such as local climate, growing conditions, and strain suitability. While indoor growers have a controlled environment for their crops, outdoor-grown plants are at the mercy of weather conditions. This means that an unexpected change of weather or an ill-suited variety for the area may result in a ruined crop.
Climate in Quebec City
La métropole has a humid continental climate with warm summers and cold winters. When growing pot seeds in Quebec City, it's important to choose strains that can handle these conditions. To dodge any late-season frost, outdoor growers should start germinating their seeds around mid-May. It's also wise to opt for strains that can be harvested by mid-September, before the cold weather hits.
That's why we suggest choosing autoflowers and Indicas/Indica-dominant hybrids for your grow – they're tough, adaptable, and have shorter grow cycles compared to photoperiod Sativas. This way, you'll have the best chance of success in Quebec City's climate. Don't worry, though, we've got some fantastic picks for you below!
Where to Buy Marijuana Seeds in Quebec City
Here's your gentle reminder that the only place where you can legally buy marijuana seeds online in Quebec City is the SQDC, either online or in person. This means you won't find any other licensed seed banks in the city. Luckily, there are plenty of online stores that ship to Quebec, so you can have a wide choice of seeds.
However, aside from just faceless online stores, there's Herbies. Here, you'll find over 1,800 premium cannabis strains that suit any taste, from regular and photoperiod to feminized and autoflowering (or both). You'll also get to benefit from our double satisfaction guarantee, expert customer support, freebies, and stealth shipping.
Best Cannabis Strains to Grow in Quebec City
We've handpicked five strains that will make a perfect addition to your Quebec garden. These are autoflowers and Indica-dominant hybrids that are known for their resilience and ability to thrive in areas with shorter summers. In no particular order:
Tangie'matic Auto (Fast Buds)
Tangie'matic Auto is a 65% Sativa/35% Indica autoflower that combines high potency with generous yields and overall ease of growth. With 23% THC, this strain is known for its uplifting, euphoric effects focused on the head, making it an excellent choice for daytime use and great social fuel. With fresh and spicy tangerine and citrus aromas, Tangie'matic Auto is a delight for the senses, offering an invigorating experience.
This variety takes around 63 days from seed to harvest, yielding 450-650 g/m² indoors and 50-350 g/plant outdoors. The plant is quite easy to manage, even for novice growers, and is well-suited for Quebec City's climate.
Auto Ultimate (Dutch Passion)
Auto Ultimate is a perfectly balanced 50/50 Indica/Sativa hybrid that packs quite a punch of mostly Sativa effects. This strain's 22-26% THC content will make you feel a long-lasting euphoric vibe, starting with a potent cerebral high that eventually mellows out. Its dank and musky aroma is dominated by citrus fruit and lime scents.
Taking 12 weeks from seed to harvest, Auto Ultimate yields up to 600 g/m² when grown indoors. The plant itself is sturdy and relatively easy to cultivate, making it an appealing choice for growers of all skill levels.
LSD (Barney's Farm)
LSD is a mostly Indica hybrid that boasts a potent 25% THC. Stoners love this classic strain for its ability to soothe both the body and mind, which comes with a subtle psychedelic kick that makes it stand out from the crowd. LSD's flavor profile is pungent, earthy, and musky, featuring hints of Skunk and herbal scents that make it truly unforgettable.
With a flowering time of just 60-65 days, LSD churns out bountiful yields of 700 g/m² indoors and 600-750 g/plant outdoors. The plant itself is sturdy and resilient, able to handle Quebec City's variable climate with ease.
Blueberry Hill (Herbies Seeds)
Blueberry Hill is an almost pure Indica that contains a whopping 26% THC and offers calming euphoric effects, making it an ideal choice for relaxation and unwinding after a hard day's work. The flavor profile is dominated by sweet berry notes, while a deep-rooted earthy fragrance dances with an aromatic hint of spiciness.
One of the fastest-flowering cannabis seeds for sale in Quebec City, Blueberry Hill takes just 50-55 days to finish, but its rapid growth is no obstacle to yielding an impressive 650 g/m² indoors and 1800 g/plant in outdoor gardens. The plant is relatively easy to grow, mold-resistant, and can withstand cooler temperatures, making it a great choice for Quebec City growers.
Dos Si Dos 33 (Barney's Farm)
Dos Si Dos 33 is an Indica-leaning hybrid with THC levels cruising in the 22-28% range. This strain is well-known for its relaxing effects, making it a perfect choice for those seeking relief from insomnia or simply looking to unwind at the end of the day. The flavor profile combines spiced lime and mint, while the aroma sports notes of sherbet and fresh cookies.
With a moderate flowering time of just 60-65 days, Dos Si Dos 33 is a good fit for your Quebec City garden. Come harvest time, it's destined to surprise you with harvests of 700 g/m² indoors and up to 2000 g per plant outdoors. All in all, this is a fantastic option for those seeking a potent and productive strain with relaxing effects and a delightful taste to boot.