Cannabis Seeds in Toronto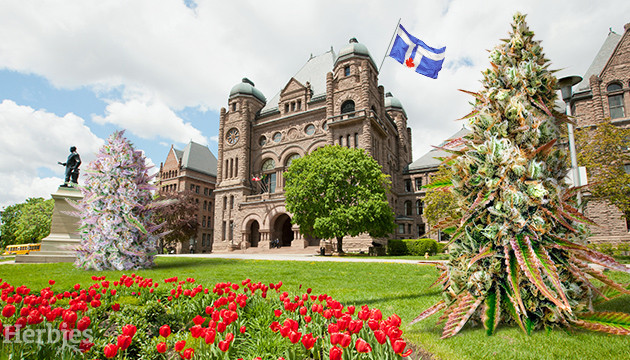 Toronto is a unique city that stands out for its diverse culture, lively nightlife, and progressive attitude toward cannabis. With recreational cannabis recently becoming legal in Canada, Toronto has become a hub for weed smokers and growers alike.
Read on to find out where to find the best cannabis seeds for sale in Toronto. We'll also dive into the legality of buying and growing cannabis in Queen City, what to consider when buying weed seeds, and the best strains to grow there.
Is It Legal to Buy Cannabis Seeds in Toronto?
Yes, it's legal to buy cannabis seeds in Toronto for adults who are 19 years or older. There's no limit on the number of cannabis seeds an adult can buy. In Canada, you can purchase cannabis seeds either from the government-run Ontario Cannabis Store or from an authorized retailer. To see authorized shops in your province, click here.
Cannabis industry professionals like the CEO of Fire and Flower have spoken out about the monopoly that is being maintained by the province's only supplier OCS. All dispensaries in Ontario must purchase inventory directly through OCS, and any consumer who prefers to shop online are forced to do so through the OCS website.
The legal age for cannabis differs across Canada, similar to the legal drinking age.
Can You Grow Cannabis in Toronto?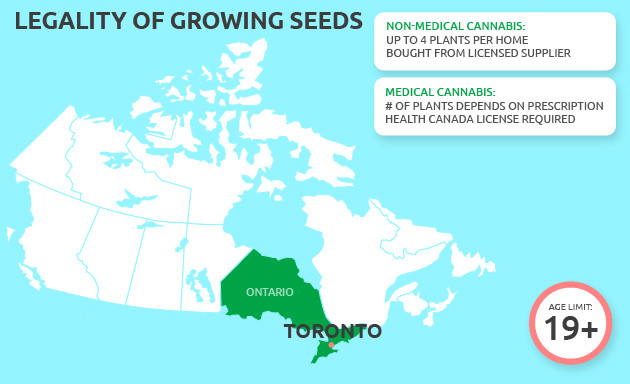 Yes, Toronto residents aged 19 years or older are allowed to grow cannabis for both recreational and medicinal purposes.
When it comes to recreational cannabis, you can grow up to four plants per household (not per person) as long as:
It's only for personal use
It's not against your lease agreement or condo rules
Growers who are caught going beyond the four-plant limit face varying penalties – tickets for small amounts and up to 14 years in jail for large amounts. As for medical marijuana, you can get a license from Health Canada to grow it on your own or have someone else grow it on your behalf. The number of plants allowed for growing depends on your specific needs, i.e. your authorized daily grams and the type of your garden (indoor, outdoor, or both). Use this calculator to find out how much you can grow.
What to Consider When Buying Weed Seeds in Toronto
When buying pot seeds in Toronto – especially when we're talking outdoor growing – there are a few things to consider. First, think about the type of cannabis you want to grow – whether it's an Indica, Sativa, or hybrid.
Then, consider the specific qualities you're looking for in a strain, such as high THC levels, flavor, or ease of growing. Finally, make sure to choose a strain that's well-suited to the local climate and growing conditions in Toronto.
Climate in Toronto
They don't call cannabis weed for nothing. Most varieties can handle the stress of harsh weather. However, in places with unpredictable weather like Toronto, there are some things worth keeping in mind.
When choosing a strain to grow, go with one that will mature before cold weather sets in, as frost can slow down the flowering process. Add in heavy morning dew, and you can face different kinds of molds or rot. To avoid this, it's best to stick to strains that can thrive in the local climate. As a rule of thumb, you should harvest your buds before the daytime temperatures drop below 12°C.
The Toronto area enjoys a warm, moderately watered climate that's perfect for almost all Indicas and hybrids. These strains finish flowering by mid-October, when plants begin to sense the coming winter, and they're more mold- and cold-resistant than pure Sativas.
Where to Buy Marijuana Seeds in Toronto
You've got a few options, including visiting a local dispensary or buying marijuana seeds online in Toronto. Shopping for pot seeds online is the easiest way, as it allows you to browse a wider selection of seeds and have them delivered straight to your door.
One of the best places to buy marijuana seeds online in T. O. is Herbies. With a whopping 2,000 strains to choose from, we've got you covered no matter what type of high you're looking for. And if you're worried about your seeds not sprouting, fear not! We offer a germination guarantee, so you can rest assured that your seeds will pop like popcorn.
Herbies also hooks you up with free seeds, because who doesn't love a little extra green? You'll also surely love our stealth shipping that will keep your delivery a secret.
Best Cannabis Strains to Grow in Toronto
We've hand-picked the best cannabis strains to grow in Toronto so you can have your dream harvest. These varieties are well-suited to the local climate and conditions, making for an easy and rewarding grow. All of them are feminized to spare you from the trouble of sexing out male and female plants. In no particular order:
Black Cherry Punch (Pyramid Seeds)
First up is Black Cherry Punch from Pyramid Seeds. This mostly Indica strain boasts 25% THC levels and offers relaxing and euphoric effects. Its resin-packed purple buds will leave you grinning ear-to-ear for the next several hours once you light them up.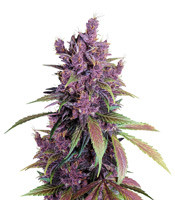 Black Cherry Punch (Pyramid Seeds)
Photoperiod

Berry-tasting relaxed evening

350+ g/m² indoors
750 - 1000 g/plant outdoors

25 %
View strain
Black Cherry Punch is a strong grower, with indoor yields clocking in at 350 g/m² and outdoor harvests of up to 1000 grams per plant – all that in just 8-9 weeks of flowering. Its terpene profile with notes of cherry, earthy flavors, and blueberry pie, along with its woody aroma, make it a true delight for the senses.
Bruce Banner #3 (Herbies Seeds)
Next on the list is Bruce Banner #3 from our in-house line, Herbies Seeds. With Indica-leaning genetics and 27% THC levels, this strain offers potent yet balanced effects that start as a typical Sativa boost of energy and set in as deep body relaxation.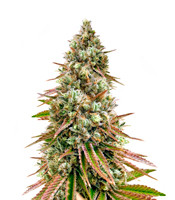 Bruce Banner #3 (Herbies Seeds)
Photoperiod

27 %

Pure euphoric bliss

600 - 800 g/m² indoors
800 - 1200 g/plant outdoors
View strain
Brunch Banner #3 boasts supernatural powers when it comes to bud production. It yields up to 800 g/m² indoors and 1200 g/plant outdoors in just 60-70 days of flowering, which will be enough to keep your stash full for months on end. This herb's diesel flavor with a sweet and fruity finish is a treat for your taste buds.
Purple Punch Auto (Fast Buds)
Purple Punch Auto from Fast Buds has many followers in the U.S. because of its ease of growth and high potency that's rarely seen in autoflowers. With 24% THC, this mostly Indica strain offers well-balanced cerebral and physical effects that are equally great for managing stress, inflammation, and pain.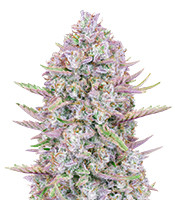 Purple Punch Auto (FastBuds)
Autoflowering

Catching relaxing bubbles

24 %

450 - 600 g/m² indoors
60 - 200 g/plant outdoors
View strain
Purple Punch Auto yields up to 600 g/m² indoors and 200 grams per plant outdoors in just 9 weeks from seed. The terpene profile is worth a mention too; its fruity flavors of blueberries and cherries with notes of spice and a sweet earthiness will make your taste buds dance.
Sweet Skunk F1 Fast Version (Sweet Seeds)
If you like it fast and easy, Sweet Skunk F1 Fast Version from Sweet Seeds is for you. Thanks to its 65% Indica genes, this variety offers powerful and long-lasting effects with a sweet body relaxation. Despite its short flowering period, Sweet Skunk F1 Fast Version still has enough time to build up to 23% THC in its resinous buds.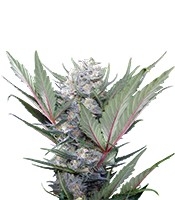 Sweet Skunk F1 Fast Version (Sweet Seeds)
Photoperiod

Sweet body relaxation

18 - 23 %

400 - 550 g/m² indoors
350 - 600 g/plant outdoors
View strain
This strain takes just 6-7 weeks of flowering to bring up to 550 g/m² indoors and 600 g/plant in outdoor gardens. Its old-school Skunk flavor profile with a sweet and spicy aroma accented by notes of lemon and citrus will take you back in time.
Moby Dick (Barney's Farm)
Last but not least is Moby Dick from Barney's Farm – the perfect choice for fans of balanced hybrids. With 60% Sativa/40% Indica genetics, this beast offers a fast-hitting and long-lasting Sativa high powered by 27% THC.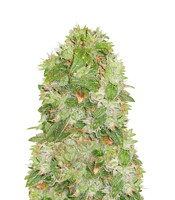 Moby Dick (Barney's Farm)
Photoperiod

Loads of creative energy

700 g/m² indoors
1500 - 2000 g/plant outdoors

27 %
View strain
When harvest time comes after 9-10 weeks of flowering, Moby Dick will please you with up to 700 g/m² indoors and up to a staggering 2 kg/plant outdoors – and its smell of sour lemons with hints of pine and even vanilla will leave you craving even more.
Whether you're a seasoned cannabis grower or just starting out, buying the right cannabis seeds is essential to a successful harvest. Here at Herbies, we offer a huge selection of high-quality marijuana seeds for sale in Toronto, along with expert support and a germination guarantee. So why wait? Buy marijuana seeds online in Toronto today and start growing the best cannabis possible!