Cannabis Seeds in Winnipeg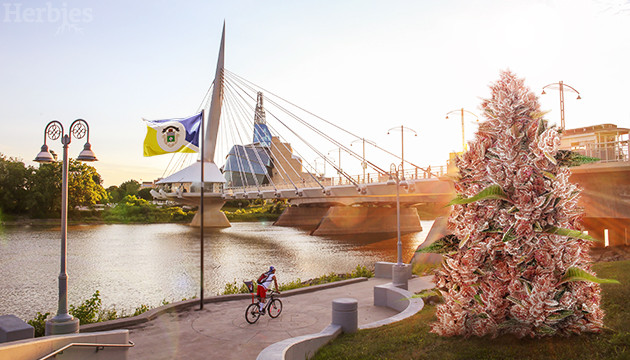 So, you've decided to grow your own weed in Winnipeg legally. But guess what – that's not easy. Just like the rest of Manitoba, Winnipeg has quite strict cannabis rules. If you're on the lookout for marijuana seeds for sale in Winnipeg, stick with us and discover all about the laws and climate in this area, as well as what strains will do best there.
Is It Legal to Buy Cannabis Seeds in Winnipeg?
Yes, you can buy and possess weed seeds in Winnipeg as long as you're 19 years old. However, the only places to do so legally are via private and licensed in-person and online stores. There's no limit on the number of seeds you can buy in Manitoba, although when it comes to growing, things get trickier.
Can You Grow Cannabis in Winnipeg?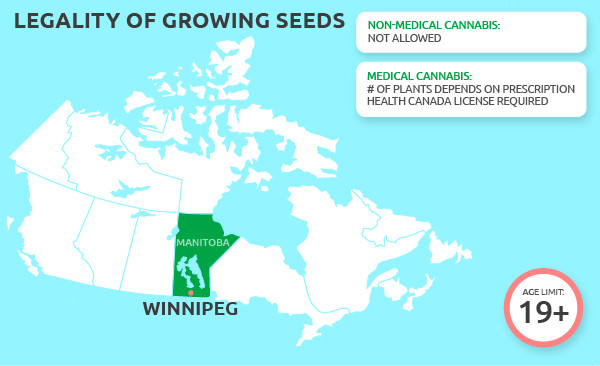 While growing recreational cannabis at home became legal in Canada at the federal level in 2018, Manitoba is one of the two provinces (along with Quebec) that has banned homegrown non-medical cannabis. However, patients with a prescription from a health practitioner can get a license from Health Canada allowing them to cultivate medical marijuana. This scheme doesn't seem to be very popular – most Canadians who use medical cannabis access it without medical authorization.
As for the penalties, Manitobans who are caught growing cannabis face a $2,500 fine. Possession of more than four cannabis plants at home (which is the federal limit) can lead to further fines for a small number of plants or up to 14 years in jail for a large number.
What to Consider When Buying Weed Seeds in Winnipeg
As you can see, Manitoba really went against the grain on cannabis growing, so if you still want to take the risk, it's best to take some precautions. When growing indoors, use a grow tent to protect your crops from prying eyes. With features like carbon filters and grow lights, grow tents offer an ideal solution to contain potent scents and prevent light leakage.
On the other hand, if you're going to tend to an outdoor garden, having a tall fence is a must. You might also want to choose short, bushy varieties and plant similar-looking crops like tomatoes alongside your cannabis garden.
Law and order aside, there are other factors to consider before planting your seeds, such as the climate in the area you're growing in and what strains will thrive in these conditions. Read on to find out everything you need to know before sprouting pot seeds in your Winnipeg garden.
Climate in Winnipeg
Winnipeg is home to a humid continental climate with long, cold winters and short, dry summers. It doesn't provide too wide of a growing window, but nothing's impossible if you want it bad enough!
When growing in Winnipeg, it's best to go with strains that have a short flowering cycle and will be ready to harvest before cold weather sets in. Humidity levels can get pretty high in this area, so your crops should also have good resistance to mold and pests.
That's why it's best to grow Indica-dominant hybrids and autoflowers that can withstand cold weather and high humidity levels. Additionally, these varieties are shorter than Sativas and are less likely to attract the attention of thieves or neighbors (sometimes, they mean the same thing).
Where to Buy Marijuana Seeds in Winnipeg?
When buying seeds, always make sure to get them from trustworthy and reputable stores. Winnipeg has over 105 cannabis retailers, but these often don't have the greatest selection of strains, so it's best to head online and look for an international store that ships seeds to your area.
With over 1,500 strains available, Herbies is one of the best places to buy marijuana seeds online in Winnipeg. All of our seeds come with guaranteed germination and unbeatable prices. We offer worldwide shipping with a stealth option included for those seeking extra safety.
If you're having trouble picking your perfect strain, our customer support is there for you to help you out. And saving the best for last, on each placed order, our customers get free seeds and awesome gifts.
The Best Cannabis Strains to Grow in Winnipeg
Below, we've made a list of the best varieties that will thrive in Winnipeg's climate. These are all fast-flowering, resilient strains that will make your grow a breeze.
Girl Scout Cookies Auto (Original Sensible Seeds)
When we say Girl Scout Cookies Auto, we mean strong and stable genetics that will deliver excellent results no matter what. With 20% THC, this balanced hybrid will leave you in a state of blissful happiness after just a few sweet tokes.
Girl Scout Cookies Auto takes around 70 days from seed to harvest, bringing 150 g per plant outdoors and as much as 600 g/m2 in indoor setups.
Purple Punch (Barney's Farm)
This 80% Indica hybrid is your best source of deep relaxation after a stressful day. One puff will lock you on the couch and keep any stress and anxiety at bay. This herb gives off delightful flavors that resemble an apple pie baked with blueberries, leaving a sweet and spicy aftertaste on your palate.
Thanks to its stable genetics, Purple Punch is very easy to grow and can yield up to 2000 g/plant outdoors in late September. Indoor growers can expect to harvest 600-700 g/m² after just 50-60 days of flowering.
DDos #33 (Herbies Seeds)
DDoS #33 is an Indica-dominant hybrid from Herbies Seeds that will blow your mind in every way. Newbies should go easy on this one, as 27% THC is no joke. On the inhale, you'll feel a euphoric head rush that will quickly turn into a calming and relaxing body high.
Growing-wise, this strain is no less impressive. Outdoors, each plant yields up to an incredible 2000 g in early October. Indoors, growers can expect anywhere between 600-800 g/m2 after 60-70 days of flowering.
Golosa Early Version (Delicious Seeds)
Golosa Early Version is a perfect variety for those who are too impatient or short on time to wait the usual two months and something 'til harvest. This 80% Indica hybrid comes with equal CBD and THC levels of 17% and delivers a soothing high that will heal your mind and body.
Golosa EV will surprise you with impressive yields in no time. Outdoors, this strain is ready for harvest in early September, churning out up to 1000 grams per plant. Indoors, it takes just 45 days to race through the flowering stage.
Sugar Black Rose Early Version (Delicious Seeds)
Sugar Black Rose Early Version is an Indica-dominant hybrid that offers amazing healing effects powered by 25% THC. Stoners can expect a mild cerebral stimulation that turns into a long-lasting body high, tucking you nicely into the bed.
This forgiving, easy-to-grow strain will bring you 900 g/plant in early September when planted outdoors. Indoor-grown crops have a super-short flowering period of 45 days, yielding 450 g/m².
Newbie or an expert, it makes no difference – the right seed selection is a must if you want to achieve a successful harvest. Looking for the finest cannabis seeds for sale in Winnipeg? Make sure to check out our catalog at Herbies, where you can find your perfect strain among thousands of other varieties that come with guaranteed germination.