Cannabis Seeds in Montana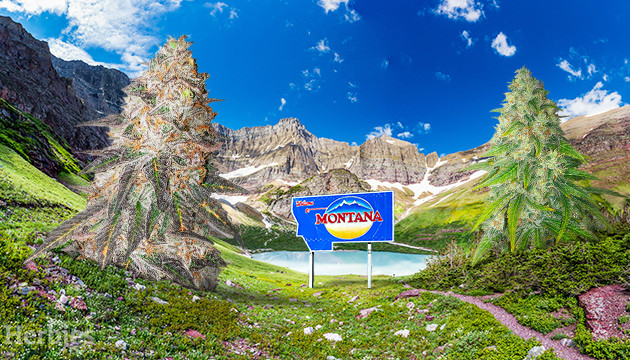 Because the Treasure State is surprisingly 420-friendly, many people are growing themselves, and you can see many residents purchasing cannabis seeds in Montana for at-home cultivation. However, ordering quality seeds is only the first step in harvesting your favorite plant. There are many considerations to take into account.
Luckily, Herbies Seeds offers the best selection of marijuana seeds for sale in Montana – let's cover legal and climate questions of growing in Montana before moving on to our top seven seeds ideal for this state.
Is it Legal to Buy Marijuana Seeds in Montana?
First, the good news: it's completely legal to buy cannabis seeds in Montana. Better still, you can even grow them, unlike many other regions throughout the country.
Now, the bad news is that adults only get to cultivate two plants simultaneously. That said, you can find many strains that produce huge yields with one plant – we'll get to them later. Montana consumers can legally possess up to one ounce of cannabis. With many counties approving adult recreational use, you'll surely need a rotating stock.
Discover how simple and rewarding your at-home grow can feel – keep reading for more details and a list of the best marijuana seeds for sale in Montana.
Can You Grow Cannabis in Montana?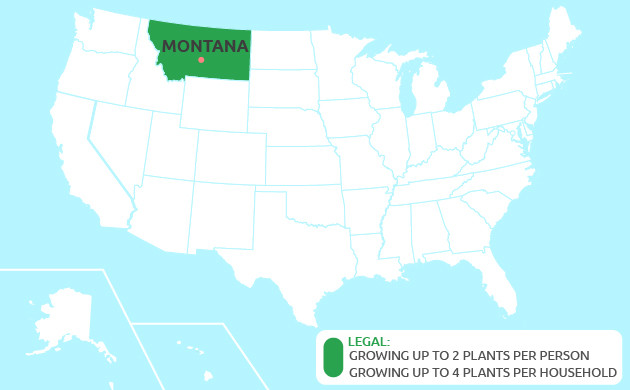 Although you can't grow that many plants, it's legal to do so. This is excellent news for anyone who wants to buy marijuana seeds in Montana. Each resident can have two plants or a total of four per household. You must also keep your plants away from minors and likely kept from view. While Big Sky Country is supportive, there's still much progress to make.
What to Consider When Buying Marijuana Seeds in Montana
Although it's legal to grow in Montana, you have several considerations to take into account first. The state is infamous for its natural ruggedness and harsh winter weather. Before you start the search for marijuana seeds in Montana, reevaluate your growing setup first. Many consumers prefer to grow their plants inside, but some strains become pungent. You may need additional carbon filters or other accessories to keep them from smelling. Some strains must have their light cycle adjusted, while others don't. Make sure to research autoflowering and photoperiod cannabis before you buy cannabis seeds in Montana to make a truly informed decision.
Climate in Montana
The climate in Montana isn't the most ideal for growing cannabis. By mid-September, the temperatures will begin dropping, making your plants vulnerable. Will you see flowers bloom before winter, or will you lose your entire crop?
MN is also known for having different climates for the west and east sides; the western end stays mild and humid, while the east is windy and dry – you'll need to act accordingly. The warmest month is July, usually peaking in the high 20s C (mid-80s F). Temperatures plummet from September to January, when it stays frigid.
But no worries – with properly chosen seeds, you'll successfully harvest your buds. Outdoor growers in Montana should rely on autoflowers for their faster flowering times, or they could buy photoperiod strains that will finish before temperatures plummet. Consumers will likely find that Indicas and Indica hybrids will offer the best chance. Now to the best part: let's see what cannabis seeds in Montana prove ideal for growing.
Marijuana Seeds for Sale in Montana
Unlike many other states, residents can buy marijuana seeds in Montana from nearby seed banks. However, that may not always prove to be the wisest move considering the limited variety. You don't always know what a local bank's inventory is, so save your gas money and choose online shopping for recreational and medical marijuana seeds in Montana.
Where to Buy Cannabis Seeds in Montana
There are only a few offline stores available spread throughout the state. The faster, more convenient way to buy weed seeds in Montana is with us. Herbies Seeds offers a wide variety of about 2,000 strains at affordable prices, not to mention always running discounts and bonuses.
Best Cannabis Strains to Grow in Montana
We've chosen seven strains that will maximize your yields with extra-potent cannabis tailored for growing in the state. Each one of these marijuana seeds is available for sale in Montana via Herbies, and they offer unique traits for both indoor and outdoor harvesting, including finishing by mid-September.
Eleven Roses Early Version (Delicious Seeds)
Eleven Roses Early Version grows massive buds in as quickly as 45 days of flowering, yielding up to 600g/m² (1.97oz/ft2) indoors and 2000g/plant (70oz/plant) outdoors.
As an Indica-dominant strain, it tops out at 150cm (59") – perfect for indoor or stealthy outdoor growing. However, it does smell delicious yet strong while flowering, so indoor grow rooms will need a carbon filter installed.
Eleven Roses Early Version produces densely resinous buds containing up to 25% THC. Use these flowers as an anti-anxiety treatment or a sleeping pill for those nights when you find drifting away challenging.
Grandmommy Purple (Herbies Seeds)
Grandmommy Purple may taste sweet, but she packs a mean punch. This Herbies Seeds original contains 33% THC mixed with 80% Indica/20% Sativa genetics. In mere seconds after toking, you'll feel calm, relaxed, and blissful while staving off anxiety and pain.
Grandmommy Purple also stays short at 40-140cm (15.7-55") in height. Allow up to 65 days for it to finish flowering while enjoying its frosty orange appearance. You can anticipate up to 500g/m² (1.64oz/ft2) indoors and 550g/plant (19.4oz/plant) outside by early September.
Bruce Banner Auto (FastBuds)
Bruce Banner Auto looks like it grew massive from using gamma radiation. These buds are thick, long, and sticky with resin, packing a Hulk-sized THC content of 25%. If you're getting angry yourself, take a hit of this 65% Sativa/35% Indica hybrid and smash your stress while enjoying its sweet and pungent flavor that renews focus.
Bruce Banner Auto transforms quickly in 11 weeks, topping out at 110-150cm (43-59"). Yield up to 600g/m² (1.97oz/ft2) indoors and 200g/plant (7oz/plant) outdoors.
CBD Auto Compassion Lime (Dutch Passion)
CBD Auto Compassion Lime offers the kind of medication you definitely won't mind taking. At 7-15% THC and about 10% CBD, it's perfect for getting realigned. Each dense bud packs tons of resin that will leave you energized and free from stress, anxiety, pain, and many other ailments.
This Sativa-dominant strain grows perfectly well in cooler climates – a great find for Sativa lovers in Montana. CBD Auto Compassion Lime finishes flowering in 77 days and produces a smoky, spicy, and citrusy flavor. Harvest up to 178g/m2 (0.59oz/ft2) indoors and 100g/plant (3.5oz/plant) of highly medicinal bud outdoors.
Wedding Cake (Barney's Farm)
Wedding Cake is perfect for treating Bridezilla levels of stress with its potent pedigree. These sweet n' sour Indica-dominant buds get frosted with trichomes offering 24% THC. Wedding Cake offers a boost of energy without cluttering your mind, and its sweet and earthy taste and aroma are also hard to beat.
This plant reaches 90-100cm (35-39") and flowers in about 60 days indoors or by mid-September outdoors. Expect up to 650g/m² (2.13oz/ft2) indoors and 2000g/plant (70.5oz/plant) outside.
Fruit Punch Auto (Heavyweight Seeds)
Fruit Punch Auto ensures that the conversations stay deep and interesting. This 80% Sativa-dominant strain powers the brain while soothing and renewing the rest of the body at 21% THC and 1.1% CBD.
This plant is excellent for beginners and finishes in 80 days or sooner. It reaches 90-120cm (35-47") in height and grows buds with a uniquely juicy and fruity flavor. While growing, Fruit Punch Auto smells pungent and sweet, and it develops unique colors from cooler night temperatures – in Montana, they'll develop naturally. Expect to harvest up to 800g/m2 (2.62oz/ft2) indoors and 1500g/plant (53oz/plant) outdoors.
Runtz Punch (Herbies Seeds)
Runtz Punch leaves your body and mind buzzing before lifting them sky-high. Combat stress and anxiety with 29% THC and dessert-like flavors from this easy-to-grow strain.
As a 70% Indica/30% Sativa hybrid, it tops out at 120cm (47"). It finishes its flowering cycle in September and practically grows its dense buds itself. Runtz Punch also yields a huge amount of cannabis, no matter the growing medium. Anticipate up to 650g/m2 (1.97oz/ft2) indoors and 1000g/plant (35.2oz/plant) outdoors.