Cannabis Seeds in New Mexico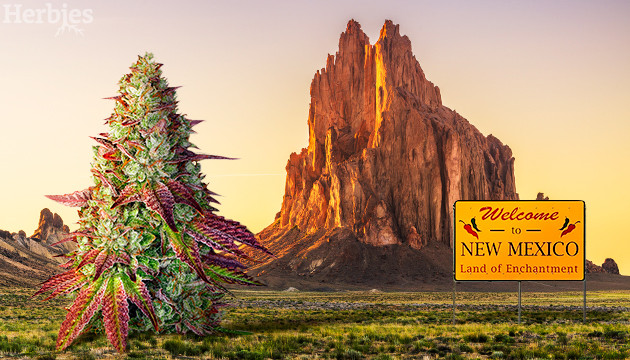 The Land of Enchantment is heaven on Earth for cannabis growers. Except for the perfect climate for growing, cannabis laws in the state allow cultivating both recreational and medical marijuana. In this article, we cover everything a grower needs to know about growing pot seeds in New Mexico.
Is it Legal to Buy Cannabis Seeds in New Mexico?
Buying and possessing cannabis seeds is completely legal in the state and is not considered an offense. Any person aged 21 or older can legally buy and possess cannabis seeds in New Mexico.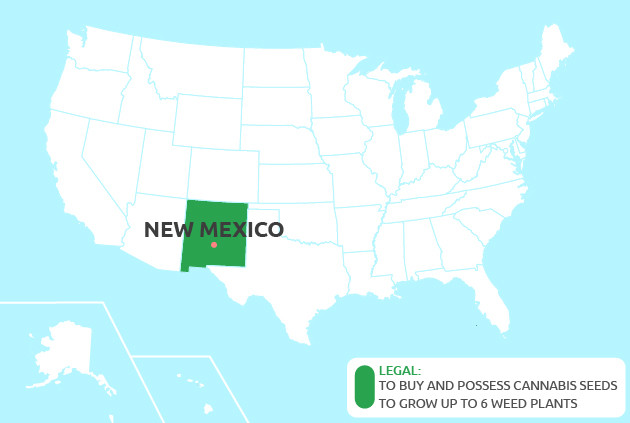 Can You Grow Cannabis in New Mexico?
The law in New Mexico allows growers to cultivate their cannabis plants. Every person aged 21 and above can legally grow up to 6 cannabis plants. Keep in mind that these plants have to be inside your property and away from public view. Growing more than 6 plants could lead to big fines or even prison time, so we recommend not exceeding this limit.
What to Consider When Buying Weed Seeds in New Mexico
Considering that medical and recreational cannabis is legal in the state, growers don't have much to worry about as long as they don't exceed the limit of 6 plants. However, there are other things to keep in mind, such as where to get weed seeds and which strains are suitable for the climate in this area. Stick with us to learn more about the climate in New Mexico and the best strains to choose for it.
Climate in New Mexico
New Mexico is located in an area with a continental and semi-arid climate, which brings extremely hot summers and cold winters. The climate in this area is favorable for outdoor cannabis growing, allowing growers to pick from a large section of strains. The growing period lasts from April to early October, which is suitable even for Sativa-dominant photoperiod strains that usually take longer to finish. Due to extremely high temperatures in the summer, growers might need to protect their crops from the heat.
Where to Buy Marijuana Seeds in New Mexico
If you're looking for high-quality cannabis seeds for sale in New Mexico, look no further than our Herbies online seed bank. We offer thousands of the best cannabis seeds with 100% guaranteed germination that are developed by top breeders. Our expert customer support is online 24/7 to help you with all your questions. For each order, we prepare a little something for our customers – awesome free seeds and other useful gifts. By visiting our website, you won't find only cannabis seeds for purchase, but relevant and useful information about cannabis as well.
Best Cannabis Strains to Grow in New Mexico
The climate in this area is heaven for growers and allows them to grow a variety of different cannabis strains. To save you some time, we've made a list of the best strains to grow in New Mexico.
Mimosa EVO (Barney's Farm)
Mimosa EVO is a balanced hybrid strain developed by crossbreeding Mimosa genetics with Orange Punch. This strain can contain up to 26% THC and delivers potent energizing and euphoric effects. The flowers are packed with pungent tropical flavors and an intense scent of citrus and berries. Mimosa EVO has a flowering period of just 65 days, after which growers can expect excellent results. If grown indoors, harvests can reach up to 700g/m2 (2.29 oz/ft2), while outdoors, it can be up to a massive 2000g (70.5oz) per plant!
Blueberry Hill (Herbies Seeds)
Blueberry Hill is a hybrid strain with 95% Indica genetics – the result of crossbreeding the Blueberry and Afghan strains. Buds are infused with 26% THC and offer potent Indica effects that will relax your mind and body. The strain is often used for medical purposes, such as treating aches and pains. Blueberry Hill comes with an amazing blueberry flavor and earthy aroma with spicy undertones. Growers can expect their harvest within just 55 days! Indoor yields average 650g/m2 (2.1oz/ft2), while outdoors, that can go up to a whopping 1800g (63.5oz) per plant.
Green Gelato (Royal Queen Seeds)
Green Gelato is a perfectly balanced hybrid that was created by crossing Sunset Sherbet genetics with Thin Mint Girl Scout Cookies. This strain has THC levels that can range anywhere between 23-27%, providing users with a strong body high along with euphoric and relaxing effects. The flavorful buds come with a strong taste of citrus with minty undertones and pungent and fresh fruity aromas. A plant reaches full maturity within 70 days of flowering, leaving growers with satisfying results. Yields can range between 500-700 g/m2 (1.6-2.2 oz/ft2) indoors and up to 800g (28.2oz) per plant outdoors.
Girl Scout Cookies Auto (Original Sensible Seeds)
Girl Scout Cookies Auto is a balanced hybrid strain, and a product of breeding Girl Scout Cookies and Auto Ghost OG genetics. This strain has 20% THC-infused flowers and comes with Indica-dominated effects of deep relaxation. The beautiful buds have amazing fruity flavors and aromas. Girl Scout Cookies Auto finishes flowering within 70 days, producing large, sticky buds and leaving growers with yields of 600g/m2 (1.9oz/ft2) if grown indoors, and around 150g (5.2oz) per plant outdoors.
Forbidden Runtz Auto (Fast Buds)
Forbidden Runtz Auto is an Indica-dominant hybrid strain with unknown origins. This strain comes with 26% THC-infused buds and offers extremely potent and cerebral effects that will leave your mind and body completely relaxed. The buds have a sweet and fruity aroma and flavor with earthy undertones. Forbidden Runtz Auto has a lightning-fast flowering time that lasts only 9 weeks, leaving growers with yields of 550g/m2 (1.8oz/ft2) if grown indoors and 150g (5.2oz) per plant in outdoor conditions.
Golosa (Delicious Seeds)
Golosa is an award-winning hybrid strain that has 80% Indica genetics and is the result of crossing three potent strains: Bay 11, Grapefruit, and Blueberry. Golosa comes with 26% THC and delivers true Indica effects that will leave users fully calm and relaxed. The flowers are infused with delicious flavors and amazing aromas of grapefruit and mango, along with a touch of coffee and mint. Growers can expect fully mature plants within just 60 days, with an average yield of 550g/m2 (1.8oz/ft2) when grown indoors and up to 1500g (52.9oz) per plant outdoors.
Auto Ultimate (Dutch Passion)
Auto Ultimate is a perfectly balanced hybrid strain that resulted from crossing The Ultimate with Auto Mazar genetics. Its flowers can contain between 22-26% THC and provide potent and long-lasting relaxing effects. Auto Ultimate has a sweet and citrusy flavor with a touch of pine, just like the original strain. Plants are ready for harvest after just 70 days of flowering, providing growers with extremely resinous buds – 500g/m2 (1.6oz/m2) on average.